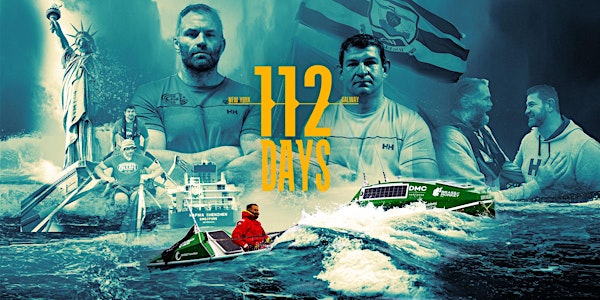 112 Days: The Story of Two Mens Extraordinary Attempt to Row The Atlantic
Experience the extraordinary story of two men's attempt to row 3000mi across the unforgiving North Atlantic Ocean, from New York to Galway
When and where
Location
The Galmont Hotel & Spa Lough Atalia Road H91 CYN3 Galway Ireland
Refund Policy
Contact the organiser to request a refund.
About this event
A once in a life time opportunity to hear the story of history made.
On October 4th, just before 1am, Damian Browne became the first person in history to row the ferocious and unforgiving North Atlantic ocean from New York City to his hometown, Galway, Ireland.
112 Days is the story of two men's extraordinary journey attempting to row 3000 miles across one of the most feared sections of ocean on the planet. Two men, as Damian did not start alone.
112 days will be a night of tales from the high seas as both Damian & Fergus Farrell recount their incredible experiences of their times onboard their "valiant steed" Cushlamachree and the unfathomable challenges that rowing an ocean entails.
112 Days will bring you on an inspiring journey full of incredible ambition, harrowing capsizes, dodging giant tankers, remarkable perseverance, copious whales, desolate solitude, ferocious storms, cruel weather conditions and one man's extraordinary will never to give up.