10X10 Beijing 2013

Saturday, June 15, 2013 from 2:00 PM to 5:00 PM (HKT)
Event Details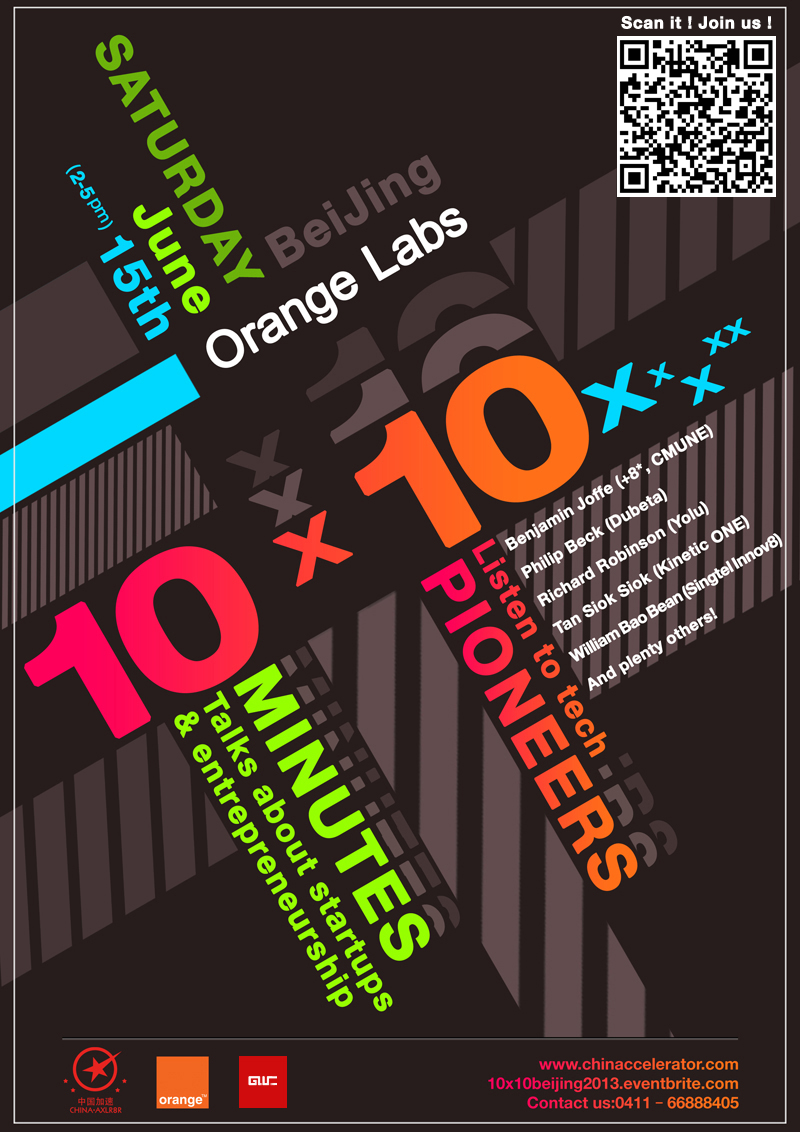 China-Axlr8r, in cooperation with Orange Labs and GWC, is once again hosting the annual 10X10 Beijing on June 15th, 2013. Please note, this event will be entirely in English.
The Geeks on a Train tour will take the China-Axlr8r startups on a ride from Dalian to Shanghai through Beijing this June and we're looking forward to seeing everyone along the way!
As part of the tour, the 10x10 conference is bringing you 10 tech pioneers and top VC's from the startup ecosystem in China. This is an amazing opportunity for you to have a peek at the first startup accelerator program in China, meet interesting people and listen to amazing speakers.
Each of them will take you on a 10-minute tour of their trials and tribulations, wins and losses, then give you some great advice and maybe a secret or two about what they learned to help make them the superstars they are today.
Afterwards will be a networking event for all geeks!
Confirmed speakers are:
- Philip Johnson, Johnson Business Consulting
- Richard Robinson, Youlu Inc.
- Jesper Lodahl, SmartTots
- Andy Mok, Beijing Tech Hive
- Gang Lu, TechNode
- Tan Siok Siok, Kinetic ONE
- Philip Beck, Dubeta
- Benjamin Joffe, +8* & CMUNE
- Stephen Price, Ikuramedia
- Kevin Dewalt, soHelpful.me
What's going on?
13:30-14:00: Registration
14:00-16:00: Stage is on fire
16:00-17:00: Networking
Event is free, max 100 people!
When & Where

Orange Labs Innovation Garden
北京市海淀区科学院南路2号融科资讯中心C座南楼10 层 邮政编码



Saturday, June 15, 2013 from 2:00 PM to 5:00 PM (HKT)
Add to my calendar
Organizer
Chinaccelerator, a leading startup accelerator in China, is a mentorship-driven program helping internet startups from around the world cross borders - from the world into China and from China to the world. It is operated by the venture fund SOSV with $300M AUM operating eight global accelerators. Chinaccelerator offers three months of rigorous guidance, training and resources from mentors, partners and investors. The robust and supportive alumni network continues into the startups' post-Chinaccelerator lifespan.