Event Information
Location
JW Marriott Miami Turnberry Resort & Spa
19999 West Country Club Drive
Aventura, FL 33180
10X Your Medical Practice at a LIVE Training Event. Presented by BE OBSESSED COACHING with Special Guest Collaborators: Speaking Empire
About this event
PRESENTER: Ty Richardson, CEO & Co-founder, Hormone Therapy Centers of America
Ty Richardon a business leader in Dallas, Texas, has 25 years experience in the Healthcare Industry. Mr. Richardson began his career in healthcare in 1987 with Kindred Healthcare (formerly Vencor). Kindred Healthcare is currently at $6 billion in annual revenues. During his tenure at Kindred Healthcare he was responsible for market feasibility, acquisitions and development activities of the company. Participated in starting up 15 acute care facilities. In 1994 Mr. Richardson was the founder of Specialty Healthcare Services, Inc. The company grew from no revenues to $76 million in revenues by 2005. The company was purchased by Kindred Healthcare in 2002 for $45 million and consist of 8 acute care hospitals and 3 management facilities.
Mr. Richardson is currently the CEO and Co-founder of Hormone Therapy Centers of America. In addition he is on the Owners Advisory Group of the Dallas Stars, a professional hockey team in the National Hockey League. Mr. Richardson has consulted with building hospitals in Romania for Serving Him Ministries.
PRESENTER: Daniel Fleischman, President: Be Obsessed Coaching Sales & Marketing
Daniel Fleischman is Grant Cardone's Top Certified Coach, and the President of Sales & Marketing for Be Obsessed Coaching. Daniel is only Coach/Trainer to be trained by Grant Cardone and Tony Robbins. He has proved track tecord creating & implementing plans To 10X revenues In almost every industry.
Daniel coaches, consults and trains Small Businesses To Fortune 500 companies, executives, managers and sales professionals in the areas of Business, Sales, Marketing, Negotiation, Prospecting, Creative Follow Up, Objection Handling, Closing and everything in between. Daniel leverages 20 years of sales, consulting, and corporate training expertise to help businesses, entrepreneurs & top producers Implement 10X strategies.
PRESENTER: Dr. Yoo, DC
New York-born, Dr. Phillip Yoo. DC, is the best-selling author of 21st Century Pain Relief, a world-renowned speaker, and an in-demand healthcare, fitness and wellness expert who is sought after by many professional athletes, Hollywood celebrities and entertainers. Dr. Yoo has been a provider for the 2008 Beijing Olympic Games, NFL Alumni Association, Beyoncé Tour Korea, U.S. Military Special Forces Units, The UDT/ Navy Seal Association and Ambassadors from every continent. He has also done voluntary medical mission trips to Central America.
Dr. Yoo has more than 22 years of experience and has traveled the world researching and developing the most 'state of the art' pain management techniques. Dr. Yoo stays on the forefront of medicine through his neverending continuing studies which include Harvard Medical School's continuing education department in pain medicine, a Stem Cell Fellowship from the American Academy of Anti-Aging Medicine and, an instructor at the American Academy of Stem Cell Physicians.
Dr. Yoo has received citations from U.S. Deputy Commander Army and Air Force 4-star generals. He is a graduate of Michigan State University's Human Performance & Wellness Program and earned his Doctor of Chiropractic at the National University of Health Sciences in Chicago. Furthermore, Dr. Yoo earned his International Chiropractic Sports Science Diploma in Europe.
Dr. Yoo is also the founder of the 21st Century LaserSTEM Pain & Regenerative Medicine Institute in California, where he lectures and trains doctors from around the world on his proprietary 'state of the art' treatment protocols. Dr. Yoo only uses the world's most advanced Umbilical Cord Stem Cell/ Exosome Cellular Therapies, and powerful Laser and Pulsed Electromagnetic Field (PEMF) medical technologies to treat the most challenging chronic pain syndromes such as those caused from sports injuries, spine disorders, degenerative arthritis, peripheral neuropathy (nerve disorders), fibromyalgia and other severe pain syndromes that have not responded to all other forms of treatments, such as drugs, injections, surgeries or other alternative medical modalities.
The Regenerative Medicine market is projected to grow to more than $81 billion by 2023 and Dr. Yoo is on the forefront of this disruptive and transforming industry, and believes this is the the solution to the current broken allopathic medical model.
ADMISSION PACKAGES:
CELEBRITY VIP PACKAGE | $1,997
VIP & General Admission Packages, plus:
Front Row Seating
Personal Consultation with Dr. Gaines or Dr. Yoo
Night's Lodging at JW Marriott Miami Turnberry Resort & Spa
VIP Interview for Top Doctor Mag with Doctor's Photo on Front Cover
VIP PACKAGE | $997
General Admission Package, plus:
VIP Seating
Laser Training
Copy of Dr. Yoo's Book
Digital Analysis
GENERAL ADMISSION | $97
General Seating Admission Ticket
Networking Lunch (Q&A, Build rapport & create joint ventures)
30 Minute Consultation with an Online Specialist
BONUSES (included FREE with all packages)
3 FREE Grant Cardone eBooks
FREE 10X Your Social Media Webinar
FREE Grant Cardone Certified Coaching Session
Seating is LIMITED. Book your admission package today.
BE OBSESSED COACHING, Grant Cardone Licensee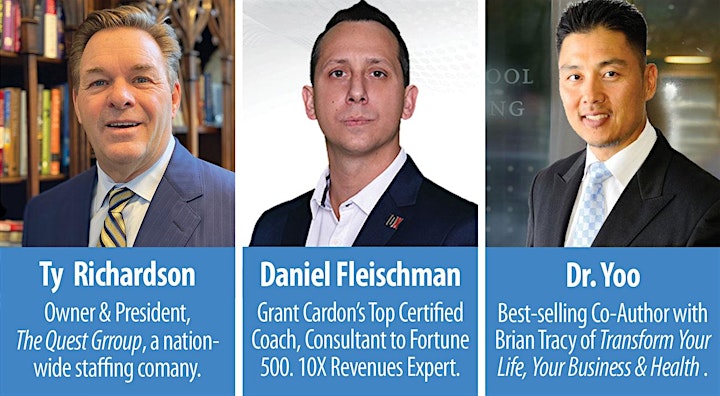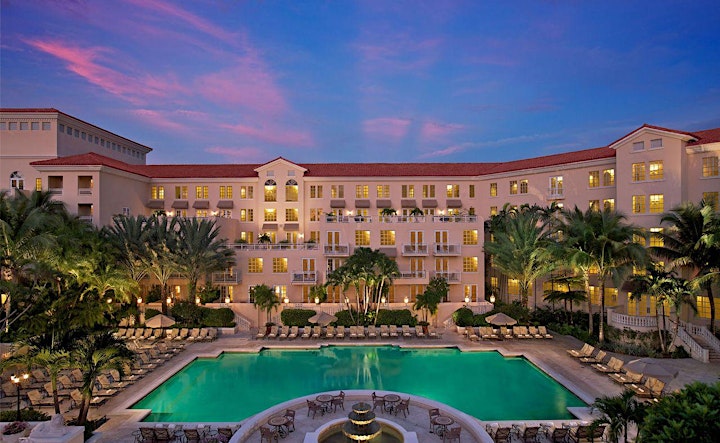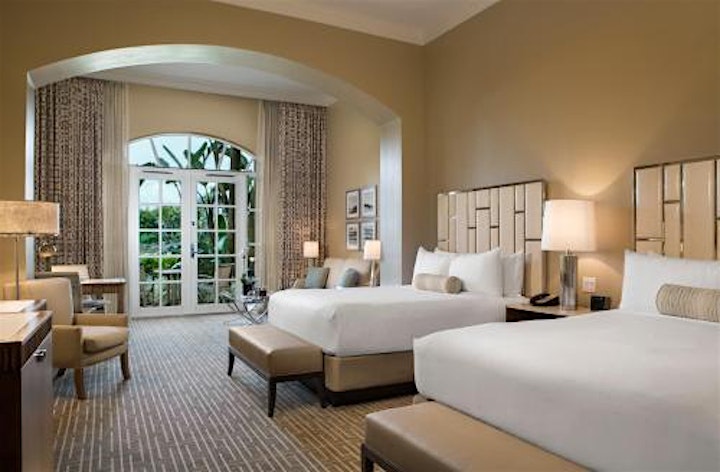 Date and time
Location
JW Marriott Miami Turnberry Resort & Spa
19999 West Country Club Drive
Aventura, FL 33180