10X Your Football Recruiting Now ! Conference W/ Coach Schuman & Former NFL...
Actions and Detail Panel
10X Your Football Recruiting Now ! Conference W/ Coach Schuman & Former NFL...
Wed, December 28, 2016, 3:00 PM – 6:00 PM EST
Description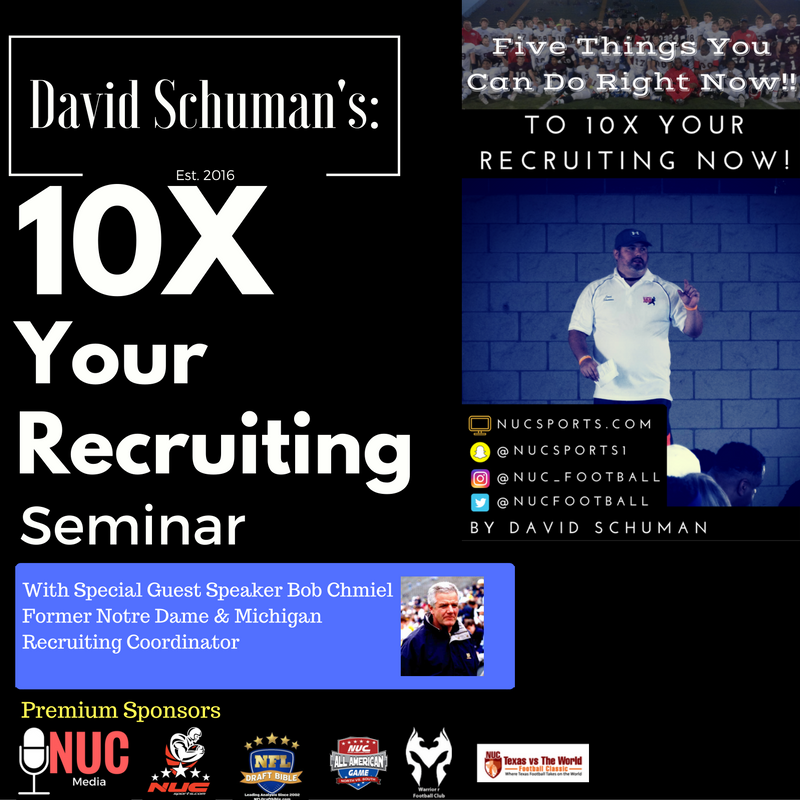 This seminar is critical as the recruiting season begins for all recruits of any sport.
Coach Schuman will go through in 3 hours all the important areas that will help the athletes get their name out there, get exposure, get recruited, and get the maximum amount of schools interested in the them for their ability. This is great for parents and athletes, whether the athlete is D1 level all the way to D3.
Who is Coach Schuman?
He is the founding father of the Underclassmen recruiting combines way back in 2005. He was the first analyst & coach to run events and set up for early recruiting of athletes. He is the CEO of NUC Sports and built the largest platform for recruiting athletes in the USA. Over 100,000 athletes have come through his programs since 2005. Over 10,000 have signed D1 Scholarships and over 300 are currently playing in the NFL. He was a D-1 scholarship athlete and starting linebacker at the University of Connecticut. He has built relationships over 11 years with every major player and program in college sports and understands the ins and outs of the recruiting process and what it takes to get recruited.
We will help you:
Clean up & develop highlight tape

Develop Massive Action Plan to target schools

Set up outcomes that you want to have from your recruiting process

Develop worksheets that map out your plan of action

Identify schools and recruiting coordinators

Identify the right coaches to speak with

Choose camps that you can attend now

Gather Transcripts and understand what your transcripts mean

Learn how and the importants of registering with NCAA Clearinghouse

Develop your football resume

Plan unofficial and official visits and attend college games and schools

Weekly outreach plan to coaches

Plan position training for offseason

Plan speed and conditioning training for offseason

How to talk with college coaches

How to interact on social media and how to set up your social media profiles

How to reach coaches on social media in the correct way

What is the importance of football clubs, 7v7 and national events

How to interact with your high school coach
You will walk away, knowing the process, developing an action plan and being able to capitalize on the action plan to start getting recruited on a much larger scale by many more coaches.
**Note: this is for serious players who want to play in college or serious parents who want to learn about the process. This will change the game for you and your athletes.