Come and learn how 10x Genomics operates at the intersection of biology and technology!
About this Event
10x Genomics welcomes you to our first virtual R&D Open House Webinar!
This is a great chance to hear and learn from our multi-disciplinary R&D Team, comprising:
Software Engineering
Microfluidics
Engineering (Mechanical, Electrical, Systems and Automation)
Molecular and Cell Biology
Protein Engineering
Chemistry
Computational Biology
Topics
What does each team do, and how does it contribue to our overall mission?
An example project/ day in the life of this '10xer'
What skills does each team look for?
What positions are we hiring for and how to learn more?
Q&A Session

Check out our career website for open positions!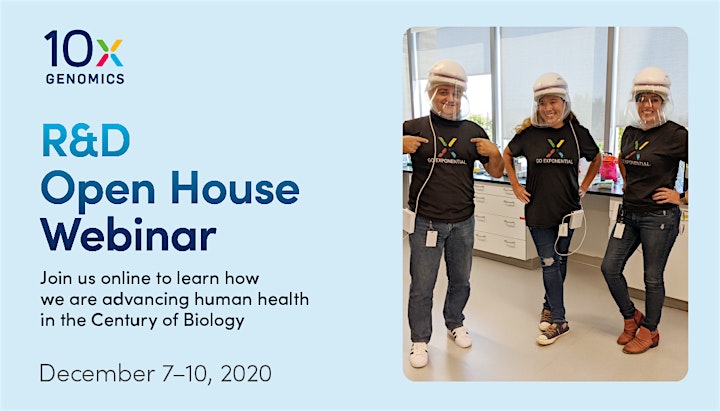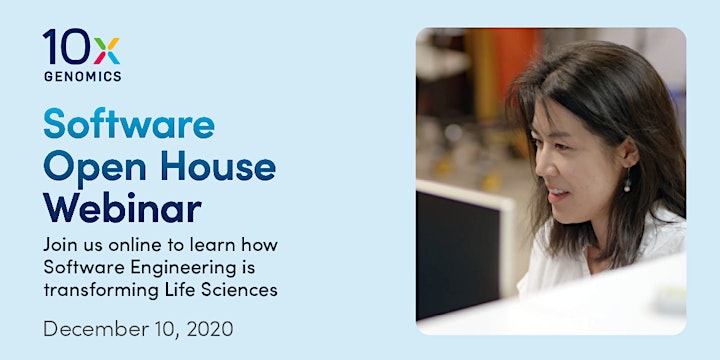 Please view the sessions below before selecting your desired dates.
Monday, December 7, 2020: 9:00am-3:00PM PST
9:00am-9:30am PST: Introduction of 10x Genomics by Ben Hindson
9:30am-10:15am PST: "Sequence All The Things! (Without Going Broke) By Charles Bruce
10:15am-11:00am PST: "Unnatural Molecules for Natural Applications" by Josh Delaney
11:00am-12:15pm PST: "Robustness and a superb customer experience" by Solongo Ziraldo, John Chevillet, Andrew Kohlway
11:45am-12:15pm PST: Talent Aqusition Team
12:15pm-1:00pm PST: Lunch Break
1:00pm-1:45pm PST: "CPD: turning protocols into products" by Layla Katiraee
1:45pm-2:30pm PST: From start-up to IPO, the journey of a process scientist by Susanne Spiegelberg
2:30pm-3:00pm PST: Next Steps
Tuesday, December 8, 2020 9:00am-3:00PM PST
9:00am-9:30am PST: Introduction of 10x Genomics by Ben Hindson
9:30am-10:15am PST: Developing microfluidic technologies for next generation biology by Lynna Chen
10:15am-11:00am PST: Building tools to measure life: from single bases to intact tissue using everything from transistors to microscopes by Kevin Gilmartin & David Hoffman
11:00am-11:45am PST: "MSE: The Human-Machine Interface" by Jennifer Lew
11:45am-12:15pm PST: Next Steps
Wednesday, December 9, 2020 9:00am-1:45PM PST
9:00am-9:30am PST: Introduction of 10x Genomics by Ben Hindson
9:30am-10:15am PST: Turning data into knowledge with Computational Biology by Pat Marks & Mike Stubbington
10:15am-11:00am PST: 10x Sweden: The spatial R&D hub by Caroline Gallant
11:00am-11:45am PST: "Sample Prep at 10x - The bridge between biology and technology" by Jill Herschelb and Dagmar Walter
11:45am-12:30pm PST: "Engineering creative protein solutions at the nano-biology scale" by Shankar Shastry
12:30pm-1:15pm PST: Developing assays to read every possible molecule in your biological sample by Assay Development
1:15pm-1:45pm PST: Next Steps
Thursday, December 10, 2020 9:00am-3:00PM PST
9:00am-9:30am PST: Introduction of 10x Genomics by Ben Hindson
9:30am-10:00am PST: Intro to Software at 10x Genomics by Alex Wong
10:00am-10:45am PST: Building seamless and scalable software scientists love by Brynn Claypoole
10:45am-11:30am PST: Instrumentation for Genomics: Life of an Embedded-SW engineer at 10x by Samir Jain
11:40am-12:15pm PST: Software Testing and Verification in Genomics World by Abhi Puthenveetil
12:15pm-1:00pm PST: Next Steps