Description
In this seminar, we will take a closer look at 10x Genomics technology and how researchers are using single cell applications to facilitate groundbreaking research. We will also highlight new single cell solutions for genomics, transcriptomics, and epigenomics, including Single Cell CNV Solution, Single Cell Immune Profiling, Single Cell ATAC, and Single Cell Gene Expression with Feature Barcoding Technology to simultaneously examine gene expression and protein abundance or CRISPR-mediated perturbations in the same cell. We will focus on methods to produce quality starting samples for single-cell sequencing. This will include approaches such as automated and reproducible tissue dissociation, removal of dead or unwanted cells, debris, and clumps, and cell isolation for enhanced resolution of subpopulations.
Agenda & Featured Speakers:
9:00 AM - 9:30 AM
Murray Francis, PhD, Miltenyi Biotec - 'Sample Preparation for Quality Single-Cell Sequencing'
9:30 AM - 10:00 AM
Jack Dunne, Miltenyi Biotec - 'Minimal Cell Stress: Gentle Microfluidic Flow Cell Sorting'

10:00 AM - 10:10 AM Coffee Break
10:10 AM- 10:50 AM
Chris Black, Global Manager, Technical Sales, 10x Genomics - 'Latest in Single Cell Enabling Technology from 10x Genomics'
10:50 AM - 11:10 AM
Gregor Andelfinger, MD, PhD, Head, Research Axis, Fetomaternal and Neonatal Pathologies, CHU Sainte-Justine Research Center - 'Single cell decisions in heart valve development'
11:10 AM - 11:30 AM
Piet van Vliet, PhD, Research Associate, Andelfinger Lab - 'Insight into the cardiac conduction system at single cell level'


---
10x Genomics is happy to be partnering with Miltenyi Biotec, learn more about our collaboration by attending our seminar.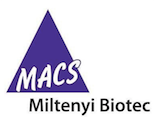 * The meeting is free to attend, but registration is required. Please RSVP to reserve your spot! Refreshments will be provided. We look forward to seeing you there!
Questions? Contact Eric Leblond at