Event Information
Location
Fung Auditorium
Powell-Focht Bioengineering Hall, UC San Diego
La Jolla, CA 92093
Description


8:30 - 8:45 am ~ Welcome and Opening Remarks
Sandra Brown, Vice Chancellor of Research, UCSD
Kung-Yee Liang, President, NYMU
Yanhwa Wu Lee, Chair Professor, NCTU
8:45 - 9:00 am ~
Introduction to the Symposium
Shu Chien, Director of IEM, Professor of Bioengineering & Medicine, UCSD
---

MODERATORS - Shu Chien, UCSD & Der-Cherng Tarng, NYMU


9:00-9:25 am ~ I-1. John Shyy, Professor of Medicine, IEM, UCSD
Endothelial Innate Immune Response
9:25-9:50 am ~ I-2. Jeng-Jiann Chiu, Director, Institute of Molecular and Systems Medicine, National Health Research Institute, Taiwan
Molecular Mechanisms Underlying The Effects of Disturbed Flow on Neointimal Hyperplasia in Arteriovenous Fistula
9:50-10:15 am ~ I-3. Shaochen Chen, Professor of NanoEngineering & Bioengineering, IEM, UCSD
Rapid 3D Printing of Tubular Structures in Hydrogel
10:15-10:40 am ~ I-4. Chang-Po Chao, Distinguished Professor, Department of Electrical & Computer Engineering, NCTU
A wearable PPG blood flow sensor
10:40-11:00 am ~ BREAK
MODERATORS - Juan Lasheras, UCSD & David Chih-Yu Yang, NYMU


11:00-11:25 am ~ I-5. Der-Cherng Tarng, Professor, Department and Institute of Physiology, NYMU
Vascular Toxicity of Indoxyl Sulfate in Chronic Kidney Disease
11:25-11:50 am ~ I-6. Zhen Chen, Assistant Professor of Diabetes Complications & Metabolism, City of Hope Medical Center
MicroRNA-92a Mediates Endothelial Dysfunction in Chronic Kidney Disease
11:50 am-12:15 pm ~ I-7. David Chih-Yu Yang, Assistant Professor, Faculty of Medicine, NYMU
Soft Bone and Hard Artery in Uremia
12:15-12:40 pm ~ I-8. Rob Knight, Professor of Pediatrics and Computer Science & Engineering, UCSD
Dynamics of the Human Microbiome in Health and Disease
12:40 - 1:40 pm ~ LUNCH
---

MODERATORS - Chia-Chiang Chang, NCTU & Joseph Wang, UCSD
1:40-2:05 pm ~ II-1 Chia-Ching Chang, Professor and Chair, Department of Biological Science and Technology, NCTU
Multifunctional memprocessor device development by DNA guided Ni ion chain
2:05-2:30 pm ~ II-2. Ratnesh Lal, Professor of Bioengineering and Mechanical & Aerospace Engineering, Program of Materials Science, IEM, UCSD
Smart Nano-shuttles for Targeted and On-demand Theranositcs
2:30-2:55 pm ~ II-3. Hsiao-Wen Zan, Professor, Department of Pediatrics, NCTU
Ammonia detection in PPB regime and the applications
2:55-3:20 pm ~ II-4. Liangfang Zhang, Professor of NanoEngineering and IEM, UCSD
Nanotherapeutics and Nanovaccines for Antibiotic-Resistant Bacteria
3:20-3:50 pm ~ BREAK


4:00 - 5:30 pm ~ GROUP DISCUSSIONS
Renal Disease: PFBH 489 Zweifach Library. Moderators: John Shyy & Der-Cherng Tarng
Nanotechnology: Fung Auditorium. Moderators: Chia-Ching Chang & Joseph Wang
Cancer: PFBH 391. Moderators: Judith Varner & Muh-Hwa Yang
Retina & Stem Cells: PFBH 291. Moderators: Gert Cauwenberghs & Chung-Yu Wu


8:50- 9:00 am ~ OPENING REMARKS
David Brenner, Vice Chancellor of Health Sciences, Dean of the School of Medicine, UCSD

MODERATORS - Muh-Hwa Yang, NYMU & Maurizio Zanetti, UCSD


9:00- 9:25 am ~ III-1. Muh-Hwa Yang, Professor of Institute of Clinical Medicine, Director of Infection & Immunity Research Center, NYMU
Role of EMT in Regulating Tumor-Associated Macrophages
9:25- 9:50 am ~ III-2. Judith Varner, Professor of Pathology & Medicine, Moores Cancer Center, UCSD
Targeting Macrophage Signaling to Control the Anti-Tumor Immune Response
9:50-10:15 am ~ III-3. Pei-Ching Chang, Associate Professor, Institute of Microbiology & Immunology, NYMU
EMT-like and Stemness Phenotypes in NE-differentiated Prostate Cancer Cells and Its Implication in Hormone-refractory Prostate Cancer
10:15-10:40 am ~ III-4. Paul S. Mischel, Member and Head, Lab. Molecular Pathology, Ludwig Institute for Cancer Research; Professor of Pathology & Moores Cancer Center, UCSD
Extrachromosomal DNA and Drug Resistance in Cancer
10:40-11:00 am ~ BREAK
MODERATORS -

Hsien-Da Bryan Huang, NCTU & Judith Varner, UCSD



11:00-11:25 am ~ III-5. Jeng-Fan Lo, Professor and Chairman, Institute of Oral Biology, NYMU
Reactive Oxygen Species, Mitochondrial Dysfunction, Cancer Stemness and Tumorigenesis
11:25-11:50 am ~ III-6. Maurizio Zanetti, Professor of Medicine, Moores Cancer Center, UCSD
UPR and Cell Nonautonomous Regulation of the Tumor Microenviron-ment
11:50 am-12:15 pm ~ III-7. Hsien-Da Bryan Huang, Professor and Vice Dean, College of
Biological Science and Technology, NCTU
A Metagenomics and Bioinformatics Workflow in Cancer Biology - A Case Example of Detecting Changes in the Salivary Microbiota of Oral Cancer
12:15-12:40 pm ~ III-8. Prashant Mali, Assistant Professor of Bioengineering, UCSD
Finding a Needle In A Haystack: Systematic Approach for Unraveling Targetable Genetic Vulnerabilities in Cancer
12:40-1:40 pm ~ LUNCH
---

MODERATORS - Shih-Hwa Chiou, NYMU & William Freeman, UCSD
1:40-2:05 pm ~ IV-1. Won-Jing Wang, Assistant Professor, Institute of Biochemistry & Molecular Biology, NYMU
Molecular Mechanism of Primary Cilia Initiation
2:05-2:30 pm ~ IV-2. Gert Cauwenberghs, Professor of Bioengineering and IEM, UCSD
Towards High-Resolution Retinal Neural Interfaces
2:30-2:55 pm ~ IV-3. Jin-Wu Tsai, Assistant Professor, Institute of Brain Science, NYMU
Multidisciplinary Approaches to Study Neural Development and Disorders
2:55-3:20 pm ~ IV-4. Karl Wahlin, Assistant Professor of Ophthalmology, UCSD
Gene-edited Human Pluripotent Stem Cells for the Systemic Optimization of 3D Retinal Organoids
3:20 - 3:40 pm ~ BREAK
MODERATORS - Gabriel Silva, UCSD & Chung-Yu Wu, NCTU
3:40-4:05 pm ~ IV-5. Chung-Yu Wu, Chair Professor, Department of Electronic Engineering, NCTU
The Design of Implantable Bio-Subretinal Chip with iPSC-Derived RPE-sheet or Retinal Cells
4:05-4:30 pm ~ IV-6. Shih-Hwa Chiou, Professor, Institute of Pharmacology, NYMU
Development of Cellular Reprogramming and iPSC Technology as Personalized Medicine-based Platform: From Bench to Clinic Bedside
4:30-4:55 pm ~ IV-7. Kang Zhang, Professor of
Ophthalmology

, Chief of Ophthalmic Genetics, IEM, UCSD

Translating Genomics and Stem Cell Technology into Eye Therapies



4:55-5:20 pm ~ IV-8. Pu-Wei Wu, Professor of Materials Science and Engineering, NCTU
Development of IrO 2 Formulation and Process for Bio-Stimulating Interfaces
In addition to the Bilateral Symposium, IEM and (SDCASEA) San Diego Chinese American Science and Engineering Association is hosting a forum that promote and strengthen the US-Taiwan corporations.
Please use this opportunity to register for both events.




7:45- 8:15 am ~ Breakfast
Morning session ~ Moderator - JS Chen, William Prager Chair Professor, Structural Engineering, UCSD


8:15- 8:30 am ~ Opening Remarks
Jay Hwang, President of SDCASEA
Shu Chien, Professor of Bioengineering & Medicine and Director of IEM, UCSD
Richard Chang, Director, Science and Technology Division, Taipei Economic & Culture Office in Los Angeles (TECO-LA)
Jeng-Jiann Chiu, Deputy Minister of Ministry of Science and Technology (MOST), Taiwan, ROC
8:30- 9:00 am ~ Alan Paau, CEO of Advance Immune Medical Systems
High Education, Research, &Technology Management In Knowledge Economy
9:00- 9:30 am ~ Dean Ho, Chairman and Co-Founder, KYAN Therapeutics
We are All Parabolas: The Arrival of Personalized Medicine
9:30- 9:45 am ~ Break


9:45- 10:15 am ~ Hsian-Rong Tseng, Professor, Department of Molecular and Medical Pharmacology, David Geffen School of Medicine, UCLA
Introduction of CytoLumina Technologies Corp, a Journey Toward Non-Invasive Cancer Diagnostics
10:15- 11:15 am ~ Young Entrepreneur Journey
Dayu Teng, Co-founder of Drug Array
My Path to Entrepreneurship as an Engineering Student
Leon Ti-Hsuan Ku, Co-founder, Chief Development Officer, Cenezyme Biotechnologies
Fun and challenges for young entrepreneurs in the U.S. biomedical industry
Yi-Kai Lo, CEO of Niche Biomedical
Translating Laboratory Research to NewCo
Winston Chen, CEO of VOR
VOR: sense at ease 1.0
11:15 am - 12:00 pm ~ Panel Discussion



12:00 - 1:00 pm ~ Lunch



Afternoon session ~ Moderator - Ming-Hsiang Tsou, Professor, Geography Department, San Diego State University
1:00 - 1:30 pm ~ Henry Liu, project manager, clinical sequencing service and new drug development, Lihpao Life Corp
Precision medicine: from Targeted Diagnostics to Targeted Therapy, an Effort towards Total Solution
1:30 - 2:00 pm ~ Winston Z. Ho, Founder, President & CTO of Applied Biocode
Digital Barcode for Multiplex Molecular Diagnostics
2:00- 2:30 pm ~ Leigh Hsu, Vice President, Corporate Development & Strategy, Lpath
Lpath, a San Diego biotech company from A to Z
2:30 - 2:45 pm ~ Break
2:45- 3:15 pm ~ Emil Tsai, CEO & Chair of the Board, SyneuRx
Ultimate translational study; bridging the gaps in developing novel therapeutics for CNS disorders
3:15 - 3:45 pm ~ Wayne W. Chen, Director of Lymphoma Service, NeoGenomics Laboratories
Tumor Molecular Profiling: Is Something Finally Happening?


3:45 - 4:30 pm ~ Panel Discussion
4:30 - 4:40 pm ~ Closing Remarks
Jeng-Jiann Chiu, Deputy Minister of MOST
Jay Hwang, President of SDCASEA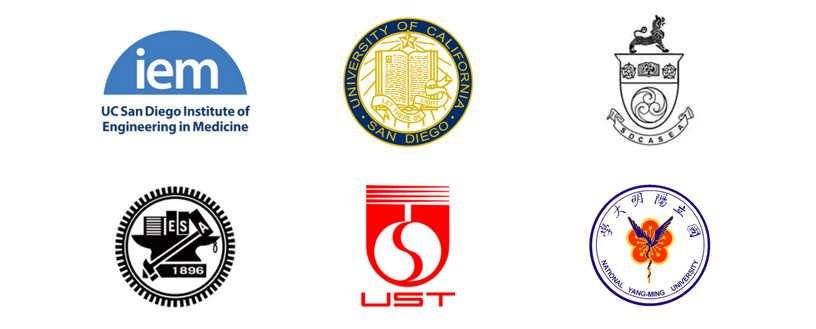 Date and Time
Location
Fung Auditorium
Powell-Focht Bioengineering Hall, UC San Diego
La Jolla, CA 92093