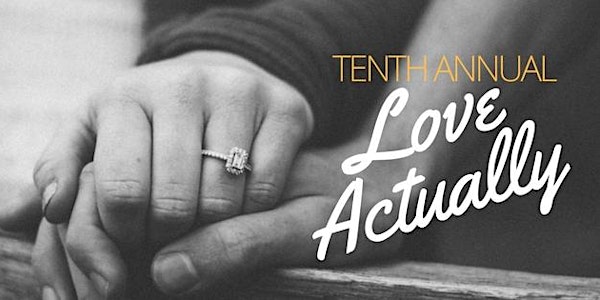 10th Annual Love Actually Film Showcase
Refund Policy
Contact the organizer to request a refund.
Description
Love Actually is a critically acclaimed annual short film screening event, hosted by New York Film Loft (www.nyfilmloft.com) and SCENEPR (www.scenepr.com) for Valentine's Day each year.

One big change this year...This year we've gone DIGITAL! This year's event will be showcased ONLINE! We'll be screening via RABB.IT so you can come, watch, and connect with fellow viewers at the same time.

Yep..those are big changes! What hasn't changed is all the amazing films we have in store!

---
2017 Film Lineup



Tabook | 2:44
While browsing the bookstore 19-year-old Gwen is unexpectedly drawn to a volume of kinky erotica, earning her disapproving glares from the other customers. Will Gwen follow her deepest desires or will she let her embarrassment restrain her?
Dario van Vree | Director
Following his animation studies at the prestigious KASK academy in Belgium, Dario has been directing animation with an eye for the weird, the incentive and the power of character performance. His work is characterized by clarity, humor and a love for paradoxes. Besides directing, Dario teaches animation at the Willem de Kooning Academy and is co-founder of the KLIK! Amsterdam Animation Festival.

Happily Ever After | 12:00
Happily Ever After is a romantic comedy about hopeless romantic, ANNIE. In a quest to not end up like her parents, miserably together, Annie puts her dates to the test when things start to get serious. If she and her date can recreate movie magic, Annie knows they'll live 'Happily Ever After,' just like Harry and Sally. But can she really fake true love?
Carsten Kurpanek | Director
Carsten Kurpanek was born and raised in Germany and moved to Los Angeles in 2007 to pursue a career in film editing. He work as an assistant editor on films such as "Machine Gun Preacher", "The Girl With the Dragon Tattoo", and "World War Z", before making the jump to feature editor with the drama-thriller "Squatters". Carsten's recent credits include the sci-fi adventure film "Earth To Echo" for Relativity, the award-winning indie drama "Diving Normal", and the military drama "Fort Bliss", starring Michelle Monaghan and Ron Livingston. Carsten has also directed some several shorts: the romantic drama "Left & Leaving", metaphysical thriller "The White Room", and the two horror shorts "BAD", and "Breathe". "Happily Ever After" is his first romantic comedy.

The Residue of a Relationship | 14:50
The Residue of a Relationship is a short film that looks at the leftovers of love and tries to piece together what it all means. It follows a real-world love story from its inception through to a conclusion in a thoroughly modern tale of romance in the 21st century. The Residue of a Relationship is a funny and heartwarming tale about the lessons we learn from the things that people leave behind.
Brett Chapman is a filmmaker based in the north of England. Obsessed with the romance of cinema from an early age his work seeks to toe the line between life imitating art and art borrowing from life. He originally studied journalism before moving first into making music videos and then working on other people's features. He's now developing his own projects with his new short film, The Residue of a Relationship - the first such project to truly represent his voice and point of view.

Alzheimer's: A Love Story | 16:24
Alzheimer's is a chronic neurodegenerative disease that accounts for roughly 60 to 80 percent of dementia cases. It is caused by the death or malfunction of nerve cells in the brain, and results in eventual deterioration of memory, behavior, and basic bodily functions. Those diagnosed with the disease live an average of 8 years after their symptoms first become noticeable- it's been 12 years for Greg. He lives at a memory care facility in Chicago and can no longer walk, go to the bathroom independently, or feed himself without assistance, let alone carry on a conversation. Every day a man named Michael comes and visits for a couple hours. No one can say for sure if Gregory knows who Michael is or why he comes every day, but it seems he does. From Michael's point of view it's only natural that he do so - after all, Michael has loved Greg since the day they met 40 years ago. Gregory began his next adventure, peacefully, on the other side of life as we know it seven months after this documentary was completed. Gregory passed on 10/04/15. 7 months after the documentary was filmed.
Monica Petruzzelli & Gabe Schimmel | Directors
Monica Petruzzelli loves telling stories – whether it be through documentaries, newscasts or the songs she writes. She is a senior Broadcast Journalism and Documentary Production major and she aspires to save the world, one story at a time. Monica is a proud vegan and social justice junkie. She has held internships with Ryan Seacrest Studios, Smart Money Talk Radio, and ABC7, to name a few. Her latest documentary "Alzheimer's: A Love Story" has garnered attention from some of the best in the biz during it's film festival run. When she's not filming or broadcasting, Monica enjoys playing guitar and soaking up the California sun.

Homerun | 15:00
Junghyun is a huge fan of Eagles (Korean baseball team). On a rival match day, he wants to watch the game, but it's not easy.
Jonghun Eun | Director



Dear Tom | 3:15
Sometimes, fate is like a small sandstorm that keeps changing direction, even two parallel lines could possibly meet one day. You only stopped for a moment, and when you turn around, it's gone... I met a girl a year ago. We dated for 3 months and I filmed our private moments together. One day I woke up and she was gone, leaving a goodbye note on my fridge. I called her and asked to send me a recording of the letter narrated with her voice so I could make a small film with our small moments. What you see is our real story.
David Sánchez-Tembleque Valiño | Director Filmmaker and photographer in Zara, Inditex





Battle of the Brides | 13:30
After a Bridezilla steals his wedding venue, a meek groom must win a one-of-a-kind wedding gown to appease his overbearing fiancée.
Phillip Thomas cannot remember a moment in his life when he was not consumed by a love of storytelling and adventures. His first childhood heroes were Peter Pan, Robin Hood, and Luke Skywalker. At age nine, Phil went on a real life adventure when his family spent a year living overseas in Kuwait. Phillip Thomas makes films about people who find their self-confidence through a difficult journey; his favorite genres include science fiction/fantasy, action adventures, and comedies. In addition, he would like to incorporate his love of history into his film work. Phil's other films with the FSU College of Motion Picture Arts include Midnight Toil, Diana Flynn and the Sword of Sir Morris, and Battle Of The Brides. Phillip looks forward to a long career as a film editor and director.

The Third Date | 11:44
Two 60-somethings begin to feel those first pangs of love once again. But first, they have to negotiate that tricky Third Date...
Nick Woolgar | Director
Nick is a drama and documentary director and editor who has worked on everything from short and feature films, editorial, corporate and event content to theater trailers, promos, and documentaries. In 2013 he co-directed and produced his first feature-length documentary, 'Digging for Victory', an ode to the Suffolk (UK) village of Capel St Mary. Alongside working with FILM Suffolk to develop more projects and other ongoing freelance work, he is currently writing and developing another short which he is hoping to shoot early in 2017.