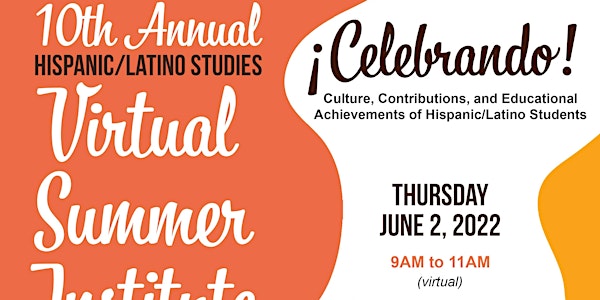 10th Annual Hispanic/Latino Studies Virtual Summer Institute
¡Celebrando! Culture, Contributions, and Educational Achievements of Hispanic/Latino students.
About this event
Join us virtually on June 2nd from 9:00 to 11:00 am to hear from Former 14th Surgeon General, Dr. Antonia Novello. She was the first woman and first Hispanic to ever serve in this capacity. Followed by presenters Dr. Hector Montenegro and Kim Haas.
The institute will continue with a face-to-face session from 1:00-3:00 pm at Park Vista Community High School. Keynote Speaker, Dr. Maria Armstrong will kick-off our celebration of culture, contributions, and the educational achievements of our Hispanic/Latino students. There will be a student panel discussion and student performances that you will not want to miss.
The institute will help to promote a culture of learning and development for all participants, by providing opportunities for professional growth. As well as ensure that there is a shared commitment, and collective responsibility for the academic success of our Hispanic/Latino students.
In addition, our focus will be to provide multiple historical and cultural accounts to help enhance understanding of Hispanic/Latino history, ethnicity, culture, identity, and language. As well as to spark, enrich, and empower lifelong learners through their own student voice, culture, history, and personal narratives.