Description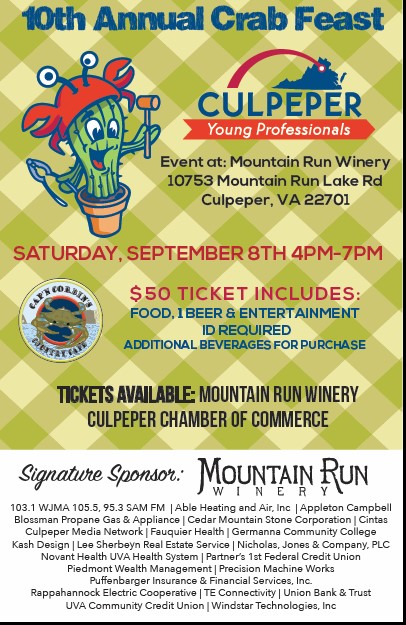 Join Us for Culpeper's Premier All-You-Can-Eat Crab Feast!
This is our 10th year providinig a fun and entertaining event filled with great food provided by Cap'n Corbin's Seafood! Music, Refreshments all at the Beautful surroundings of Mountain Run Winery!
And for a Great Cause;
The purpose of the Annual Crab Feast is to raise funds for our annual project to contribute to the local community and provide funding for our networking and social programs throughout the year. Each January, the Young Professional Advisory Council reviews local non-profits and community projects and decides the focus of our fundraising efforts throughout the year.
The 2018 Annual Project is to support our community by raising funds for substance abuse awareness. Our chosen non-profits are Living the Dream Foundation and Come as You Are.