Event Information
Location
Mexico Beach to Cape San Blas
Port St. Joe, FL 32456
Description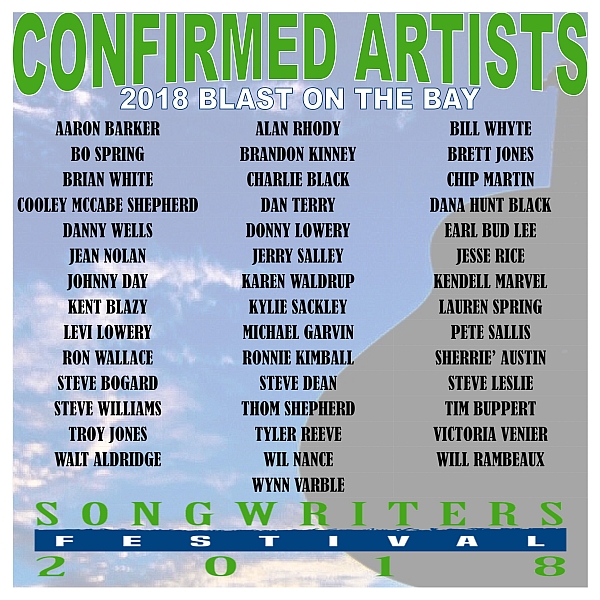 Celebrating our 10th anniversary in 2018, Florida's Gulf Coast will play host to a group of talented musicians and songwriters direct from the streets of Nashville. Festival performances will consist of 40+ musicians who collectively have written hundreds of hit songs from Faith Hill and George Strait to Jason Aldean and Garth Brooks. Many songwriters from past events will be returning for another great weekend of music and storytelling, in addition, guests can count on several new faces at this years "Blast." Said best by one of our founding writers during an interview in the Port St. Joe Star Newspaper: A songwriters' festival, Nashville songwriter Will Rambeaux said, is a chance to "reconnect to that skinny 18-year-old who wanted to be a rock star." "Port St. Joe is what I'd call a boutique festival. It is not Key West, where they have something like 300 songwriters and which is the granddaddy of them all. But we keep it small, because we like it that way. The community, the venues, has their charms. We love it."
All of the artists really enjoy playing at the nearly dozen venues over the long weekend, from the VIP sponsor/artist welcome reception on the beach Thursday night to the grand finale on Sunday afternoon at the world Famous Indian Pass Raw Bar. It is a weekend not to be missed. This annual event continues to deliver on the promise of an incredible time for anyone who appreciates great music. If you spend one weekend a year in the area, make it October 18-21st, 2018 at the 10th annual Blast on the Bay Songwriters' Festival. Please check back for updates to the schedule and the artist lineup as we grow closer to the event date.
To accommodate our growth, we now feature over 40 prolific songwriters giving more performances at numerous venues. Our goal is to continue offering this great festival we have all come to expect and enjoy each year. Thus, Blast on the Bay 2018 is a ticketed event. Proceeds from this event benefit the Coastal Songwriters Education Coalition Inc., a 501c3 not for profit. We also partner with several other civic and non-profit groups in the area, including the Gulf Alliance for Local Arts, the Florida Restaurant and Lodging Association, and our local grade schools through songwriting workshops, performances and educational opportunities surrounding this event and others throughout the year.
UPDATE!!!
This years online ticket purchasers will recieve a digital copy of "Forever Kinda Thing" a fun beach tune recently written by Jean Nolan! The song is currently in the final production phase and will be ready just intime for Blast 2018!
Date and Time
Location
Mexico Beach to Cape San Blas
Port St. Joe, FL 32456
Refund Policy