★ ★ ★ ★ ★ ★ ★ ★ ★ ★ ★ ★ ★ ★ ★ ★ ★ ★ ★ ★ ★ ★ ★ ★ ★ ★ ★
About this Event

Be Bond for the Night! Tux up and join us at the 10th Annual Black Tie for an unforgettable gala. Bring your exotic and classic cars, socialize with VIPs, enjoy Music, Dancing, Bond Cocktails, Cigars, People's Choice Car Competition, and other Entertainment. Together we will experience an exciting celebration and also raise funds to help reduce Veterans homelessness in the DC Metro Area!

Date: Saturday, June 12, 2021
Time: 007PM - 11 PM
........6PM VIP Reception (VIP tickets only)
Location: MI6 Top Secret Winery
(Tickets are Limited)


■ United States Air Force Combat Rescue Pilot - Vietnam, Test Pilot, NASA Astronaut, first African-American to pilot and command a Space Shuttle mission (Discovery), and Former NASA Deputy Administrator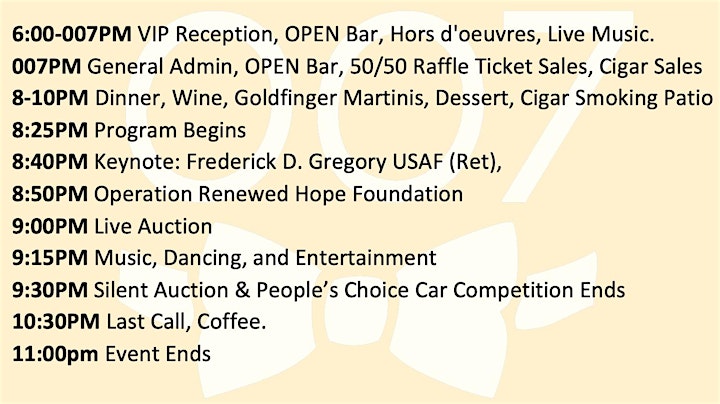 VIP Reception: Open Bar * Hors D'oeuvres * Live Music * Keynote Special access
Classics & Supercar Competition: Enter in People's Choice Classic and Supercar Categories. Winner receives a plaque and car prize. (When purchasing your ticket, scroll down to Add-Ins)
Fine Dining: Dinner * Dessert * Coffee.
Spirits: OPEN BAR, "Shaken not Stirred" Goldfinger Martinis * Wine, Beer, and more
Entertainment: Music * Dancing * Silent Auction * 50/50 Raffle * 007 Standee Selfie * Red Carpet Photos * Green Screen Photos with Exotic Faux Weapons * Electronic Games
Cigars: Outdoor Smoking Patio * Top-Shelf Cigars for Sale
Dress to Impress Attire: Black Tie * Military Formal * Ceremonial Kilts * Fashion Chic * Bond Beauty Glam * Villain Costumes
Terrain: Flat grass field, gravel parking lot, stair step to covered patios & Tasting Lodge.
___________________________________________________________________
Sponsors only – Special Access to "Skyfall VIP Loft" for Special Desserts and Beverages



PLEASE NOTE: Due to the time of year and some of the COVID restrictions being lifted, lodging is very limited for June and filling up fast. 007 Benefit is unable to offer a room block for this event. We highly recommend making reservations soon if you are looking for hotels in the area for the night of the event.










COVID Rules: Temperature and contact tracing info will be taken. Masks & Sanitizer Provided. See Guidelines Below.
▶︎ MASKS ARE REQUIRED AT ALL TIMES UNLESS GUESTS ARE EATING OR DRINKING..
▶︎ SOCIAL DISTANCING WILL BE ENFORCED.
▶︎ COVID-19 REGULATIONS ARE IN EFFECT!
All participants will have their temporal temperature taken at the outdoor registration area. Temperatures of 100°F or higher will not be able to attend. Sanitizers and masks will be provided. Masks are required for indoors/restrooms. Social distancing of 6' are state mandated. Wait staff will be gloved and masked.
If you have any COVID-19 symptoms, including fever, cough, or gastro-intestinal issues. please do not attend. Additionally, do not attend this event if you have been diagnosed with COVID-19, or had direct contact with an individual diagnosed with or suspected to have COVID-19 in the past 14 days. (Your ticket(s) will be refunded).
_______________________________________________________________
(Our 11th year, but due to COVID we're celebrating our 10th Annual Black Tie)
Sponsorship Opportunities HERE!