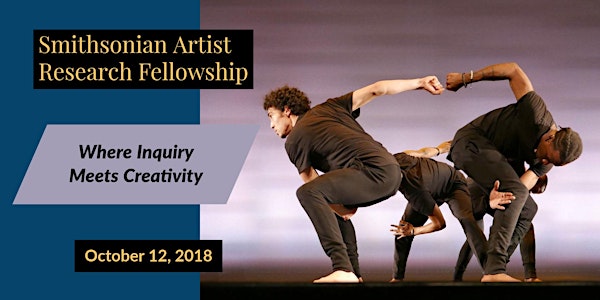 10th Anniversary Symposium of the Smithsonian Artist Research Fellowship
When and where
Location
Nan Tucker McEvoy Auditorium Donald W. Reynolds Center for American Art and Portraiture 8th and F Streets, NW (Use G Street Entrance) Washington, DC 20004
Description
Where Inquiry Meets Creativity, A Symposium Celebrating the 10th Anniversary of the Smithsonian Artist Research Fellowship
Friday, October 12, 2018 from 9:30 am to 6:00 pm

Free and open to the public

Ten years ago, as part of its mission to reach and engage diverse thinkers, the Smithsonian Institution created the Smithsonian Artist Research Fellowship. Since its inception, the Smithsonian has sponsored over 150 artists fostering research across the disciplines of art, history, culture, technology, and science, making possible the best in new artistic production as well as expanding the creative horizons of Smithsonian scholars and museums. To celebrate the fellowship's achievements and consider how to amplify the program in the future, fellowship recipients and Smithsonian staff join in lively conversation to advocate for research and study as a critical element of art practice.
Symposium Program

9:30 am -- Introduction: Bringing a Research Fellowship for Artists to the Smithsonian, Susan Lubowsky Talbott, The Fabric Workshop and Museum
10:15 am -- Session 1: What Is Artist Research? SARF recipients Kim Schoenstadt, LaMont Hamilton, Ayana V. Jackson, and moderator Sarah Bainter Cunningham
11:45 am -- Lunch Break

1:15 pm -- Session 2: Fostering Interdisciplinary Practice, SARF recipients Laurel Roth Hope, Annet Couwenberg,Yann Seznec along with Smithsonian representatives Edward Bronikowski and Roger Connor, and moderator J.D. Talasek
3:00 pm --Session 3: Insights and Outcomes, SARF recipients Lily Cox-Richard, Brian Jungen, Ken Gonzales-Day, along with Smithsonian representatives Gwyneira Isaac and Barbara Stauffer, and moderator Al Miner
4:30 pm -- Summation, Anne Collins Goodyear, Bowdoin College Museum of Art
5:15 pm -- Tours of exhibits featuring SARF recipients: Trevor Paglen: Sites Unseen at the Smithsonian American Art Museum given by Joanna Marsh and UnSeen: Our Past in a New Light, Ken Gonzales-Day and Titus Kaphar at the National Portrait Gallery given by Taina Caragol

Seating is available on a first come, first served basis.
ASL translation services are available by request one week in advance of the event by contacting TurnbowD@si.edu.
Image credit: From Dapline!, a choreographic work created by 2014 SARF recipient LaMont Hamilton in collaboration with Andre M. Zachery and the Renegade Performance Group.