10th Anniversary of Positive S.I.S.T.E.R.S. and Real Women Like Us - Redefining Our Beauty Celebration

Saturday, November 17, 2018 from 10:30 AM to 5:30 PM (EST)
Event Details
It's the 10th Anniversary of Positive S.I.S.T.E.R.S.!!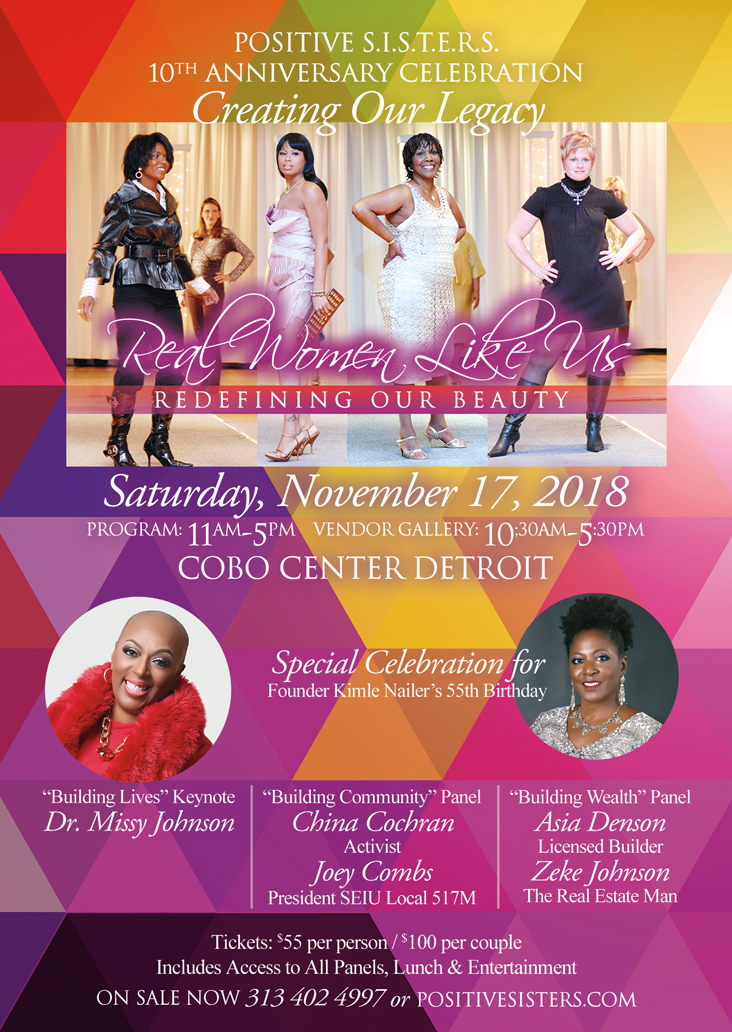 For 10 years, the Real Women Like Us - Redefining Our Beauty Fashion Show and Luncheon has been inspiring women and girls to live authenically, beyond limiting beliefs based on their physical bodies. This year, we celebrate our 10th Year Anniversay at a new lcoation in Downtown Detroit:
Cobo Center 
1 Washington Blvd
Detroit, MI
Saturday, November 17, 2018
Registration: 10:30 am
Program 11:30 - 5pm
With so much revitalization occuring in Detroit, we are bringing women together in the heart of the City to remind ourselves of the power we possess to re-imagine what's truly possible and to begin leading change in our communities. Last fall, the Women's Convention hosted over 4,000 women in this very venue to raise awarenes of the power of women to impact change, politically and economically.

However, in our City, our communities remain unchanged!
And we must address this matter. We are gathering in Cobo Hall to start the dialogue, and raise awareness of the vast opportunities available to infuse new opportunities, and create wealth in our neighborhoods.
This year, we are inspiring women of Metro-Detroit to gather together, and collaborate to Create Our Legacy. Imagine, sharing a room with other women who are building businesses, and sharing how you too can build a legacy for your family. 
If you enjoyed our past events, this final event will exceed all your expectations, as we combine the 55th Birthday Celebration of the Founder, Kimle Nailer in the festivities.
Entertainment: 
DJ Low will rock the mic
Poet/SingerActress: Arrie Lane
Jazz Great - Duane Parham, Saxophonist

House of Bastet - Special Dance Ensemble, "The Shape of You"
 "Jubiliee" Dance Ensemble - "Don't Give Up"
Welcome to Motown - we are doing it Big!!
Tickets on Sale now!
Tickets also available at Roloni's Boutique: 22080 W 10 Mile Road, Southfield, MI or call (313) 402-4997. 

Click Image for Highlights of Past Events:
Get a Jump Start on Your Holiday Shopping
Vendor Shopping: 
10:30 am  - 6:00 pm
Enjoy beautiful selections of products and services from local vendors. 
Beauty comes in all shapes, sizes, colors and ages – Enjoy your Beauty! 
Positive S.I.S.T.E.R.S.
Self-Improvement Simply Takes Education, Redevelopment and Sincerity
 For more information: (313) 402-4997
www.positivesisters.com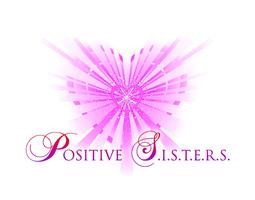 Have questions about 10th Anniversary of Positive S.I.S.T.E.R.S. and Real Women Like Us - Redefining Our Beauty Celebration ?
Contact Positive S.I.S.T.E.R.S.
When & Where

Cobo Center
1 Washington Blvd
Detroit, MI 48226


Saturday, November 17, 2018 from 10:30 AM to 5:30 PM (EST)
Add to my calendar
Organizer
Self-Improvement Simply Takes Education Redevelopment and Sincerity
Empowerment of Women Through Sisterhood!
www.positivesisters.com