About this Event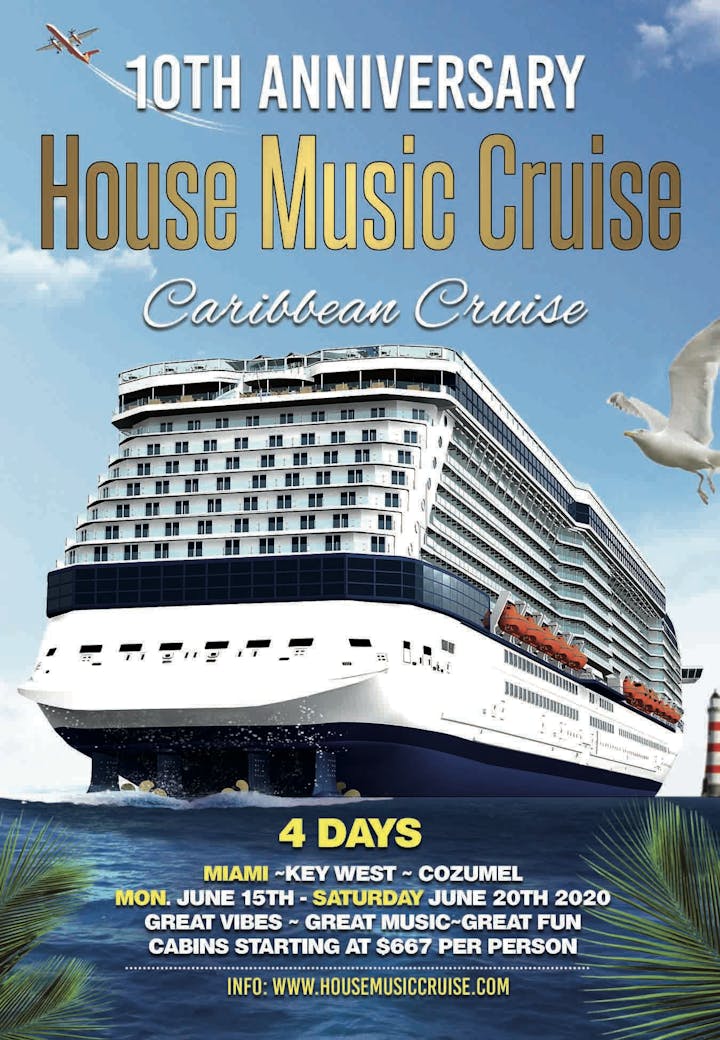 Get Details 2020 House Music Cruise !
Join us for our 10 Anniversary Sailing on CARNIVAL CRUISE LINE !!!
Monday June 15th - Saturday June 20th 2020
Cabins starting at $667.00 per person
DEPOSITS just $75.00 per person
Nightly Parties, Island Fun, Great Music and DJ's -- You don't want to miss it !!!
*You must book and pay with us in order to get access to our exclusive parties and events !
----------------------
EARLY BIRD PRICING
Inside Cabin $667.00 per person
Ocean View Cabin $720 per person
Balcony Cabin$799 per person
*Monthly Payment Plan - $75 per person per month (minimum payment)
WHAT'S INCLUDED:
--4 Nights aboard CARNIVAL CRUISE LINE from Miami to Key West and Cozumel
--Accommodations in the cabin of your choice
--Unlimited meals and non-carbonated drinks
--Complimentary Room Service
--Meet and Greet
--Theme Dinners
--SHIP BOARD AMENITIES LIKE, SPA POOL, CASINO AND SHOWS
--Nightly House Music Parties with a lineup of legendary DJs
-- All taxes and port charges
*air to Miami is not included
How Do I Book?
1) Pay Your Deposit
https://www.housemusiccruise.com/make-a-payment-now
2) Register w/Details (cabin type, roommate etc)
https://www.housemusiccruise.com/register
3) Continue Monthly payments til 3/1/20
https://www.housemusiccruise.com/payments
-------------------------
Cruise Itinerary
Day Port of Call Arrival Time Depart Time
Mon 6/15 Miami, FL 12:30 PM
Tue 6/16 Key West, FL 07:30 AM 01:30 PM
Wed 6/17 Cozumel, MX 12:00 PM 10:00 PM
Thu 6/18 Fun Day At Sea
Fri 6/19 Miami, FL 08:00 AM
GO TO House Music Cruise website
WWW.HOUSEMUSICCRUISE.COM