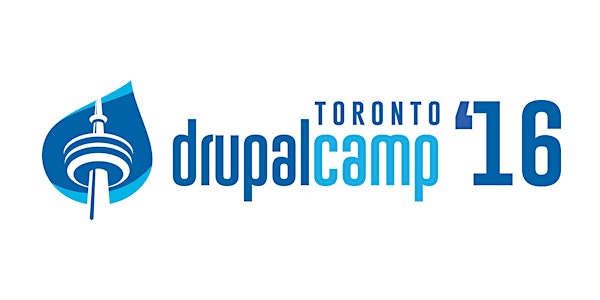 10th Anniversary DrupalCamp Toronto
Date and time
Fri, Apr 15, 2016 8:00 AM - 6:00 PM EDT
Location
BrightLane 545 King Street West Toronto, ON M5V 1M1 Canada
Refund Policy
Contact the organizer to request a refund.
Description
DrupalTO is please to announce the 10th Anniversary of DrupalCamp Toronto.
Join us on April 15, 2016 as we celebrate 10 years of Drupal conferences in Toronto. This special milestone event is a celebration of the incredible talent and resources in the Toronto and area Drupal community.
#DrupalCampTO will feature presentations by highly respected Drupal leaders, informal developer workshops, and collaborations with the region's best Drupal developers.
Tickets are limited to 150 attendees.
PROGRAM
#DrupalCampTO will be divided into 3 distinct, high-quality tracks:
- Developer Presentations
- Birds of a Feather Workshops
- Code Sprints
Attendees can spend the day watching presentations from a curated selection of speakers, interact with fellow developers in birds of a feather sessions, or participate in code sprints.
SPEAKERS
We're please to announce a stellar line-up of speakers for our 10th anniversary event. Our speakers include: Drupal 8 core and accessibility maintainers, Acquia Certified Grand Masters, Drupal community founders, and even an attendee from the 1st ever DrupalCon in 2005.
Our speaker line-up includes: Scott Reeves, Erin Marchak, James Walker, Mike Gifford, Suzanne Kennedy Dergacheva, Chris Smith, Steve Lavigne, Michael Keara, Colan Schwartz, Andre Molnar, and Chris Luckhardt.
PRESENTATIONS
1. Panel: Drupal's Past, Present & Future
2. Drupal 8 Accessibility
3. The Drupal 8 Theming Experience
4. The Future of Local Development with DrupalVM
5. The Visual CMS – A Guided Tour of an Outside-In Content Management User Interface
6. At Your Service: Module Development Using Services in Drupal 8
7. Minimalist Theming: How to Build a Lean, Mean Drupal 8 Theme
We'll also have a slate of informal presentations from respected Drupal developers in the Birds of a Feather room.
VENUE SPONSOR
We are very please to announce BrightLane as the venue sponsor and location for this historic Drupal event.
BrightLane is a community of entrepreneurs, working together at 545 King Street West, in a historic brick and beam building. We are grateful for BrightLane's ongoing support of the Toronto and area development community since 2014.
EVENT SPONSORS
We are pleased to welcome back Digital Echidna, Therefore Interactive, and Pantheon as sponsors for this year's event. DrupalCamp Toronto wouldn't be possible without their continuing support!
HISTORY
The 1st DrupalCamp Toronto happened in May 2006. It was the 2nd ever worldwide Drupal camp (following San Francisco and preceding, by one day, New York City). It was a groundbreaking time for the small but expanding Drupal universe.
The 2006 camp in Toronto hosted 40 people in a small space at the Centre for Social Innovation. Since that time, our Drupal community's events have morphed, expanded and evolved.
Our Drupal events in Toronto have grown as large as 380 attendees and we've had the honour of hosting keynote presentations from such Drupal and industry luminaries as founder Dries Buytaert, Angie Byron, Jeff Eaton, Karen McGrane and many more. Hundreds of Drupal experts have come from all over the world to share their vast knowledge in a wide variety of presentations. A wonderful array of sponsors have supported our community and we can't thank them enough for their invaluable contributions throughout the years.
Since 2006, we've seen Drupal grow and morph through 4 major version releases and expand globally in ways most of us couldn't have predicted. It's been an incredible ride.
Let's gather together on April 15th to celebrate 10 amazing years of DrupalCamp Toronto and learn all about what we can do with Drupal in 2016 and beyond.