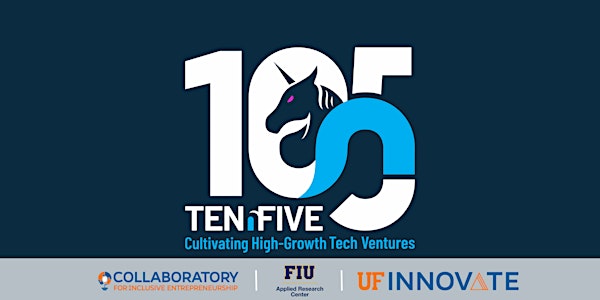 10in5 Cohort 2 Info Session
Cultivating minority entrepreneurs primed for high growth and commercialization.
About this event
10in5 is built to serve women and minority entrepreneurs in Florida by providing three years of access to resources for ideation, business operations training, mentorship & leadership training. 10in5 is a pipeline program armed with the resources to develop start-ups primed for high growth with the potential to become tech Unicorns with up to $30,000 in support.
We have three programs for whatever point you are at in your business journey.
EDIT: focuses on supporting community members in launching business endeavors with social missions. Throughout their participation, cohort participants will be matched with industry partners who will serve as mentors as well as computer science graduate students who will support the technical development of products.
IP2MKT: seeks to tap the trillions of dollars of underutilized patented technologies developed by Federal Labs, universities, and industry to foster economic development in South Florida and beyond. Modeled after insights gained from the Military-Industrial complex during the Cold War era, Silicon Valley, and inclusive economic development strategies, the mission of FIU's IP2MKT Initiative is to inclusively grow South Florida's innovation economy and beyond.
CEO: provides six months of comprehensive coaching to develop authentic leadership and to overcome individual challenges and blind spots. The CEO Training partnering with Torch Leadership Labs in order to invest in your leadership development. Torch combines 1:1 executive coaching with a technical platform to facilitate a 360 review, personalized goals development, and ongoing coaching sessions to best help you grow.
Monday, August 22nd, 2022 at 6:30 pm | 10in5 Info Session.
This program is for people who:
have a tech idea but don't know where to start
are innovators
have a defined minimum viable product or want to define it
are looking to monetize their idea
are looking to scale their business
passionate about leading and growth
Limited Spaces Available | Zoom Event | All Welcome | RSVP to Attend
Ready to apply now? Applications are open and can be completed >> HERE <<
Follow us on social media!!
10in5 is a collaboration between the University of Florida's Collaboratory for Inclusive Entrepreneurship and Florida International University's Applied Research Center.