Dieses Event ist beendet.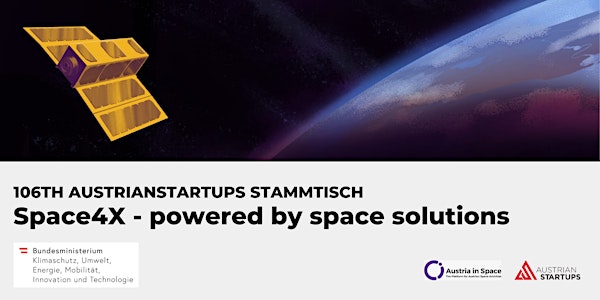 #106 AustrianStartups Stammtisch - Space4X | powered by space solutions
Space-based business opportunities - how come?
Zeit und Ort
Veranstaltungsort
Praterstraße 18 Praterstraße 18 1020 Wien Austria
Karte und Wegbeschreibung
Zu diesem Event
Just like the internet in the late 90's, today the space economy is ramping up. We have all heard about Elon Musk's space assets - providing high speed satellite internet - that changed the trajectory in the Ukrainian war zone. But there is much more to it, today, European entrepreneurs are using space data to create real impact on earth in sectors such as banking, energy and mobility (Space4X).
Join us on October 18th for an inspiring panel about space-based business opportunities and to learn more about how startups can dive into the world of earth observation and satellite navigation services. Try out your learnings immediately at the Space4Energy hackathon which starts the day after this event: https://www.sciencepark.at/space4energy/
Speakers:
- Andreas Salentinig, CEO & Co-founder | ubicube
- Niklas Baumgartner, CEO & Founder | seasy
- Sabine Pongruber, CEO & Founder | WEME Global
Moderation:
- Maggie Childs
Agenda:
- 6:00pm Open doors
- 6:30pm Panel | Space4X
- 8:00pm Networking
- 10:00pm "TRAVELING THROUGH UNIVERSE" the COSMIC DISCO @Praterstrasse.wien
feat. DJ Smoab (Deephousemafia / Radio Superfly)
This event is made possible by the Federal Ministry for Climate Action, Environment, Energy, Mobility, Innovation and Technology who supports all Austrian space activities, in particular the National Space Programme and ESA programmes including ESA business incubation centre (BIC) Austria.
We are already looking forward to seeing you there! Please reach out to ipek.hizar@austrianstartups.com in case you have any questions.