Description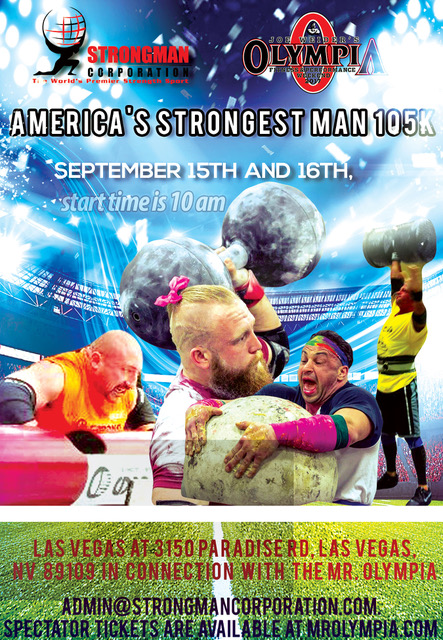 The hotel is the Orleans Casino for 100.00 per night with group code A7MRC09 or the online link is http://www.orleanscasino.com/groups# (Transportation is provided to and from the convention center via the Orleans Hotel.
Mandatory Weigh ins/Check in 10-1 and
2:30-5:30
at the "Board Room" (Orleans Casino) Rules Meeting
6:30 pm
at the Board Room
EVENTS:
Log Clean and Press for reps - 60 secs - WT

Men 105k - 340
Fatback Farmers - 60 sec., Athlete will carry farmers walk implements 30 feet perform and 4 Deadlift reps with the farmers implements, then carry 30 more feet to finish line and perform 4 more Deadlift reps for time. Athlete will be given a down call on deadlift.
105k - 340
Keg Over Bar 60 secs - WT

Men 105k - 320
Arm over Arm Pull
TBD

Axle Deadlift for reps - WT
Men105k - 675