10/23 - Healthcare Innovation Speaker & 4 Incredible Startups.

Wednesday, October 23, 2013 from 5:30 PM to 8:30 PM (PDT)
Event Details
Venture-Med Healthcare Innovation & Startups - Oct 23, 2013 
Location: Pillsbury Law - 4 Embarcadero 22nd floor San Francisco, CA
 5:30-6:00 - Networking and Appetizers.
 6:00-7:00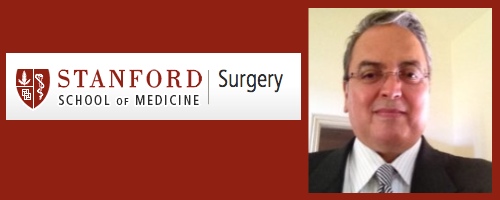 Guest speaker:  Waldo Concepcion MD FACS 
Topic: Innovations in Human Organ Transplants.
Dr Concepcion is Professor of Surgery and Chief of Clinical Transplantation at Stanford University.  He has been at Stanford since 2005 and served:
     - Pediatric and Adult Liver and Kidney Transplantation.
     - Pediatric Dialysis Access
     - Pediatric and Adult Hepatobiliary Surgery
     - Senator at the Faculty Senate of the School of Medicine
     - Chair, PPEC and Quality Committee for the MultiOrgan Transplantation Division.
Dr. Concepcion is recognized a leading pediatric and adult transplant surgeon. Dr. Concepcion co-developed the liver transplant program at California Pacific Medical Center and served as partner from 1988 to 1994, when he joined Stanford. In 1996, Dr. Concepcion was named director of the Transplantation Institute at Loma Linda University Medical Center where he founded the pediatric liver program and served as surgeon in chief over the multi-organ transplant program.
Under his leadership, his program became one of the premier transplant centers in Southern California, earning the industry distinction of Center of Excellence among health care organizations. Under his leadership the program reported one of the highest patient and organ graft survival in Southern California.
In 2005, Dr. Concepcion returned to Stanford University to become the new chief of pediatric kidney transplantation at Lucille Packard Children's Hospital continuing in the tradition of one of the best kidney transplant programs in the world. In 2006, Dr. Concepcion was named Chief of Clinical Transplantation at Stanford University. He is a leading expert in hepatobiliary surgery and portal hypertension surgery in children and adults. Dr. Concepcion has published over 90 articles and book chapters in the scientific literature and remains active in clinical research projects. He is married with three girls. 
Five Transplants in 24 Hours Sets Packard Children's Record, May 2013
First time hospital has transplanted five patients in such a short period of time
For the transplant teams at Lucile Packard Children's Hospital at Stanford, it was a busy day. Really busy. Like, record-setting busy.  Two livers, two kidneys and a heart were all transplanted.
7:00-8:30 Healthcare Startup Companies:
1. eTherapi - Jesse Sandoval, CEO.  http://www.eTherapi.com
eTherapi is telemedicine platform for psychiatrists and psychology therapists.  They provide a HIPAA compliant scheduling, video, and payment platform for private consultations. Therapists now have a new way of providing care to their patients for a low monthly rate.

2. Clinovo - Ale Gicqueau, CEO.  http://www.clinovo.com/
Clinovo is a one-stop Clinical Data Solutions Provider dedicated to speeding up time to market of biotechnology, medical device and pharmaceutical companies. With a Singular Technology Advantage and years of clinical Best Practices, Clinovo is able to deliver excellent quality clinical services at a competitive price. 
Our Commitment: Accelerate your Clinical Trial!  Clinovo offers a comprehensive suite of high quality Clinical Data Management and Biometrics Services: Clinical Data Management, Electronic Data Capture, Biostatistics, CDISC mapping, Medical Writing and Clinical Site Monitoring. Additionally, Clinovo provides clinical recruitment services through Clinovo - Clinical Staffing Solutions™ .

3. Whill - Surgie Satoshi, CEO http://whill.jp/ 
WHILL is the next generation of personal mobility, making it easy, enjoyable, and cool to ride on the sidewalk for anyone with difficulty walking, including the disabled and the elderly. The design is quite unique, Whill can turn on a dime because of a front wheel (tricycle design) can roll sideways.

4. Liviam - Josh Margulies, CEO http://www.liviam.com/ 
Liviam is a social network for families and friends that are there to support you when you are in the hospital or convalescing at home.  It makes it easy to schedule the those important little things in your life, like feeding your pets, picking up your mail and keeping all up to date on your progress.  When you are at home and need help, Liviam helps you schedule assistance with meals, visits, and communication. 
Managing Director
Jose Bolanos, MD / www.venture-med.com / www.mdv1.com 
Corporate Sponsors:
Pillsbury Winthrop Law - San Francisco Chapter
Advisors:
Eric Bergman, Director Human Factors Engineering 
Chuck Boggs / Principal Paladin Venture Development
Rebecca Coelius, MD - MD writer, entrepreneur, consultant
Waldo Concepcion MD, FACS - Director of Organ Transplant Surgeons
Nick Gaich, past assistant Dean of Clinical Translational Research Operations
Howard Goldman, Business Strategy & Management
Carlos Gonzalez / FDA Consultant - Past VP RAQA Sonoma Othopedics and Stryker.
Salmaan Hameed - Past CEO, Chest Innovations.
Alam Jahangir, PhD - Medicinal Chemistry & Small Molecular Science 
Tom Loker, Strategic Operations Executive for Evolving Companies
Craig Martin, CFP®, CLU, ChFC, MSFS
Phillip Pellerin, Director Clinical Operations Cardinal Health
Rajan Prakash MS, MBA Internaitonal Alliances & Business Development
Jesus Saucedo, MD, MBA - Medical Director Urgent Care - John Muir Health
Solomon Ssenyange, PhD & CEO Spirometrix
Frank Vargas, Corporate Securities and Venture Capital
Naunihal Virdi, MD MBA  Medical Affairs / Diabetes
Associates:
Alexander Nagy, MBA -  Director of Volunteer teams.
Rheba Estante 
Questions, please call: 408-309-8457
Due Diligence and Disclaimer
The due diligence process is negotiated between the interested investors and the companies seeking funding. MD-Foundry does not perform any due diligence, except to the extent that the group needs to determine the relative quality of a startup company for the purpose of presentation to the group only.  MD-Foundry and its members do not vouch for the risk involved in investing in any of the companies presented to the group, requires that investors interested in presenting companies be accredited investors, and does not engage in the sale or resale of securities.
To Invest, you must be an Venture-Med member.
When & Where

Pillsbury Law
4 Embarcadero Center
San Francisco, CA 94111


Wednesday, October 23, 2013 from 5:30 PM to 8:30 PM (PDT)
Add to my calendar
Organizer
Venture-Med Angel Group.
Venture-Med (VMED) is an angel investment group that helps fund and advise healthcare statup companies.  We offer accredited investors within our organization and we assist with syndication.  We associate with other angel investment groups in Silicon Valley and provide deep insight into the quality of a particular deal.  We focus on medical devices, digital health and diagnostic biopharma. 
 Events such as this one are for information only.  We advise our startups to make sure all investors are accredited investors as approved by VMED.  The new JOBS act has softened the regulations on general soliciting but we do not recommend it just yet.  Attendees of our events are friends of VMED and accepted on our mailing list.  VMED is not a broker-dealer and this is not a solicitation of equity.  We aim to comply with SEC regulations as they develop.
Membership inquiry:
jbolanos@venture-med.com
408-309-8457
Join us!
Jose Bolanos, MD  / Managing Director.

10/23 - Healthcare Innovation Speaker & 4 Incredible Startups.