Description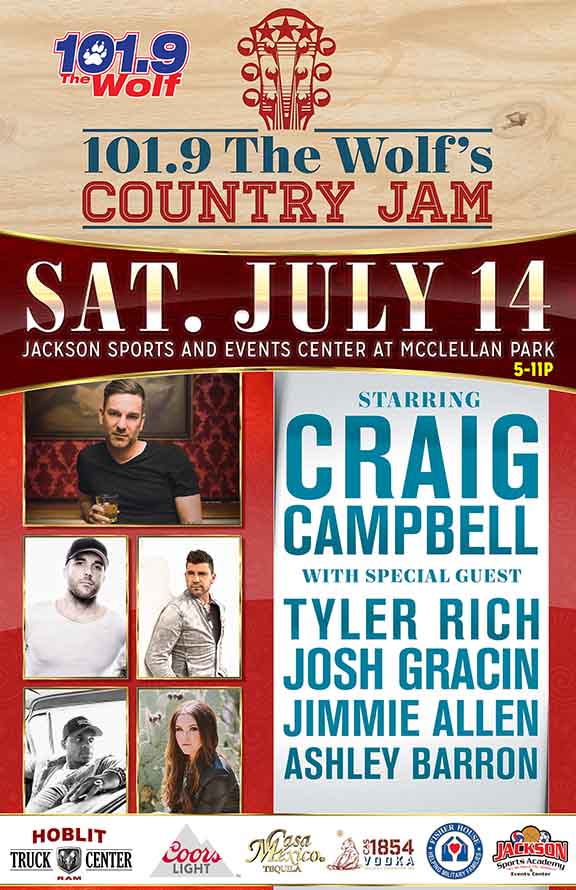 FAMILY FRIENDLY EVENT - KIDS UNDER 10 ARE FREE FOR GENERAL ADMISSION (Free ticket required.). WOLF DEN, VIP AND MEET-N-GREET REQUIRE PURCHASED TICKETS. NO EXCEPTIONS.
*Schedule of Events: Ashley Barron 5:25 pm, Jimmie Allen 6:15 pm, Josh Gracin 7:05 pm, Tyler Rich 8:20 pm and Craig Campbell 9:30 pm.
Wolf Den Acoustic VIPs will be email details for arrival time. *Subject to change without notice. All meet-n-greet purchases will be provided a schedule in advance via email. Show not responsible for missed appearance(s) or meet-n-greets. No refunds.
Parking is FREE for Country Jam 2018 Doors Opens at 5 pm. Country Jam is an indoors. General Admission is open seating.
Attractions are availble for additional cost; mechanical bull, bounce houses and rock wall. Food and Beverages available for purchase day of show. Specialty Alcohol Drinks: Beer and Spirits Available –Sponsored by Coors, Blue Moon and DBI Beverage for Adults 21 and older. Valid ID Required. No ID-No Drink privileges. CASH SALES ONLY! ATM ON SITE.
Items Not Allowed: Ice Chests, Drugs, Weapons, Service/Companion Pets (must have credentials), Large Umbrellas (or any other shade like structures), Outside Food or Drinks. No Flying Objects or Bicycles.
TAILGATE ACTIVITIES NOT PERMITTED PRIOR TO EVENT AND NO RE-ENTRY PRIVILEGES *Artists and Attractions are subject to change without notice. Tickets are non-refundable. Show is Rain or Shine
CONDITIONS OF SALE: You assume all risk and danger incidental to the event whether occurring prior to, during, or after said show. You assume all risk and danger of injury and you agree that the management, its agents, and the performers are not responsible or liable for any injuries resulting from such causes. You consent to the use of your image or likeness incidental to any display, transmission, or reproduction of the event for use in future promotional materials without further agreement on the part of Entravision, Jackson Sports Academy, LLC and All Events Management Group, Inc.
Unauthorized solicitation is not permitted. Violators will be subject to $250 fee.