Sales Have Ended
Ticket sales have ended
Pre-Sales have ended for this event. VIP Tickets available fora Bottle Service only. Bottle Service/VIP Inquiries: BottleService@1015.com
Sales Have Ended
Ticket sales have ended
Pre-Sales have ended for this event. VIP Tickets available fora Bottle Service only. Bottle Service/VIP Inquiries: BottleService@1015.com
About this Event
1015 Folsom presents
A 1015 30-Year Anniversary Event:
HONEY DIJON
GALEN
NINA SOL
TYREL WILLIAMS & GEHNO AVIANCE & VICTOR VEGA (Housepitality SF)
PRISMATIC
CLUB CHAI with special guest JLIN
BASTIENGOAT - 8ULENTINA - TOMU DJ
+ more special guests
Friday October 18th -- 10pm-3am -- Ages 21+
Table Reservations: BottleService@1015.com // 415-988-3099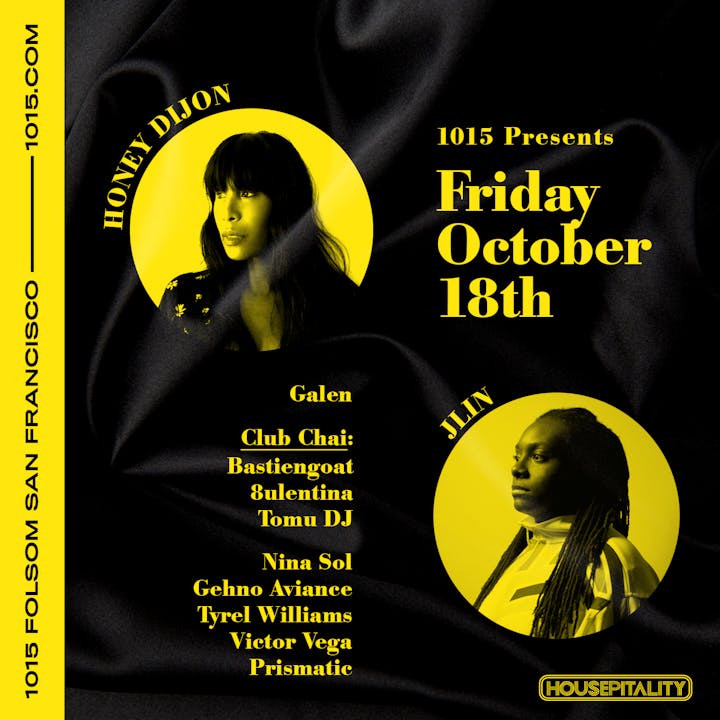 HONEY DIJON
What more can be said about the fabulous Honey Dijon. She has rightly taken her place in the music world and one of the most exciting and unique talents today with her innovative and unique sound. She also boasts some impressive accolades from some of the biggest names in dance music from Danny Tenaglia to Derrick Carter.
Based in NYC, born and bred in the Windy City, Honey is known for her unique take on the Chicago sound with inflections of the deep New York underground. In fact, Honey is one of the few dj's in recent years to defy pigeon-holing. She draws from a wide repertoire of musical styles from old school Chicago House, disco, tech house, tribal, funk, soul, and R& B. She has graced the tables from Ministry of Sound London to Ushuaia Ibiza, Panorama Bar Berlin, Eric Jackson Leon Floresereo Montreal and everywhere in between. She has also shared the decks with none other Danny Tenaglia, Derrick Carter, Green Velvet, The Martinez Brothers, Satoshi Tomiie, and Quentin Harris.
Honey is also entering one of the most prolific times in her career not only as a DJ , but as a producer as well. Collaborating with such legendary vocalists Dajae and Celeda, Honey can count Toolroom Records, Nervous, Mile End, Stereo Productions, Deeperfect, Classic Recordings as a few of the labels she has released tracks on. She also runs her own label Digital Disco which has seen artists DJ Sneak, Jeremy Joshua, Derrick Carter, Luke Solomon and Orangemuse all contribute to it's growing success. Honey has also remixed, along with her studio partner Sebastian Manuel, pop acts Cyndi Lauper, Casey Spooner, R.E.M, and Jessica 6 spreading her infectious sound to garner even more fans around the world.
Honey's recent gigs for such clients as Louis Vuitton, Givenchy, Rick Owens and other global taste-makers is also making her one of the most sought after dj's for top fashion events.
Always inspired by new ideas and new music, Honey continues to push the envelope to create new and exciting projects. As Danny Tenaglia said when once asked what is his favorite form of dance music, he replied 'I LIKE IT ALL"! What a great motto that suits Honey Dijon perfectly!
JLIN
Jlin is the recording alias of Jerrilynn Patton, an electronic music producer from Gary, Indiana. Initially associated with Chicago's footwork scene, her music evolved far beyond that style, exploring unheard rhythms and placing her in a category of her own. Her debut album, 2015's Dark Energy, was filled with twisted, volatile tracks that seemed far more concerned with venting frustration, anger, and depression than providing dancefloor fodder. The album was an immediate, unexpected success, causing her to quit her job as a steel mill worker and pursue music full-time. One of the most acclaimed experimental electronic artists of the 2010s, she has shared the stage or collaborated with artists such as Björk, Ben Frost, and William Basinski. Additionally, she has ventured into contemporary dance, composing the music for Wayne McGregor's Autobiography, which premiered in 2017.
Patton began producing music in 2008, and while her early tracks relied on heavily manipulated soul samples (as is common with the genre), her mother encouraged her to find her own voice. Her subsequent material featured samples from horror films such as Mommie Dearest (1981), but she otherwise largely abandoned samples. Jlin first reached the public's consciousness in 2011 when her tracks "Erotic Heat" and "Asylum" were included on Planet Mu's Bangs & Works, Vol. 2 compilation of the Chicago juke/footwork sound, which also included tracks by DJ Rashad & Gant-Man, DJ Clent, RP Boo, Traxman, and other notable producers from the scene. A few Jlin tracks appeared on online footwork compilations, but her debut release didn't arrive until March of 2015, when Planet Mu released her first full-length, Dark Energy, which included a collaboration with experimental electronic artist Holly Herndon. The album was an immediate critical success, earning rave reviews from numerous publications, including Pitchfork, FACT, and Resident Advisor. Dark Energy was eventually included on a multitude of year-end best-of lists, and was named Album of the Year by both The Quietus and The Wire. A follow-up EP titled Free Fall also appeared on Planet Mu that November.
Patton subsequently quit her job as a steel mill worker in order to concentrate on writing music and touring. In 2016, she remixed Factory Floor's song "Wave" and released a few songs online, teasing her second album. The Dark Lotus EP appeared in February of 2017. Jlin's highly anticipated sophomore full-length, Black Origami, arrived in May, and included a collaboration with composer William Basinski. Also in 2017, Patton embarked on a project in collaboration with British choreographer Wayne McGregor, soundtracking a dance performance piece called Autobiography; the performance was designed to replicate aspects of the human genome. Jlin's soundtrack was eventually given a physical release in 2018, again on Planet Mu.