10/13: SF New Tech & brax present: SF Japan Night! With Coopa, Drrop, GazoPa, Lang-8, myGengo, Spysee, and more!

Wednesday, October 13, 2010 from 5:30 PM to 11:00 PM (PDT)
Event Details
ONLINE TICKET SALES ARE
SOLD OUT!
BUT, NO FEAR! 
TICKETS WILL BE AVAILABLE AT THE DOOR AT 5:45 PM FOR $30.00/EACH.
SF NEW TECH & btrax present:
SF JAPAN NIGHT!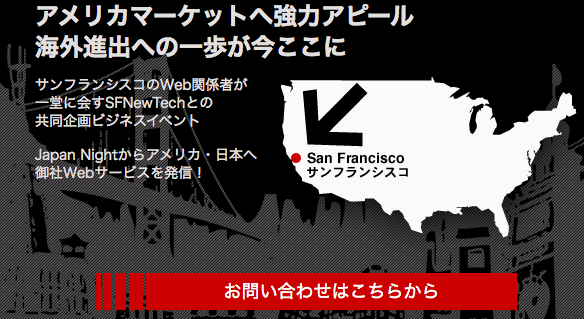 Drinks, Demos, and Discussions with
Coopa, Drrop, GazoPa,
Lang-8, myGengo, Spysee,
and more!
A framework for iPhone/iPad ERP application development

i3Systems, Inc.
Tsutomu Sasaki, Founder & CEO
Coopa provides a business application development environment
simplifying the creation of advanced business applications for
enterprises using HTML5. The development environment, called the
"Yubizo Engine", is a framework library for development of
native/hybrid type applications.
http://yubizo.jp/



A new social communication tool creates chance meetings
wiither
Takuro Yoshida, Project Leader & Programmer
Want to connect with strangers around the world and say "hi? " Drrop
creates a random, fun, and social environment similar to a saying "hi"
to a stranger on the street.
http://drrop.com/








A Similar Image Search Engine instead of the same old thing

Hitachi America, Ltd.
Hideki Kobayashi, Project Leader
GazoPa is a next generation 'similar' image search engine that uses
image features, such as a color and a shape, that are extracted from
an image. Co-developed by Hitachi as a joint-venture project. GazoPa
was elected as a TechCrunch50 Finalist.
http://www.gazopa.com/

A Social Networking Language Service

Lang-8,Inc.
Ki Yoyo, Founder & CEO
Lang-8 is a language exchange website based on creating a social
language learning community. Simply make a journal entry and a native
speaker will correct it on-line for you and then you can interact with
them directly.  Give back to the community by correcting others in
your native language.
http://lang-8.com/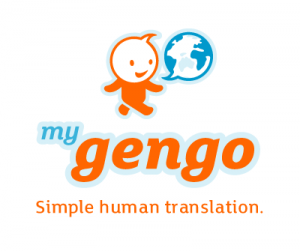 Crowdsourcing for translation
myGengo, Inc.
Robert Laing, CEO & Founder / Matthew Romaine, Co-founder
my gengo has created a network of qualified translators to develop an
affordable way of getting translation completed. This is the
crowdsourcing service for connecting professional translators and the
customers who want translation done cost-effectively, quickly and
accurately for multi-language websites and apps.
http://mygengo.com/


New Type of Search Engine Aggregator
Ohma Inc.
CTO Hironori Tomobe / Makoto Kondo
Analyze a person's web information in a different way. SPYSEE adopts
the "semantic web technology" which extracts some significant
information from the web like their social network, videos and images
about them, and shows their latest news.
http://spysee.com/
WITH FREE TACOS

FOR THE FIRST
150 PEOPLE IN THE DOOR!!   
Sponsored by:
$15.00 for early bird online tickets

$25.00 for all other (late bird) online tickets

$30.00 cash at the door if not sold out
Mighty is a 21+ venue.
Schedule:
5:30 pm - Doors & Bar Open
5:30 -7:30 pm - Schmooze and Free Tacos!
7:30 - 9:00 pm - Live Demos
9:00 - 11:00 pm - Schmooze
| | |
| --- | --- |
| | Bullivant Houser Bailey PC a leading West Coast law firm has merged with Jacobs & Ferraro LLP a San Francisco technology law firm and the founding sponsor of SF New Tech. Bullivant is proud to continue as a Platinum Sponsor of SF New Tech. Our clients include private and public emerging technology companies entrepreneurs and investors in numerous sectors including software digital media Web 2.0 clean tech and mobile. |
| | btrax is a San Francisco based, cross-cultural branding and web consulting firm, specializing in the Japan and China markets. With our multi-talented, multi-cultural team members, we strive to work closely with every client that would like to expand their business to U.S., Japan and China-we enable their success.  btrax, Inc. not only works at designing creative web sites and consulting on web services for our current client's business needs, we also create ways for them to expand their business to markets outside of their current market. With this in mind, we are pleased to collaborate with SF New Tech on the SF Japan Night event. |
| | |
| --- | --- |
| | CALinnovates.org is a statewide coalition focused on championing the conversation about the future of California's critical technology sector. CALinnovates.org brings together industry experts, thought leaders, tech innovators, policy makers and consumers in a non-partisan mission to promote innovation, create new jobs, spur investment and support tech-friendly policies.  CALinnovates.org not only provides a medium for educating policy makers and for companies to network, but helps to connect the ideas of today for an economy of tomorrow.  |
| | Mylermedia : Popping online brands into the minds of millions. |
| | Future-Works : Experts in social media and new media marketing. |
| | Sonic.net is a full-service Internet provider, dedicated to delivering fast, reliable and inexpensive connectivity while providing award-winning technical support. Based out of Santa Rosa, California, we were one of the first ISPs to bring DSL access to the wine country, and continue to lead the way in making new access and hosting solutions available to the public.  |
| | Invest Fukuoka - Growing business between Fukuoka and North America. |





Based in San Francisco, California, VIZ Pictures, Inc. licenses and distributes selective Japanese live-action films and DVDs, with focus on Japanese "kawaii (cute) and cool" pop culture.






Crunchyroll is an online video service and community that offers full-length episodes and movies of the very best in Japanese anime and Asian entertainment. Crunchyroll's content is provided by Asian media leaders including TV TOKYO, Shueisha, Fuji Creative Corporation, Pony Canyon, Yomiuri Telecasting Corporation, Toei Animation, Gonzo, Munhwa Broadcasting of America, and many others.

:
Oct. 7th - Fukuoka Ruby  Nights - SF

When: October 7, 2010
Time: 6:30pm - 10pm
Where: Twilio, San Francisco

Spend an evening with with Yukihiro "Matz" Matsumoto, inventor of the
Ruby programming language.  For those who do not know Ruby, Ruby is a
dynamic, reflective, general purpose object-oriented programming
language influenced primarily by Perl, Smalltalk, Eiffel, and Lisp. As
an added benefit, some cool startups from Fukuoka, Japan will give a
demo on some of their latest developments using Ruby.

Limited 25% discounts - Use "ohmygod" for the discount code

...and if that is gone

we also have limited 15% discount tickets - Use "whatadeal" for the
discount code

Register here:  http://bit.ly/bwiAMY


--------------


Oct. 11th - Fukuoka Ruby Nights - Silicon Valley

When: Monday, October 11, 2010
Time: 6:30pm-10pm
Where: Hacker Dojo, Mountain View

Bringing the Ruby message to Silicon Valley. Spend an evening with
with Yukihiro "Matz" Matsumoto, inventor of the Ruby programming
language. Again, some cool startups from Fukuoka, Japan will give a
demo on some of their latest developments using Ruby.

Limited 25% discounts - Use "ohmygodsv" for the discount code

...and if that is gone

we also have limited 15% discount tickets - Use "whatadealsv" for the
discount code

Register here: http://bit.ly/anOamN

Become a annual member and get into events for free!
Interested in being considered for a demo?  
Have questions about 10/13: SF New Tech & brax present: SF Japan Night! With Coopa, Drrop, GazoPa, Lang-8, myGengo, Spysee, and more!?
Contact SF New Tech
Attendee List
Sort by:

Date

|

First Name

|

Last Name
When & Where
201 Mission St
San Francisco, CA 94105


Wednesday, October 13, 2010 from 5:30 PM to 11:00 PM (PDT)
Add to my calendar
Organizer
"One of the tech community's longest-running traditions  — where the beer is cold 
and the ideas are red hot."  -- ABC News
About SF New Tech
As seen in The Wall Street Journal on ABC News,  at The White House, and beyond -- SF New Tech (SFNT) is a world-renowned live platform for technology startups to showcase their latest innovations in front of 100s of tech-minded founders, engineers, investors, media, and more.
Since Myles Weissleder, CEO, founded SFNT in 2006, over 750 companies have taken to SFNT to launch or demo their new products, services, and features, including such internet luminaries Evernote, Waze, 23andMe, Flipboard, Twilio, Splunk and many other "pre-fame" startups.  
As a cornerstone of the San Francisco technology community and as SF's largest, longest-running, and most-loved technology event, SFNT is laser-focused on putting innovators and their innovations in the spotlight in front of their peers -- and beyond.   
Inquire about sponsorship opportunities by emailing events@sfnewtech.com