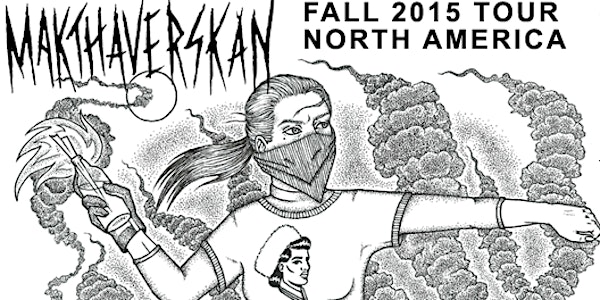 10/10: MAKTHAVERSKAN (Sweden), LOWER (Denmark), SHADOW AGE & TEEN DEATH
When and where
Location
Strange Matter 929 W Grace St Richmond, VA 23220
Refund Policy
Contact the organizer to request a refund.
Description
MAKTHAVERSKAN (Sweden, Run For Cover)
LOWER (Denmark, Matador)
SHADOW AGE (RVA)
TEEN DEATH (RVA)
9PM Doors // 10PM Sounds | $10 in Advance // $12 Day of Show | 18+
Steadily building a devoted following since their 2009 self-titled debut (written and recorded when most of the band was only 16), MAKTHAVERSKAN released two records and a string of singles on their home-base label Luxury Records. Last May the five-piece officially made it stateside when Run For Cover reissued their beloved sophomore effort Makthaverskan II solidifying their international presence.
Makthaverskan layer aspects of noise, jangle and dream pop on a foundation of rambling, garage-punk energy. Distorted, uptempo riffs ebb and flow with laid back, atmospheric post-punk throughout the tracks that make up the band's sophomore LP II. Sonic bursts of anthemic pop are accentuated and brought to life by front-woman Maja Milner's sharp and soaring delivery, cutting through layers of reverb to air out her dirty laundry.
The band's name, while not an actual Swedish word, derives its meaning from "Makthavaren" meaning "the man in the position of power". Makthaverskan, then, is the feminine conjugation of this concept meaning in its definite form "the female with the power" – a sentiment that seems to double back and truly power the music.
Lower make intense music. Seek Warmer Climes, the Copenhagen quartet's debut album, sparkles with the harmonic dissonance and high-strung urgency of their underground music forebears. But Lower ­– Adrian Toubro (vocals), Simon Formann (guitar), Kristian Emdal (bass) and Anton Rothstein (drums) – also channel the romance and drama of great singer-songwriters, from late-period Scott Walker to Bryan Ferry. The result is a hugely ambitious and affecting rock album that enters deeply personal and unusual sonic and topical spaces.
Certainly, you don't have to dig deep to hear how far Lower's music sits from the traditional concerns of modern rock music. Toubro's lyrics are finely wrought emotional dramas that, in their poetic construction and raw honesty of delivery, gesture to the music of Walker or Leonard Cohen. As inspirations he cites Cornelis Vreeswijk, the half Dutch, half Swedish troubadour whose coarse language and fascination with low society shocked the conservative listeners of the day, and filmmaker John Cassavetes, who made his movies about "real people with real issues". Similarly, "Lost Weight, Perfect Skin" and "Unkempt And Uncaring" gaze unflinchingly at a troubled inner life: the problems of vanity and vulnerability, of suffocating lethargy and men who wear their bravado like a mask. "Every song on the record deals in some way with personal development, be it emotional or cosmetic," says Toubro. "How to act in different social contexts, and to acclimatize oneself into a given situation without losing face."
The extraordinary seven minute-long centerpiece of the album, "Expanding Horizons (Dar Es Salaam)," tells of Toubro's voyage to Tanzania to work at an orphanage in 2009. Setting out with romantic fantasies of changing the world, he found himself alienated by the religious zeal of the dominant missionaries, and went travelling in Africa, where he narrowly escaped a kidnapping in the city of Dar Es Salaam. A document of inner turmoil, here is what happens when youthful idealism meets an uncertain, hostile world: "We travel far/Expand our horizons/But in the process I see/That no horizon will ever benefit me…" Bathed in the cello work of Julie Kühn Riegels and Cæcilie Trier.
The striking cover art of Seek Warmer Climes is a photograph shot by Emdal, who has directed visual material for a lot of Copenhagen groups (he also directed the Vår video 'In Your Arms (Final Fantasy)' and took the photo of a hunting falcon that adorns Iceage's 'You're Nothing.' It's one of several connections between the band and the Copenhagen underground. They are members of other bands including Age Coin, Olymphia, Vår, Marching Church, Sexdrome and more.
All of these projects are an expression of something personal, but in Lower, the four approach something fundamental. "Lower is who we are and what we do. Though making a living and getting by require us to engage elsewhere, this is what we identify ourselves as – an outlet for whatever you might experience through logistic and practical engagements: joy, aggression, defeat and success. The ambition is to express the internal and external influences that make a human, to the truest degree possible. This being our truth, one ambition as well is to function as a group – being able to help, listen, live and work together, to take something away from being Lower. Something that is real and relates to the hard-knit relations that make up life. It is also very important to constantly expand and evolve. Stagnancy is for the lazy."