100.3 JACK-FM Presents Graceland Ninjaz, the King of Party Bands at The Sound at Cypress Waters
About this Event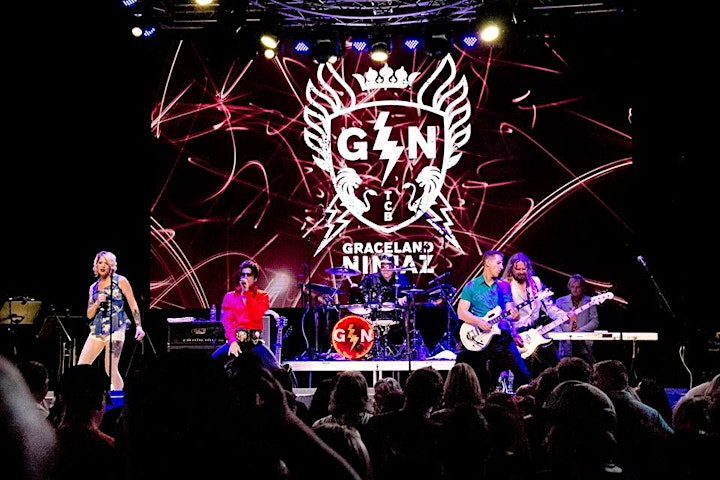 The King of Party Bands, Graceland Ninjaz takes the stage, Thursday, September 12th as part of the JACK-FM Concert Series. The Graceland Ninjaz are known for a little bit of this, a little bit of that from artists including Flo Rida, Prince, Metallica and Queen plus originals all with vocals by The King. Get ready to "Shake, Rattle and Roll" with their explosive music and dynamic stage personas and a full-blown Vegas-style production including horn section and dancers.
Tickets: General Admission – $15 | VIP – $30
TIPS for the show:
• Come early, come hungry: All of our amazing restaurants are open, have full menus and indoor and outdoor seating.
• Grab a blanket, but leave the lawn chairs behind: Blankets are encouraged, but please be courteous with the amount of space you take up
• Your shoes matter: General admission is standing room on a grass lawn.
• Rain, rain, go away: The Sound is an outdoor venue. We will make every effort to keep the event running as scheduled, but in the event of inclement weather, please keep an eye on your email or follow us on social media for timely event updates.
• Say Cheese: Bring your non-professional cameras, but no detachable lenses. Cell phones are a must, but no professional video or audio recording equipment allowed.
• Keep it small: Average sized bags are all you need, so leave the over sized backpacks, duffels and luggage behind.
• All ages: Under 2 years old do not require a ticket.
• When it's time to pay: We will accept credit cards for food & beverage sales.
• Parking: We've got PLENTY of free parking within a 2-block walk of the venue.
• Buy here, drink here: No coolers allowed.
• Drink responsibly: Ride Sharing is highly recommended.
• Because we have to say it: No handguns, firearms or other weapons of any kind, illegal drugs, alcohol, fireworks, glass containers, laser pointers, coolers, professional cameras, video or audio recording equipment, over sized backpacks, duffels, luggage, food or beverages, lawn chairs or pets. Please.
• Ticketing Questions?: Contact EventBrite Online Ticketing at www.eventbrite.com
• For ADA accommodations, please contact: tickets@thesoundtx.com
VIP:
• Access to preferred VIP lounge with optimal view of the stage
• Limited seating available
The Sound at Cypress Waters is a new destination in North Dallas near Coppell with views of the hidden gem, North Lake. The Sound features live music, food and drinks from popular restaurants like Flying Fish, Eno's Pizza, Rodeo Goat, Flying Saucer, Landon Winery and Ascension Coffee, and great views of the lake. Come find your next unexpected adventure at this new venue with an open-air concert.
The Sound at Cypress Waters (3111 Olympus Blvd., Dallas, TX 75019) is DFW's new entertainment destination for weekly live music and events, lakeside dining and drinks and luxury living. Plan your visit to TheSoundTX.com.
By purchasing or registering your ticket via EventBrite you agree to receive The Sound Newsletter for upcoming events and specials, via email. You may unsubscribe at any time.