Description
Relax with your neighbors as you enjoy this award-winning local urban exploration, 10,000 Steps: A Profile of Four Squares.
Q+A with the artist team marksearch (Sue Mark + Bruce Douglas) after the screening.
Learn how you can support marksearch's latest community-building adventure in rural Portugal, Hands That Do All.
Please register for this free fundraising event hosted at the historic Swan's Market Cohousing located in Old Oakland (near the 12th Street BART Station).
Special Directions:

Enter through the 912-936 Clay Street gate, located between 9th and 10th Streets. Walk towards the center of the courtyard, take a left at the 930 Clay St gate and walk passed our garden up to our entrance. If either one of the gates is closed, look up "Cohousing or Common House" in the directory and call or use the phone number on our flyer posted at the gate.
Questions? email: marksearch@sbcglobal.net
Film Production: Dockyard Media
Screening Tech Support: Illuminated Corridor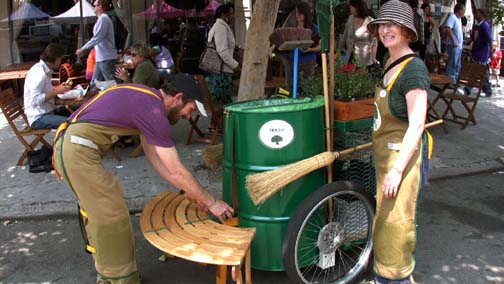 About 10,000 Steps: A Profile of Four Squares:
How well do we know the public places at the heart of our city? Starting in 2007, Sue Mark and Bruce Douglas of the art team marksearch began a four-year exploration of Oakland's often-overlooked downtown squares--Jefferson, Lafayette, Madison and Lincoln--and the people who frequent them. 10,000 Steps—A Profile of Four Squares follows the artists, dressed as maintenance workers and pushing a recycling cart, as they gather stories (along with the occasional piece of trash), plant gardens, and encourage connections between the groups using the parks, which are among the oldest in the city. Directed by Matt Dibble and produced by marksearch, 2011. www.10ksteps.org

marksearch (Sue Mark + Bruce Douglas), has been creating a unique brand of interdisciplinary art projects since 2000. Using kinetic vehicles, traveling signage, unconventional surveys, and official logos, they craft a conversational commons, pushing the boundaries of how community-based art can influence public policy. www.marksearch.org
Organizer of 10,000 Steps Film Screening & Fundraiser
Swan's Market Cohousing is North America's 50th Cohousing Community. It is preserved in the 1917 Swan's Market building in the historic Old Oakland neighborhood.