Description
---
1000 Women for Technology
Starting in ATLANTA, GEORGIA, June 17 th , 2017— Join Quantum Innovation Chamber of Commerce an International Technology Chamber of Commerce at our first All-Girl Hackathon to quick start our national tour
for 1000 Women for Technology, a movement for women who have an interest in the field of Technology, not necessarily women that are already in Tech.

We have 100 seats to fill for the launch. The hackathon will be hosted inside of Atlanta Workshop Players. It is located at 8560 Holcomb Bridge Rd., Alpharetta GA 30022, conveniently located in Atlanta's Tech city. Meet our Keynote Speaker Jamila Brown, Tech Solutions Expert and life long Techpreneur. YES! We will have snacks and munchies! Click on TICKETS and scroll through to find the perfect selection for you! These events are designed to be affordable enough to bring the family to learn with you.

The world is being changed by Technology daily and at a rapid pace. At this time, women, we are globally categorized as a minority group. However, we are the dominant majority! We will change the world that we live in as creators of the future by using an online digital interface to interact and share with audiences throughout the nation along with power speakers, live games, classes, webinars and yes All-Girl Hackathons.
Every person that gets a ticket, gets a DigiTag. This is your digital supporter (speaker or sponsor) badge person who pays for a ticket will receive. Each DigiTag can be found on the WOMEN tab for the website. The DigiTag will also be found on DigiLyfe.co and online Digital Lifestyle Magazine and our Media partner for 1000 Women For Tech. How awesome is that? We can't wait to show the world your contributions, your progress and your achievements in the Technology world. We will have a speaker panel, food, games and prizes. This is Technology like you have never experienced before. Get excited! This is something to talk about! Join the movement!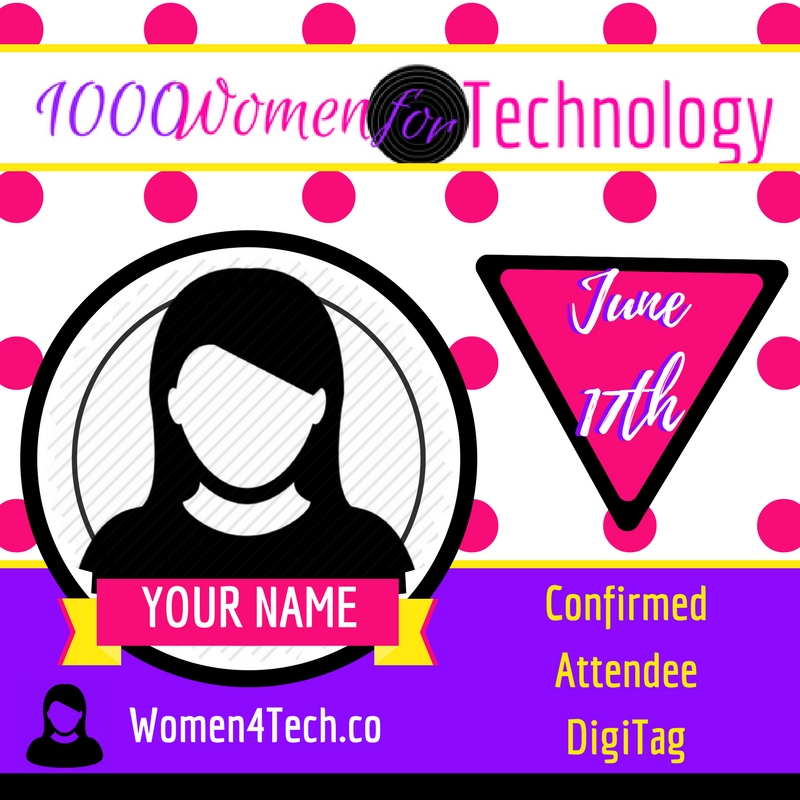 See you there! Be sure to check out our website for coming competitions, prizes and supporter updates at http://women4tech.co Find out who our next Key Note Speaker is and what city we will be in next. Sign up to be a speaker.

When you share on Social Media use this HASHTAG when you post #1000Women4Tech

---