| | |
| --- | --- |
| 1000 TREASURE HUNTERS @ J-POP Summit Festival 1015 | |
Event Details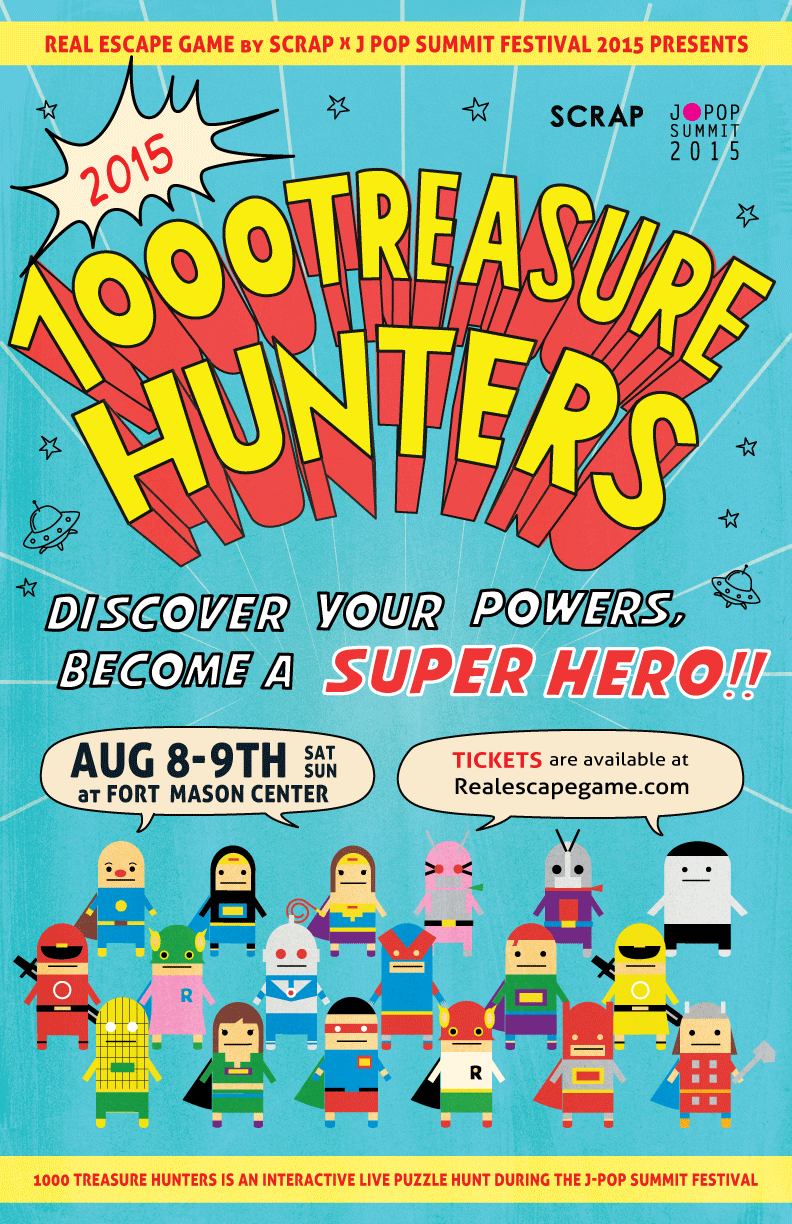 Discover Your Powers, Become a Super Hero!
Information
The unique and fun puzzle hunt, 1000 Treasure Hunters is coming back with the J-POP Summit Festival 2015! There is no "60 minutes" time limit and no countdown call to rush you. You will be surrounded by a lot of Treasure Hunters. Let's communicate with the other players, solve the clues, and find the goal together. Enjoy hunting clues, solving puzzlea, and the festival itself! 
This game is not in the usual "Real Escape Game" format. However, the mystery awaits you are challenging as well as the other Real Escape Games that produced by SCRAP. At the end of the second day, August 9th at 5:30pm, the debriefing solution and treasure raffle will take place on the main stage.
How to Join the Treasure Hunt
1. Purchase a ticket online by the day before the game.
2. At the day of the event, receive the clue set at the Starting Point.
3. Solve the clues, and find the goal!
Note
1. For this time, there is NO TEAM SIZE LIMIT. You can enjoy the game by yourself, or feel free to make a team with your friends. Please have fun solving the mystery with the other players! *Each person who participate the game will need a ticket.
2. You can start the game anytime during the day before the reception close at the date. Take your time to solve the clues.
3. According to our calculations, it is expected that the completion of this game would take approximately 1.5-3 hours.
4. The treasure is NOT a "first come, first win". Reaching the goal early does not mean getting a better treasure. Wonderful treasure will be chosen by raffle by those who reached the goal. Please join the raffle at the stage to receive the treasure on the stage!
5. To find the treasure, you will need to walk around the town. Please wear comfortable shoes and clothes.
6. This treasure hunt is made up with the help of local residents. Do not break anything. Do not hurt yourself or others. No running!
7. We hope you can solve all clues by yourself with the other players. However, you can give up and we would be able to tell you the answers.
8. The puzzles require no special skills or knowledge to solve. The only thing required is use of intuitive logic and deductive reasoning.
Date & Time
2015 August Saturday 8

th

 

& Sunday 9

th
-Sat 8

th

11am – 4:30pm (The reception will close at 2:30pm)
-Sun 9

th

11am – 4:30pm (The reception will close at 2:30pm)
*The solution debriefing and the raffle will be held on Sunday, 9th at 5:15pm at the main stage. 
*Players can participate only one day with a ticket.
Venue
at

J-POP Summit Festival 2015

 at Fort Mason Center
Ticket
Advanced $30
Door $35
Ticket includes:
– 1000 Treasure Hunters game ticket on Saturday, August 8th OR Sunday, 9th
– One-day access to J-POP SUMMIT @ Fort Mason Center either on Saturday OR Sunday, the day of participation in the game.
(SAKE SUMMIT, Film Festival, and J-POP VIP/Weekend tickets are NOT included. Sold separately)
* Children under 13 years of age must be accompanied by an adult to enjoy the game to its fullest.
* Children under 6 years of age are free of admission.
* The ticket price is for 1 participant. Please purchase a ticket for each person.
* All sales are final. Please be aware of that our game is a live event, so once the booking is confirmed, refunds, cancellations or reschedules are not accepted. 
* If you already have a J-POP SUMMIT 2015 pass and would like to play this game, please contact us, info [ @ ] realescapegame.com. 
EVENT DISCLAIMER
I have read and understand the information regarding this event and understand that I participate in this event at my own risk. I hereby attest and verify that my physical condition will allow me to participate in this event. I agree to comply with the rules and directions of event officials and their personnel. I hereby allow the use of my name and image to be used in the media and for marketing purposes, and accept that my details will be added to the total event database. I hereby acknowledge this waiver, release and indemnity discharge all persons, corporations, associations and bodies involved or otherwise engaged in promoting or staging the event and their servants, agents, representatives, officers and employees. This includes but is not limited to SCRAP Entertainment Inc, the various committees, members, and employees of all independent contracted suppliers to the event, local and regional councils, cities and districts and their respective officers, directors, employees, independent contractors, representatives, agents, volunteers, event organizers and sponsors whether or not the loss, injury or damage is attributed to the act or neglect of any or more of them.

When & Where

Fort Mason Center
2 Marina Blvd, San Francisco, CA 94123
San Francisco, CA 94115


Organizer
SCRAP Entertainment Inc.
Headquaters: San Francisco
Real Escape Game™ is an interactive, brain-teasing event that pits players against the clock to uncover clues, solve puzzles and escape from a locked room or story scenario. In 2007, it was the world's first attempt at bringing digital escape games into real life and has since become a global phenomenon. Real Escape Games come in a variety of styles, with different game types designed to run in small rooms, stadiums, theme parks or even across an entire city. Over 3.3 million people have already played worldwide, but our goal is to continue expanding our audience and become a household name in live entertainment. With over 30 unique Real Escape Game editions in the US alone and even more abroad, SCRAP Entertainment has something for everyone.
SCRAP Japan, Headquartered in Tokyo, Japan, has been creating immersive and adventurous puzzle events. In 2007, it produced the world's first live action game, REAL ESCAPE GAME(REG) in Japan. REGs have been held in Japan and other Asian countries in unique places such as multiple schools, ruined hospitals, amusement parks, stadiums, and churches-and the events have built enthusiasm. In Japan, the series of TV drama, Real Escape Game TV and movies are released. SCRAP is pioneering the new genre of Real World Adventure, which has become a driving force in the world.
The first Real Escape Game in the U.S took place in San Francisco in 2012. Another San Francisco game took place on board a ship, which was a world-first. Also, since the opening the Real Escape Room, Escape from the Mysterious Room, over 6,000 people tried their luck at escaping in the first year. Despite the highly challenging difficulty of 2 % success rate, all tickets are continuously selling out. The events get popular among people who love something unique and cool. Real Escape Game™ is a registered trademark of SCRAP.
1000 TREASURE HUNTERS @ J-POP Summit Festival 1015