1000 Goddesses Global Gathering | Online Auckland 24th October 2020 12-3pm
The 1000 Goddesses Gathering Global Grid is a call to action, a unified field elevating Luminous Love energetics of our Sacred Earth
About this event
*Visionary Art "Bridging the Realms" - used with Permission. Artist: Aaron Michael Pyne
* With Auckland moving to Alert Level One Thursday 8th October 2020 we will now have 20 spaces for in person attendance at this ceremony. COVID public health protocols will be in place onsite. Details of onsite location will be emailed to paid registered attendees upon close of ticket sales. Queries to lisamullions@hotmail.com
Ngā mihi nui ki a koutou Sacred Divine Women and Magical Divine Men,
The 1000 Goddesses Gathering Global Grid will occur globally again on the 24th October 2020. This global gathering began in 2016, and was held again in 2018 , with "over 300 people gathering and more than 1000 Goddesses invoking from the Spirit Planes on the Washington Mall, all gathered were supporting the fulfillment of the Tibetan Prophecy of shifting the tone of our Sacred Earth from Fear to Compassion. Priestesses flew in from California and other regions to lead ceremony honoring Isis, the Virgin Mary, Mary Magdalene and Osun. There was also a significant Divine Masculine ceremony inviting the men there to vow to commit to being a person committed to the Divine Masculine in partnership with the Divine Feminine, to begin to heal the Wounded Masculine - Wounded Feminine dynamics that have been at play for too long in our Western Culture." (Reference from: 2018 gathering)
The 1000 Goddesses Gathering Global Grid is one of Wisdom, Compassion and Luminous Love. Ceremonies across continents will call in the Divine Feminine in all of her manifestations from the Spiritual realms – to ask for compassion, balance, harmony, love and peace to help heal our human realms. The Divine Masculine will be invoked from the Spirit Planes as guardians, and to hold Sacred Balance.
In Auckland, we held a ceremonial event in 2019 with and for Women. In 2020 a collective of 13 Women and Men have registered with the global network and will hold an online temple transmission on Saturday 24th October 2020 from 12 noon to 3pm via Zoom. We have an incredible collective of women and men who are providing their time, their spiritual gifts, their hearts and their continuous learning in these challenging times to way show and be in transmission for this grid and the collective luminous love intention. We will be providing bio's and the overall ceremony outline shortly.
To attend this event is $22 per person with registration via Eventbrite. Details on what to expect from our online ceremony will be sent out to all registered by the 1st October 2020. Any enquiries regarding the Auckland online event can be emailed to lisamullions@hotmail.com
Our 1000 Goddesses Gathering ceremony purpose and intention is to:
Come together in a circle of sacred wisdom, healing embodied and shamanic prayers, sharing all of our consciousness archetypes, ways of knowing being and doing, our soul and spirit gifts to powerfully support the rebirth of this New Earth at this time for sacred balance, union of the Divine Feminine and Divine Masculine and Oneness
Answer the call of the Omni Cosmos Family of One who is asking many to do ceremonies on every continent for the October 24, 2020. We will be supported by the Spirit Planes, this support infusing our rituals with powerful energies, linking all the rituals together spiritually and in support of Mother Gaia. This is to also help clear denser energies of Fear, Despair and more from the Earth's multi-dimensional planes very present at this time.
Holding, participating and encouraging more ceremonies calling in Luminous Love energies that invoke Divine Feminine deities along with Divine Masculine ones as guardians. This will create and cultivate a more powerful Unified Field on the weekend of the 24th October. This is what the "Family of One" is requesting of all us who hold ceremony and for those who participate in ceremony transmissions.
The Great Mother Gaia has called on us now as Women and Men to come together in our higher minds and in union, to keep this energetic grid uplifted.
See more details and ceremony suggestions at https://www.1000goddesses.net/
Our Auckland collective invite our Eldresses and Elders, Our Wise Women and Men, Kuia and Kaumātua Goddesses, Priestesses, Priests, Light Workers, Wisdom Keepers, Mana Wahine, Visionaries, Oracles, Healers, Medicine Women and Men, Embodied Practitioners et al - all people who care for this energy and this time on our planet, across ages, ethnicities and cultures, to come and collectively be in this online temple transmission on the 24th October 2020 via Zoom.
This event is $22 per person of which funds will be sent back to Mare Cromwell for her continued 1000 Goddesses Gathering global work, 2021 and beyond.
Please do note there are no refunds for this event. You can transfer your paid registration to another and email lisamullions@hotmail.com with the details. Thank you in advance.
We also know there may be other Circles around Aotearoa New Zealand, holding space for this global event also. If you would like to host your own ceremony please register your event with the global grid here Celestine Star Rebekah Mene Spirito and Lisa Mullions are co-creating with founder Mare Cromwell for this global event in their respective locations and are on the 1000 Goddesses Global Grid Advisory Council if you need to reach out.
Our Auckland Aotearoa team for now -  send love compassion ease and wisdom during these complex and challenging times. Ngā mihi maioha o te wā
Lisa | On behalf of our Auckland Aotearoa 1000 Goddesses team;
Samantha Delgarno, Aroha Johnstone, Jenni Abdelnoor, Rani Michelle, Aaron Michael Pyne, Leonard Bloksberg, Sia Hu Heka, Dan Abdelnoor, Wolf Zachary Fearn, Dominik Saur, Tina Kapp-Kailea and Kim Saama.
*Visionary Art Credit: Aaron Michael Pyne Bridging the Realms
'Within us is the codex for a new experience and expression of interconnected balance across all that we are. Humanity is unraveling eons of limitation, separation, and fear so that our infinite nature can express itself and transform the Realm of Earth. We are collaboratively restructuring reality to allow the infinite expanses of love to be revealed to us. Hence, we become the unified sacred love that we are. It is time for the magic, gifts, and love of your Soul Avatar to fully emerge! Open your heart and unify your inner realms with your outer realm. '
This piece is available to purchase. Contact Aaron at www.sacredvisiondesigns.com
FAQs
How can I contact the organizer with any questions?
Yes - lisamullions@hotmail.com
Is my registration fee or paid ticket transferrable?
If you are transferring your ticket to another person please do email lisamullions@hotmail.com with their name + email details as this will be required to send out zoom link and password to access on the day. Please do note there are no refunds for this event as funds will be passed onto the the global 1000 Goddesses to support their work. Thank you in advance.
Will this online event be streamed and/or recorded?
This online event is a registration only event and will not be live streamed. It will, with permission, be recorded and available post event on social media channels.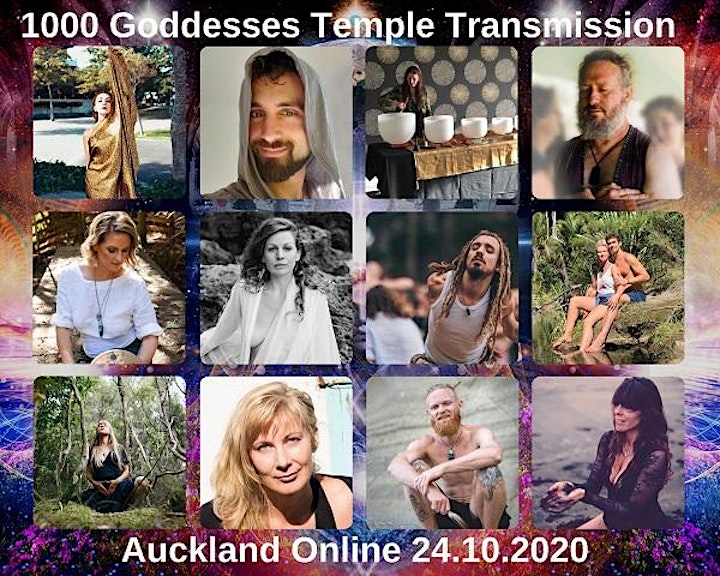 Date and time
Location
Refund policy
Organizer of 1000 Goddesses Global Gathering | Online Auckland 24th October 2020 12-3pm