100 YOUNG CEOs FORUM

Saturday, February 23, 2019 from 10:00 AM to 1:00 PM (WAT)
Event Details
THE MAIDEN EDITION OF 100 CEOs FORUM
Holds on Saturday, February 23rd, 2019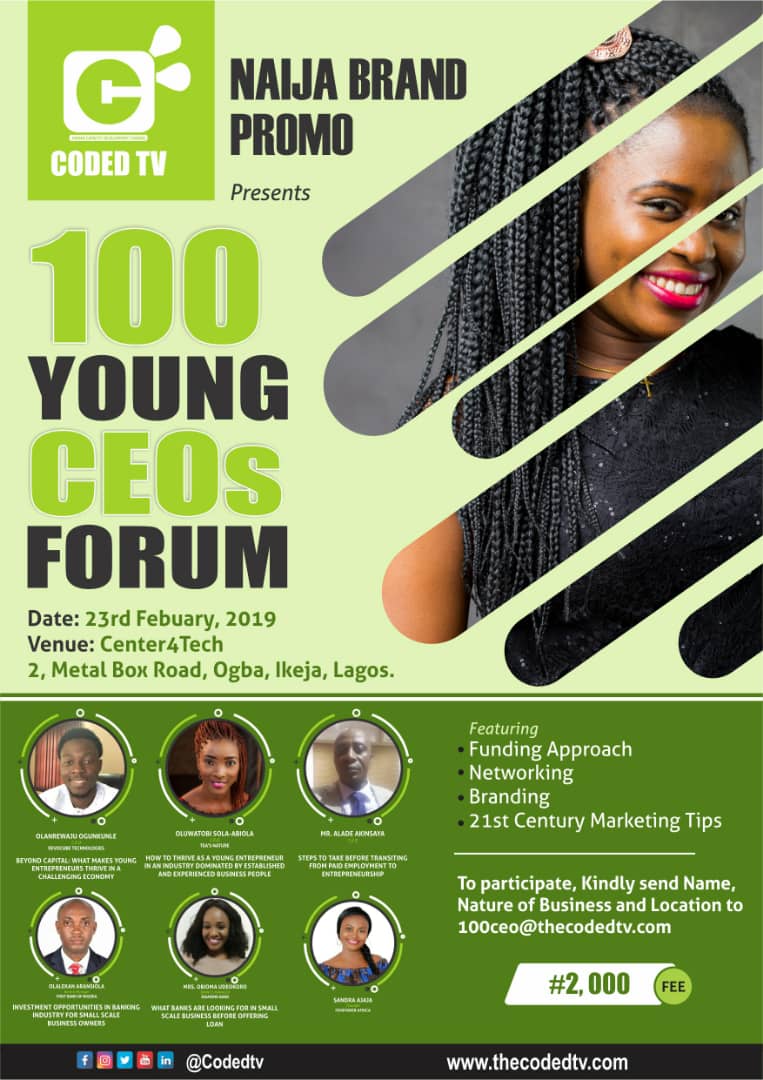 Background of 100 CEOs Forum – The Vision
Fueled by the promise of opportunities and the power of innovation, our vision is to build the world's most vibrant, diverse and dynamic economy driven by our youth. Our nation's future prosperity and competitiveness now depend on meeting pressing economic challenges we face today as a nation. Driven by the glaring potentials of our youth and tenacity to create way forward, the 100 Young CEOs Forum was founded to train and mentor the nation's most vibrant, creative and hardworking youth in a bid to give them necessary rudiments needed to change today narratives in our economy and build the future prosperity of our nation. You will agree with us that there is a need to change many narratives in Nigeria systems today.
 One of the challenges facing Nigeria today is the lack of platforms that provide the necessary training to equip the young generations for tomorrow's challenges. We have stood up to fill this gap. Our major vision is to provide a platform that will help Nigerian youth to be financially and intellectually sound which will result in radical development across all sectors of our nation.
3 Major Focus of 100 Young CEOs are:
Embracing sustainability challenge
100 Young CEOs are embracing sustainable practices across their businesses, resulting in stronger communities and a healthier business environment. CEOs lead the way through investments, innovation, and strategic decisions, to create a more environmentally and economically sustainable future. And the youth are the future of any nation, so we must prepare well to take charge of our economy now if we are to progress as other developing nations.
 Advancing diversity and inclusion
Promoting diversity and inclusion isn't just a goal the government can do alone, the private sector plays a major role and we must strive to achieve this. It is our responsibility to create opportunities for people of all backgrounds across this country which is lacking at the moment and the results are obviously staring us all right in our faces but we are not helpless, so, we are doing something about it now.
 Training and Mentorship Platform
The 100 CEOs Forum will lead young entrepreneur who has great ideas to take responsibility for making our nation a better place than we found it by advancing diversity and inclusion. This is not just a seminar but a platform that brings young entrepreneur together for the purpose of training, mentorship and much more.
The New Believe System
We believe the economic challenges facing Nigeria today is enormous but we also believe we have what it takes to subdue all crises raging today.
One of the major challenges of small scale business in Nigeria today is finance – funding. And in a bid to solve this menace that has kept many of our youth from achieving the breakeven results, we have created this platform to teach financial literacy.
The Maiden Edition of '100 CEOs Forum' will hold on February 23, 2019, by 10 am within Ikeja Axis (Venue will be communicated to those who registered via mail/phone)
We have 2 Experienced Bank Managers to speak on the following topics:
1.      What banks are looking for in small scale business before offering loan
2.      Investment opportunities in the banking industry for small scale business owners 
 And we have 4 others experienced Entrepreneurs to speaks on;
Funding

Transition  steps from paid employment to business

Branding

How to use the web to market your products

Networking Tips

21st Century Marketing Tip

And much more
This is not just a day seminar, it's the beginning of a journey we are taking together to sell the Nigeria brand to the global market. Join the train now!
Admission Fee: N2,000
Bank Name:                               Diamond Bank Plc
Account Name:                          ICE_POT Consult Limited
Account Number:                       0103261778.
And send evidence of payment to 100ceo@thecodedtv.com or WhatsApp 08094793194
For more information, kindly call 08143012899 or send mail to 100ceo@thecodedtv.com
This event is organized by Coded TV – a Human Capacity Development Channel.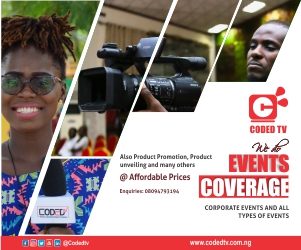 Visit http://www.thecodedtv.com/video/introducing-coded-tv/ for more information about Coded TV
Save This Event
When & Where

Center 4 Tech, No 2 Metalbox Rd, Ogba,
Ikeja
Lagos state
Ikeja, Lagos 100001
Nigeria

Saturday, February 23, 2019 from 10:00 AM to 1:00 PM (WAT)
Add to my calendar
Organizer
Coded TV is a new online TV with a special focus on Human Capacity Development for young Nigerians. This Channel is purely a research-based channel. We offer to constantly be on the lookout for opportunities (both local and international), and provide details of how our youth can access them. We will make available on our Online TV, information such as scholarship opportunities, grants for all kind of projects and many other benefits. This will form the primary operations of the TV while every other program will be secondary.
  All programs would be purpose driven and focus on the subject matter of the program. For instance, any discussion on fashion will strictly focus on anyone talking about fashion will only talk about opportunities available in the fashion industry and how to access them. The same also applies to sports, health, business, media and other sectors.
The youths are the future of any nation, but with the present array of youth our nation parade; we cannot actually vouch for a great future? We are at a time when our youth are lazy, incompetent and lack direction for a future. The nation Nigeria has never been this tense, divided with a future full of uncertainties for the teeming young people because we have produced a number of graduates without sound intellectual capacity. There is a great gap waiting to be filled, and we are going to stand in the gap by providing opportunities and platforms with the sole aim of providing capacity developments for Nigerians youth – connecting the helpless with needed help
It is obvious that the Nigeria nation is today faced with a challenging economy, coupled with insecurity, but we also have many opportunities that many Nigerians youth are not aware of, and even those who have the knowledge of its existence are incapacitated by lack of access to right information.
We offer to make available this required opportunities and information on how to access them.
Furthermore, the crime rate is on the rise and many youths are behind the bars for various crimes, ranging from kidnapping to internet fraud and money laundering. When the future is bleak and youths are not fully engaged in profitable programs, they tend to fall under pressure to commit a crime in order to keep a lifestyle that is not right. We are committed to breaking this cycle by providing lasting hope for every young Nigerian.