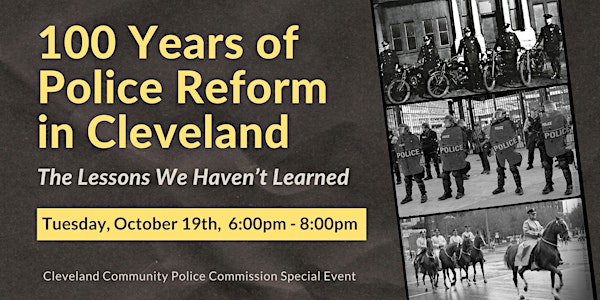 100 Years of Police Reform in Cleveland: The Lessons We Haven't Learned
Learn about Cleveland's history of police department reform efforts over the past century in this in-person & live streamed presentation
When and where
Location
Saint Martin de Porres High School 6202 St Clair Ave. Cleveland, OH 44103
About this event
* Please note the location change for the in-person presentation *
The Accountability Work Group of the Cleveland Community Police Commission invites you to a special in-person presentation and community forum: 100 Years of Police Reform in Cleveland: The Lessons We Haven't Learned.
The issue of police reform in Cleveland is not a new one. In 1922, the Cleveland Foundation conducted a project titled, "Criminal Justice in Cleveland." This massive undertaking resulted in nearly seven hundred pages of criminal justice reform analysis and recommendations. 
The study was the first of its kind to survey the Cleveland Division of Police and recommend major changes to the way it operates. This started a pattern of reform attempts that have been met with limited success over the past century.
Join the CPC's Executive Director, Jason Goodrick, and Senior Policy Analyst, Ryan Walker, as they walk you through Cleveland's past history of police department reform efforts. 
The event will conclude with an open community forum on the future of police reform.
Speakers:
LaToya Logan, CPC Commissioner and Accountability Work Group Chairperson
Lewis Katz, CPC Commissioner, Co-Chair
Jason Goodrick, CPC Executive Director
Ryan M. Walker, CPC Senior Policy Analyst
* Event Update *
Seating capacity for the in-person event has been reached. The presentation will be available to watch online on the CPC's YouTube channel.
All attendees will be required to wear a mask during the indoor event.
Please note the new event location. The in-person presentation will be held at Saint Martin de Porres High School.
Watch the Event Online
The event will be streamed online on the CPC's YouTube channel: bit.ly/216cpc-youtube
Please contact the CPC at (216) 505-5920 or info@clecpc.org if you have any questions.