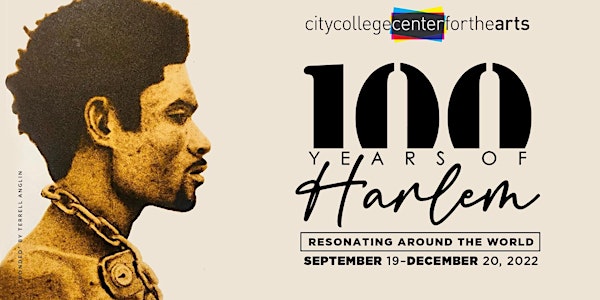 100 Years of Harlem: Resonating Around the World -- Opening Reception
100 Years of Harlem: Resonating Around the World
When and where
Location
Aaron Davis Hall 129 Convent Avenue at West 135th Street On the campus of The City College of New York New York, NY 10031
About this event
100 Years of Harlem: Resonating Around the World was first introduced in an exhibition and silent auction to benefit City College Center for the Arts held at CHRISTIE'S New York from March 26 – April 4, 2022. Curated by Omo Misha on behalf of an esteemed curatorial team including Kim Wales and Gregory Shanck, the primary exhibit included thirty works of art celebrating Harlem as teacher and muse for diverse artists across time and featured twenty-four visual artists from Harlem and across the country. The CHRISTIE'S x CCCA collaboration was an outgrowth of the company's Corporate Social Responsibility (CSR) program – a program that aims to preserve, protect and promote art in our communities while managing the cultural, economic and environmental impact of Christie's activities. For CHRISTIE'S, the experience brought forth a lively discourse with local, living talent and a lasting partnership with one of Harlem's leading cultural institutions. For the artists and audience, the auction house installation and gala proved grand and incomparable, netting support for CCCA's Youth Empowerment Program through art sales and both private and corporate donations.
Brought to CCCA's Aaron Davis Hall, this iteration of 100 Years extends the life and scope of the exhibition and continues the celebration of Harlem, its glorious past and culturally-rich present. The exhibition includes a portion of the work exhibited at CHRISTIE'S along with new selections and artists reflecting and sharing an affinity for Harlem.
Escaping the harsh realities of the Jim Crow South, Black Americans found their way to Harlem more than any other location during the early twentieth century, resulting in the largest concentration of African descendants outside of Africa, and creating a social climate for one of the most prolific eras in the history of the arts and letters – the Harlem Renaissance. Through visual, literary and performative expressions of lived experiences, beauty and pain, an aesthetic emerged that came to identify Black America. An unprecedented artistic freedom flourished and became a resonant elixir to the creative world.
This exhibition pays homage to the Harlem Renaissance with recognition that the enclave's cultural grind has been a continuum – from the 1920s to present day. The banners of Harlem legends still fly, and the pioneering stanzas of Langston Hughes' poems, Aaron Douglass' palette, and Duke Ellington's top hat and riffs will always be felt within the cracks of our sidewalks and Pre-War facades. But, as we celebrate this galvanizing, glorious past we also hope to communicate that The Renaissance was not a finite era that met a determinate end. While the landscape has ebbed, flowed and even lost its luster at times, the collective, creative spirit of Harlem has never waned. Each of us, represented in this exhibit, are links in a chain of prodigious creators, flowing through and bathed in the nurturing spirit of Harlem.
Featured Artists: ANTON, Carl Karni-Bain (aka BAI), Charly Palmer, Danny Simmons, D. H. Caranda Martin, Donovan Nelson,
Faith Ringgold, Francks Deceus, James Denmark, Jody Rasch, Julio Leitão, Julio Mejia, Lisa Ingram, Lola Flash, Mira Gandy,
Noreen Dean Dresser, Uday Dhar, Stephanie Karen Gregory, Terrell Anglin, Tomo Mori, YUKAKO.