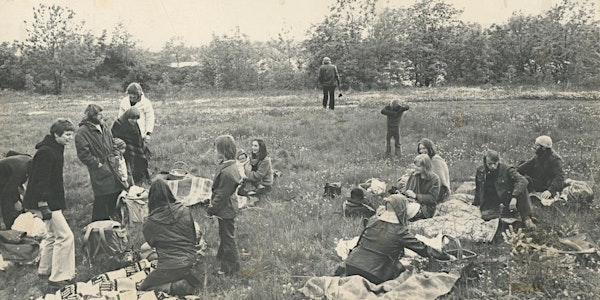 100 YEARS OF CONVIVIALITY: ARTISTS ORGANISING ARTISTS
As a part of UKS' 100th anniversary program 100 YEARS OF CONVIVIALITY, UKS hosts three seminars discussing how to live and work together.
When and where
Location
Deichman Bjørvika 1 Vestlys plass 0150 Sentrum Norway
About this event
SEMINAR, BOOK LAUNCH, & BIRTHDAY CELEBRATION
On the day of UKS' 100th birthday, 28 October 2021, we present the second seminar in the series, Artists Organizing Artists, at the new main library in Oslo, Deichman Bjørvika. We continue the celebration with cake and the launch of our big new publication Kvisten på grenen, grenen på treet: Unge Kunstneres Samfund 1921 – 2021 at Kunsthall Oslo from 6pm.
SEMINAR
A key question for UKS throughout its history has been, and remains, how artists can become agents and advocates for political change. Art as a call to action, or as an expression of solidarity, has featured prominently in the exhibition history of UKS. The organization itself has had a great impact on the cultural and political landscape in Norway by offering artists a structure for organizing and collectively negotiating terms of work. One consequence of the global pandemic is that artists are once again organizing to work collectively for their interests.
This seminar brings together artists and organizers from Norway, Denmark, Italy, and the UK to discuss how and why artists organize, and what to organize around. There will be conversations, presentations, a workshop, and a letter. The full program will be published here shortly.
SPEAKERS & PARTICIPANTS
— Alternative School of Economics (Ruth Beale & Amy Feneck), artistic collaboration
— Erling Moestue Bugge, art historian and critic
— Gabrielle Paré, artist and initiator of Verdensrommet
— Halvor Haugen, artist, writer, and editor
— Maj Horn, artist and chair of UKK
— Miriam Wistreich, director of UKS
— Simona Barbera, artist and representative from Art Workers Italia
— Steffen Håndlykken, chair of UKS
— The White Pube (Gabrielle de la Puente & Zarina Muhammad), arts and culture critics
— Victoria Durnak, artist and writer
Visit www.uks.no for the full program.
PRICING
50 kr which go entirely towards covering costs for your coffee, fruit, sandwiches and baked goods. If you have trouble paying this amount but would like to participate please get in touch with Stacy Brafield on s.brafield@uks.no.
ACCESS NOTE
The seminar will be spoken in English. Please contact m.wistreich@uks.no if you require sign language interpretation.
The seminar will be streamed via UKS' website and on youtube. Youtube provides closed captioning.
There will be ample room for breaks in the program. If you need to move around, rest, twitch, pace, or not make eye contact, know that you are welcome here.
Seating options will vary between chairs and soft seating. We will do our best to provide other seating if requested.