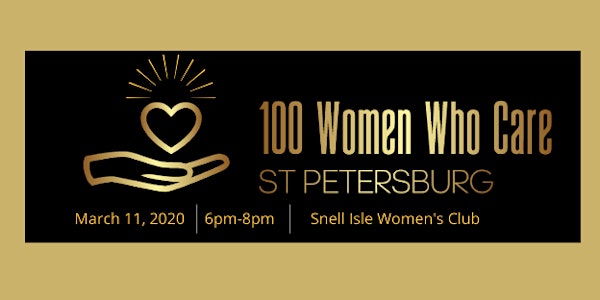 100 Women Who Care St Petersburg 1st Meeting of 2020
Event Information
Location
St Petersburg Women's Club
40 Snell Isle Boulevard Northeast
St. Petersburg, FL 33704
Refund policy
Contact the organizer to request a refund.
Eventbrite's fee is nonrefundable.
You are invited to the 1st Meeting for the 100 Women Who Care St Petersburg. Together we give $10,000 to a Local Non-Profit in one hour!
About this event
How it Works:
Your commitment involves attending four, one hour meetings a year, and pledging $100 per meeting.
All members are eligible to nominate a non-profit that does service in St Petersburg to support the education, health or spirit of women and children.
Three non-profit names will be drawn from a final selection of the top nominees.
These three non-profits will have the opportunity to present a five minute explanation of the local organization or agency they nominated. There is an opportunity for questions.
A vote is taken and the winner is announced.
Each of the 100 women writes a check directly to the winning agency.
The meeting ends and the winning charity receives $10,000 or more!
This is 100% volunteer based and there are no administration or member fees.
Arrive between 6pm-7pm to check in and meet other community supportive women just like you.
Dress Code: Casual and Happy
Together we can do so much more!
2020 Meeting Dates:
March 11, 2020
May 13, 2020 - Optional to bring a young girl mentee to share the process and
vote with you.
September 9, 2020
November 17, 2020 - Big End of Year Meeting
HISTORY:
The original "100 Women Who Care" was started in November of 2006 by Karen Dunigan of Jackson, Michigan, as a brilliantly simple way to raise money efficiently and quickly for local charities/non-profits/worthy causes. Her group of 100 women, at their first one-hour meeting, each wrote a check for $100.00 directly to the charity, raising $10,000 to buy 300 new baby cribs for an organization in their city. Since then, they have grown to over 200 members, and similar groups are forming all over the country.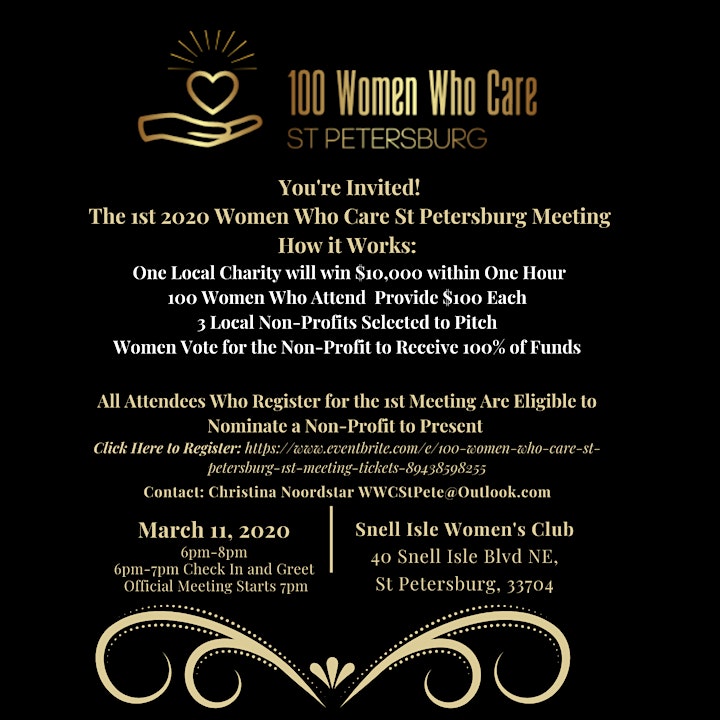 Date and time
Location
St Petersburg Women's Club
40 Snell Isle Boulevard Northeast
St. Petersburg, FL 33704
Refund policy
Contact the organizer to request a refund.
Eventbrite's fee is nonrefundable.