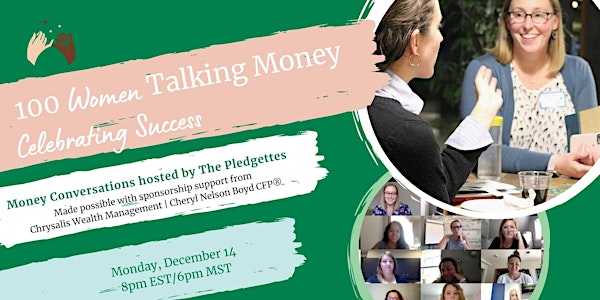 100 Women Talking Money: Celebrating Success
You, me, and 98 other like-minded women are getting together for an evening of 1:1 and small group money conversations! Let's celebrate you!
About this event
This free event is open to every woman - Pledgettes members, friends, strangers, sisters, coworkers, moms, and more.
You have survived (or thrived) this year. Even with all the external factors, your internal ability overcame. You learned new skills, increased your financial literacy, and talked about money! Let's celebrate it.
At this event, you'll be paired with other women for 1:1 money conversations. You'll receive three prompts from our #StartTalkingAboutMoney conversation starter deck to start your conversation. The conversation will be a great starting point for you to choose where you want to dig deeper, what you want to learn more about, and how you want to work on your financial goals. You'll meet 5 women throughout this hour; that means you'll expand your Financial A-Team to 5 more women that enjoy talking about money!
Your conversation may start with:
- How do you celebrate a financial achievement?
- What is one money topic you learned more about this year?
- When did you earn your first paycheck?
This is a judgment-free zone. We welcome women wherever they are in their financial journey. We believe everyone has something to learn and everyone has something to teach. We celebrate starting a money conversation with the same enthusiasm as achieving a big financial goal!
The Pledgettes is on a mission to abolish the gender wealth gap by facilitating money conversations with women. We are a community of supportive women making money moves to achieve their financial goals. Are you looking for a place to have more money conversations - to ask questions and share experiences?
The Pledgettes has a six-step experience:
1 – Start a conversation. Here, we believe it's time to start talking about money.
2 – Learn something new. The topic of money is vast…maybe never-ending? The Pledgettes community is constantly learning through online events, local events (Denver and more), and courses.
3 – Set your Goals. Next, clarify your money goals. (Our "Dream Bigger: Set A Financial Goal" course can help you with that!)
4 – Build Your Financial A-Team. Who do you need on your financial A-team to achieve your goals? Our membership is full of womxn ready to support you in reaching your goals and our events are led by professionals with specialties to help you.
5 – Make some money moves. This is probably the hardest step. It may require you to invest (and let go) of some money or have a difficult conversation. It can be scary (and exciting)!
6 – Celebrate your Success. You get to define what success looks like for you. And the Pledgettes community will be here to help you celebrate.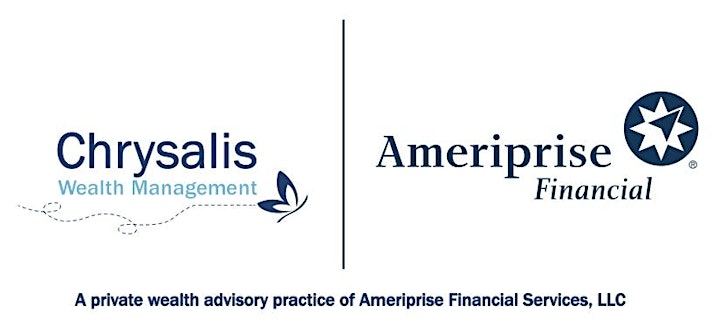 Thank you to our sponsor who made this event free for attendees.
Cheryl Nelson Boyd is a financial advisor and CERTIFIED FINANCIAL PLANNER™ practitioner with over 13 years helping families, individuals and business owners attain financial independence. Cheryl specializes in helping to meet the financial needs of working women with a focus on the unique opportunities and challenges that women in the workplace face. Through the process of comprehensive planning, she helps clients define their values and make aligned choices with their investment objectives. She is passionate about helping others live the full and rich lives they are working towards. She is a local provider of the Ameriprise Financial Wellness program, which offers practical advice, educational workshops, tool and resources that can help employees make informed financial choices and help them be happier, healthier contributors to their workplace.
Cheryl Nelson Boyd
Financial Advisor and CERTIFIED FINANCIAL PLANNER™ practitioner
16 Inverness Place, Building B, Englewood, CO 80112
Chrysalis Wealth Management, a private wealth advisory practice of
Ameriprise Financial Services, LLC
https://www.ameripriseadvisors.com/cheryl.a.nelsonboyd/
More information is available at FINRA's BrokerCheck website: https://brokercheck.finra.org/