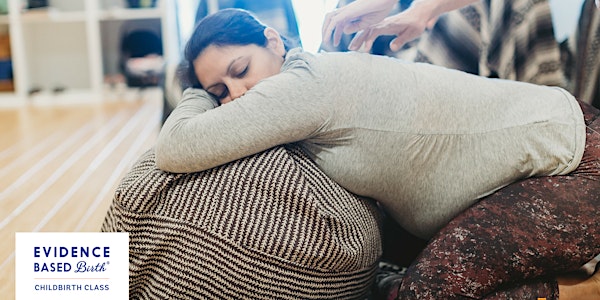 100% VIRTUAL Evidence Based Birth® Childbirth Classes - April/May 2020
Sales Have Ended
Registrations are closed
Thanks so much for signing up for the class! About one week before class begins I'll also be sending you information on access to the online classes, a very important pre-class survey, and information on what you'll complete before our first in person class. In the meantime if you have any questions or concerns please don't hesitate to reach out. I'm excited about meeting you, your partner, and your doula if you have one! With Warmth, Cindy Calvano Tree of Life Wellness Services, Inc 908-509-1279 cindy@treeoflifenj.com www.treeoflifenj.com
Description
Are you looking for a childbirth class that gives you the flexibility of online learning, but also the support of live weekly connections with your instructor and other students?
By taking the Evidence Based Birth® Childbirth Class, you and your partner will not only learn the evidence for your birth options in a fully online class, but you'll also get to meet with an experienced mentor and other parents in the Morristown, who are going through pregnancy and birth just like you! This class is limited to only 6 couples. You do not need to be local to the instructor to take the class!
NEW for 2020 - This class can now also be used to meet the Our Birthing Center Childbirth Class requirement.
This Evidence Based Birth® Childbirth Class is mentored by Cindy Calvano, MSEd, CPDT, CD, BMCE, LLLL. Cindy is a Certified Doula Trainer, Certified Childbirth Educator, Doula, and Lactation Counselor who has been teaching Evidence Based Birth® classes to parents and professionals since 2015!
*If you are a Bith Professional seeking to audit the class, read on!
Fully Online Class
Our first and last classes are two hours in length, with four additional one hour zoom calls in between
You will do the rest of your learning online!
For the online learning portion, you and your partner will watch class videos on your computer or phone
For every video you watch on your own, you'll earn points towards fun prizes!
As mentione, you'll have access to the Instructor during weekly Zoom sessions (video chat)
First two-hour class is Monday, April 6, 7:00pm- 9:00pm
The middle four Zoom calls are scheduled Mondays April 13, 20, 27 & May 4 - 8-9pm (we may be able to shift these dates and time based on the group's availability)
Last two-hour comfort measures and postpartum class is Monday, May 11, 7:00pm-9:00pm
Deluxe Registrants get one additional 45 minute zoom call to discuss their Birth Plan.
This class has been approved to count for those choosing to birth at New Jersey's first free-standing Birth Center, Our Birthing Center.
What is Included in this Childbirth Class?

Both standard and deluxe registration includes weekly Zoom video chats with your Instructor, access to your lessons online at the Evidence Based Birth® Academy, and a PDF library. If you choose the "deluxe" option, you will get 6 months access to the online portion plus a 45 minute private zoom call with Cindy to discuss your birth plan or other topics as desired.
One ticket is good for both the pregnant parent and their chosen support person. Your doula is also invited to attend our first and last sessions, if you have a doula! We will provide incentives for doing the out-of-class work.
Topics Covered

In this class, we focus on comfort, evidence, and advocacy. These are the topics we'll cover that will help you and your birth partner prepare for birth!
How your Partner can be your Advocate
Evidence Based Care
Overcoming Fears and Anxieties
Comfort Measures
Stages of Labor
Navigating the Healthcare System
Providers (Models of Care)
Support
Doulas
Communicating with Hospital Staff
Know your Rights
Interventions
Pain Relief
Labor Rehearsal
Postpartum Discussion
Newborn Procedures
Baby Care
Breastfeeding
Will I Learn how to have a Natural Birth?

Evidence Based Birth® believes that every person has their own unique path. Instead of focusing on medicated vs. unmedicated birth, we focus on giving you tools and helping you learn the evidence, so that you can be empowered to make your own decisions! We do have a strong emphasis on non-drug comfort measures, because they have no side effects and can be used by everyone, whether or not you plan to use medications.
At the end of this class, you will have all the tools you need to create your ultimate labor and birth experience. If you want a natural birth, this class will give you the relaxation and pain management tools you need to have a natural birth. If you need an epidural or Cesarean, we'll cover how you can be empowered that way, too!
Ticket Options:
Choose the package that works best for you!

Standard package: Includes 3-months access to the online portion of the class, materials, and six group zoom calls.
Deluxe package: Includes 6-months access to the online portion of the class, materials, 6 group zoom calls, and an extra 45 minute private and individualized zoom call to go over your birth plan or other topics.
Should you wish to pay with a paypal payment plan, please contact Cindy directly at cindy@treeoflifenj.com
Birth Professional Audit
There are only 2 Audit spots for birth professionals each series, so do not delay in booking your spot. All auditors will be required to sign an agreement from Evidence Based Birth before class begins.

Basic Audit: Includes weekly zoom call access with students. There is no access to the online content with the Basic Audit.
Investment ~ $175

Professional Audit: Includes weekly zoom call access with students, 7 weeks access to the online content.
Investment ~ $200

Deluxe Audit: Includes weekly zoom call access with students, 7 weeks access to the online content and a 30 day trial to the Evidence Based Birth® Professional Membership with opportunities for additional CEUs.
Investment ~ $240
Inclusion Policy:
Evidence Based Birth® is committed to creating an inclusive and welcoming environment for pregnant persons of any age, religion, race, sexual identity, gender identity, or relationship status.
Refund Policy:

Your payment reserves a spot in the class and is non-refundable, but tickets are transferable with adequate notice and approval from Cindy.
What if these class dates don't work for me? Do you do private classes?
Yes, I am offering additional series which you can find at treeoflifenj.eventbrite.com.
If the additional dates don't work for you, or you prefer a completely private session, please contact me and we can work to meet your individual needs.
Questions
If you have questions for me, just contact me at cindy@treeoflifenj.com or 908-509-1279.
More information on Cindy's services for parents can be found at TreeofLifeNJ.com.
Information on her services for professionals can be found at NJDoulaTraining.com.