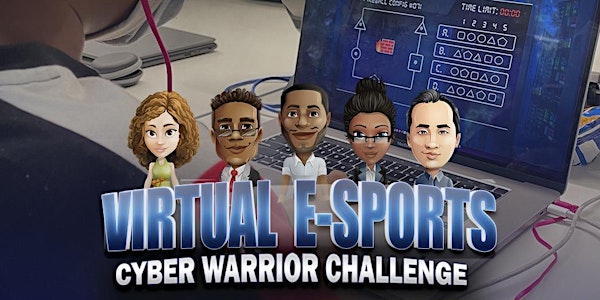 $100 Virtual ESports CyberWarrior Challenge (Ages 15-17)
Enter for FREE to win $100 in the Virtual ESports CyberWarrior Challenge, Ages 15-17.
About this event
Compete against Cyberwarriors across the USA and Globally and put your critical thinking skills to the test. With our state and private education system lacking resources to prepare our youth for current and future industries during their developmental years, CyberWarrior Challenge is here to answer the call. Dreamerz Inspiration along with our valued partners host virtual e-sports cybersecurity events to educate, engage, and ultimately ignite a love for cybersecurity. With over 2.3 million unfilled cybersecurity jobs as of 2022, and will increasing into 2030, 2040, and 2050. We are dedicated to preparing our youth to thrive professionally as industries across the globe are disrupted due to the emergence of technology.
REGISTRATION IS REQUIRED before the event. If you did not register prior to 2:00pm, you cannot compete in this event.
From 2:00 - 2:15pm - Each user will complete a test module to assess and confirm that the on-location Wi-Fi has effective bandwidth to compete. If the user does not have proper Wi-Fi, they can opt out and request a refund for the competition event.
If you are LATE, meaning arriving after 2:15, we will not delay the competition. The start time for the competition will be 2:15. At the completion of the competition, the 1st place winner will be contacted to receive the CASH prize. The zoom passcode will be provided to you 1 hour prior to the competition event starting at 2:00pm.
Laptops or Desktops are preferred. MacBooks, Microsoft Laptops, Chrome Books, Microsoft Surface, and iPads are great devices for competition. Please email cyberwarrior@sparkcllc.com for any further questions. WE LOOK FORWARD TO SEEING YOU AT THE CYBERWARRIOR CHALLENGE.