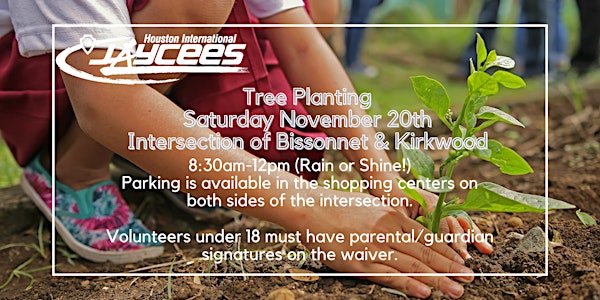 100 Tree Planting Volunteer Event: Making Alief More Green & Beautiful!!
Want to help out to make a neighborhood more beautiful? 20+ volunteers are need to plant 100 trees
When and where
Location
11875 Bissonnet St 11875 Bissonnet Street Houston, TX 77099
About this event
Want to help out to make a neighborhood more beautiful?
Joins us the Houston International Jaycees as we head out to plant 100 trees at Kirkwood esplanades with the Alief Super Neighborhood Council. We are looking for 20 volunteers who are ready to work hard to plant these trees to keep the communities of Alief beautiful and green.
Volunteers are highly recommended to wear comfortable closed-toe sneakers or work boots and comfortable clothes. Also, it is recommended the volunteers bring their own working/gardening gloves for this event. If you have your own bucket and shovel, please bring them along! If you are 18 years old or younger, your parents or guardians will need to sign the volunteer waiver form.
DATE: Saturday November 20th
TIME: 8:30 AM-12 PM
LOCATION: Intersection of Bissonnet and Kirkwood
PARKING: Shopping centers on both sides of that intersection, such as Keegan's Village Shopping Center.
VOLUNTEER DUTIES: Planting, watering, mulching, and other planting duties.
Watch out for incoming emails for future updates and information!!
Contact Project Lead Sunny Shi at jcihoustonintl@gmail.com for any questions or information.
We will be following the current CDC's guidelines for COVID-19. All participants are required to show proof of COVID vaccination card or a photo of that required will not be required to wear masks. All others will be required to wear masks. Masks are highly recommended for those who proof of COVID vaccination. A COVID-19 Self-Health Check Survey will be sent out prior to the event.
The Houston International Jaycees are an award winning young professional organization that develops leadership through service to humanity. This organization won the 2020 Outstanding Chapter from the JCI USA and many more awards in 2020! Houston International Jaycee's goal is to help young professionals between the ages of 18 and 40 develop personal and leadership skills and give them the tools to build the bridges of success for themselves in the areas of business development, management skills, individual training, community service, and international connections.