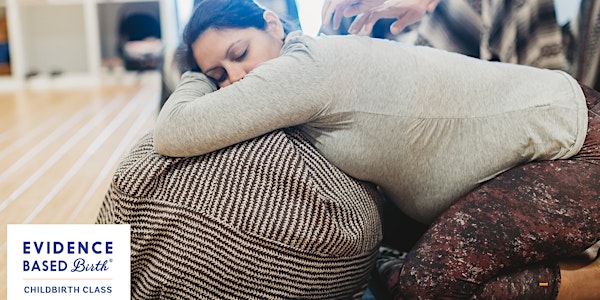 100% Remote Evidence Based Birth® Childbirth Class
Due to Covid-19, all 8 classes will be held online using the Zoom platform. Keeping us safe & connected!
About this event
We will meet online for eight weeks on Tuesday evenings. Each week, prior to class, you and your partner will watch instructional videos on your computer, tablet or phone.
By taking the Evidence Based Birth® Childbirth Class, you and your partner will not only learn the evidence for your birth options in an online class, but you'll also be guided by an experienced instructor and virtually "meet" other parents who are going through pregnancy and birth just like you! This class is limited to only 6 couples.
This Evidence Based Birth® Childbirth Class is taught by Christine Sheets. Christine is a certified doula, midwifery assistant, childbirth educator and breastfeeding counselor. She has been attending births professionally (in a variety of roles) for over seven years – in hospitals, homes and birth centers. Since 2014, Christine has been teaching childbirth education, both in private and group settings. She is pleased to be one of the first in the country to offer the Evidence Based Birth® Childbirth Class!
What is Included in this Childbirth Class? 
NEW FOR 2021 -- Breastfeeding Education
BONUS WORKSHOP on Nutrition and Exercise for Pregnancy, Birth & Postpartum
Weekly Zoom classes with your Instructor and fellow students
Six-month access to the online portion of the class at Evidence Based Birth® Academy

Spiral-bound workbook

PDF library

Birth Story Reunion with your babies! This will provide you with a chance to debrief after your birth in a safe space. (Processing your experience is very important!)

Students also receive a $100 discount on labor and birth doula services from Birth With Christine.
Topics Covered 
In this class, we focus on comfort, evidence, and advocacy. These are the topics we'll cover that will help you and your birth partner prepare for birth!
How your Partner can be your Advocate

Evidence Based Care

Overcoming Fears and Anxieties

Comfort Measures

Stages of Labor

Navigating the Healthcare System

Providers (Models of Care)

Support

Doulas

Communicating with Hospital Staff

Know your Rights

Interventions

Pain Relief

Labor Rehearsal

Postpartum Discussion

Newborn Procedures

Baby Care

Breastfeeding
Will I Learn how to have a Natural Birth?
Evidence Based Birth® believes that every person has their own unique path. Instead of focusing on medicated vs. unmedicated birth, we focus on giving you tools and helping you learn the evidence, so that you can be empowered to make your own decisions! We do have a strong emphasis on non-drug comfort measures, because they have no side effects and can be used by everyone, whether or not you plan to use medications.
At the end of this class, you will have all the tools you need to create your ultimate labor and birth experience. If you want a natural birth, this class will give you the relaxation and pain management tools you need to have a natural birth. If you need an epidural or Cesarean, we'll cover how you can be empowered that way, too!
Inclusion Policy
Evidence Based Birth® is committed to creating an inclusive and welcoming environment for pregnant persons of any age, religion, race, sexual identity, gender identity, or relationship status.
If you have to miss a class, there's a $50 fee for your makeup session.