Interested in furthering your education, without breaking the bank? Silicon Valley Business Institute has you covered!
About this Event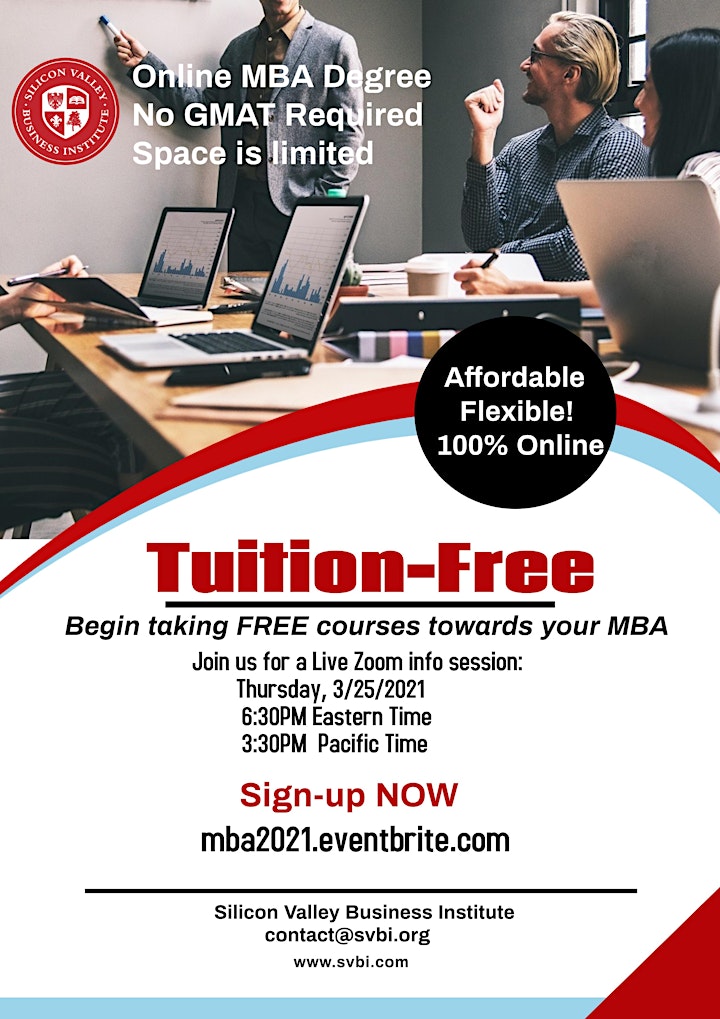 Silicon Valley Business Institute is committed to helping our students reach their educational and career goals by offering the most AFFORDABLE and FLEXIBLE online MBA program.
Join Zoom info session:
Time: Mar 25, 2021 03:30 PM Pacific Time (US and Canada)
Meeting ID: 995 8763 1722
Passcode: 2021
Our Mission:
Silicon Valley Business Institute (SVBI) is committed to educating and developing leaders and technology professionals of enterprises who create value for their stakeholders and for society at large. SVBI aims to provide world-class courses and educational services in high quality with affordable cost, to address the professional development needs of both local and international students. SVBI's mission is to explore, create and stimulate ideas that deepen and advance the understanding of management, strategy, and leadership concepts for diligent entrepreneurs. SVBI also seeks to advance the understanding of analytics, software programming, and engineering knowledge for new graduates. SVBI believes these ideas and knowledge will lead to innovative, principled, and insightful business leaders in a global society.
Join us for an informational session and sign-up for FREE courses TODAY!
EVERY student that attends this informational session will receive our Tuition Relief Scholarship. This scholarship is being offered in response to the global pandemic and as a way to assist as many students as possible in furthering their education.
MBA Application Form,Space is limited,
Apply NOW : https://forms.gle/kMzAHFiZC3cGn1SFA
Introducing Professor Debbie Casto:
This Spring we will begin offering Marketing courses under the instruction of Professor Debra Castro. Professor Castro brings nearly 20 years of experience as an educator and currently owns her own business. Castro considers business to be an everyday thing for her. We are excited our students will have the opportunity to learn from her based on her educational and real world experiences.
For questions or comments about this session please contact Jessica at contact@svbi.org or 8588323000
Some of the videos and pictures of our previous events :
https://www.youtube.com/watch?v=ZdhbW28a0BA&t=3s
https://www.youtube.com/watch?v=ArmL6nbvkgY
https://www.youtube.com/channel/UCa5SXj6MajAQTC2QmhR2_Vg/videos