Description
GET $100 OFF - EARLY BIRD SPECIAL ENDS SOON
Join us in New York City on August 9th, 2019 for the country's largest Opportunity Zone Expo.
Grab your Early Bird Ticket and save $100 now.
Learn from industry experts how to navigate this emerging industry. Investing in Opportunity Zones can help you double your ROI and save on tax.

Most investors will take advantage of this program before the end of 2019.

The event will also host keynote speakers together with a distinguished lineup of panelists to share insight about economic development in Opportunity Zones.
WHO WILL ATTEND
Hundreds of Opportunity Zone fund managers, investors, developers, attorneys, finance/accounting professionals, and service providers focused on facilitating qualified opportunity funds.

ABOUT THE OPPORTUNITY ZONE EXPO
The Opportunity Zone Expo is a national conference dedicated to Opportunity Zone stakeholders to be held on August 9, 2019 at the New York Marriott at the Brooklyn Bridge.
Opportunity Zones are chosen by the governors of each state.

They are low-income communities where government officials wish to attract investment by offering tax incentives to investors. The U.S. Congress created the zones under the Tax Cuts and Jobs Act in 2017 to encourage investment. Treasury Secretary Steven Mnuchin has predicted that more than $100 billion worth of capital could be invested into Opportunity Zones.
SCHEDULE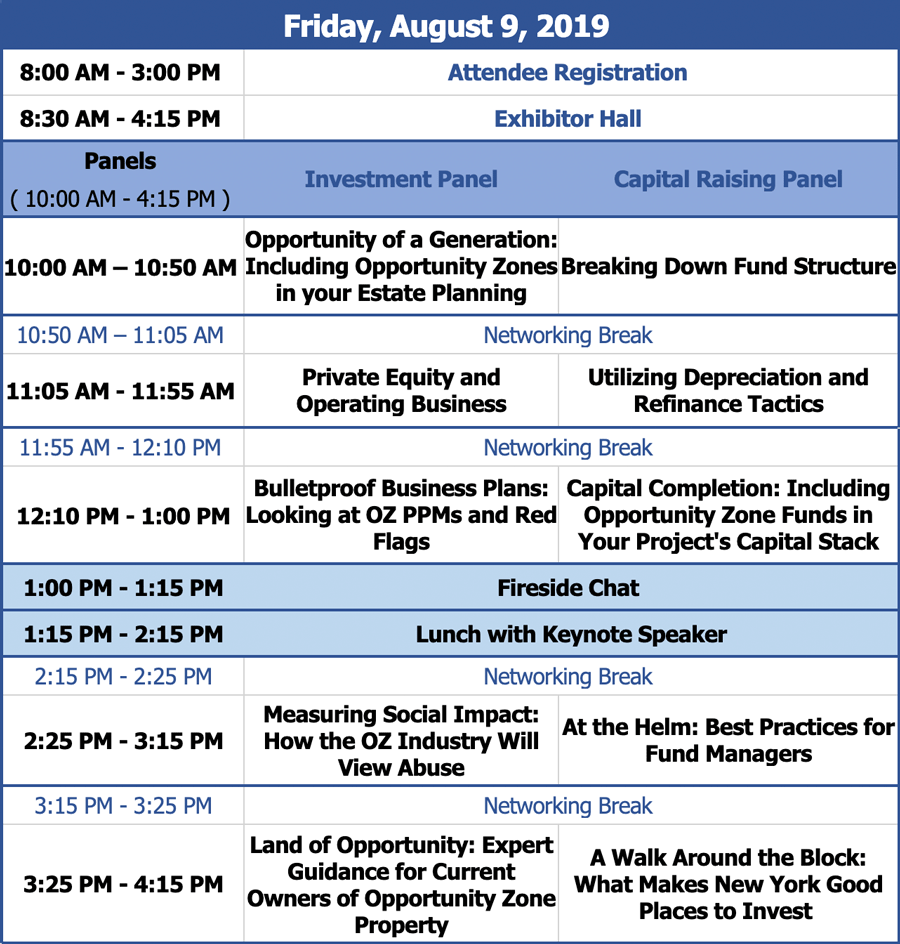 **All sales are final. No refunds.**