Description
$100 for the 100th - A
Fundraiser for the 100th Anniversary of the King Kamehameha Oahu Floral Parade
This is a electronic donation page only. We are requesting $100 donations for the 100th Anniversary of the King Kamehameha Oahu Floral Parade. Please note that we can take monetary donations by mail as well. Should you prefer to mail it in, please use the information below:
Please make your check payable to: Native Hawaiian Hospitality Association
Please add a memo to your check: $100 for the 100th
Mail to: 310 Paoakalani Avenue #201A, Honolulu, HI 96815
Information regarding this year's Parade in Honolulu, Oahu
http://ags.hawaii.gov/kamehameha
http://www.capitol.hawaii.gov/hrs2006/Vol01_Ch0001-0042F/HRS0008/HRS_0008-0005.HTM
Event information for Oʻahu:
May 27, Eat the Street 5:00 p.m. Showcasing the King Kamehameha Celebration Floral Parade

June 10, 3:00 p.m. Lei Draping Ceremony at the King Kamehameha Statue in Downtown Honolulu.

Loose plumeria welcome to be dropped off at the statue to the ladies of 'Ahahui Ka

ʻ

ahumanu from 7:00 a.m. to 1:00 p.m.

June 11, 9:00 a.m. 100

th

Anniversary King Kamehameha Celebration Floral Parade

June 11, 8:00 a.m. to 2:30 p.m. Makers & Tasters Ho

ʻ

olaule

ʻ

a, Kewalo Basin

June 11, 11:00 a.m. to 4:00 p.m. King Kamehameha Celebration Ho

ʻ

olaule

ʻ

a, Kapi

ʻ

olani Park
KING KAMEHAMEHA CELEBRATION COMMMISSION
Announces the 100th Anniversary King Kamehameha Celebration Floral Parade
To "commemorate the memory of the great Polynesian Hawaiian warrior and statesman King Kamehameha I, who united the Hawaiian Islands into the Kingdom of Hawai'i…" pursuant to HRS §8-5.
The celebration of King Kamehameha and his notion of unification are applicable to the people of Hawaiʻi today. His ideals and values are still found in our present laws. Section 10 of the Hawaiʻi State Constitution: "The law of the splintered paddle, māmalahoe kānāwai, decreed by Kamehameha I--Let every elderly person, woman and child lie by the roadside in safety--shall be a unique and living symbol of the State's concern for public safety."
June 11, 1914 – The first Kamehameha Day Parade, from 'Aʻala Park to the statue of King Kamehameha fronting Aliʻiōlani Hale. There were no Parades in 1942 or 1943 due to World War II.
Date: June 11, 2016 Time: 9:00 a.m. to 12:00 p.m. Theme: Ka Puni 'Ana o ka Haneli Makahiki – Celebrating 100 Years!!!
Parade Route Map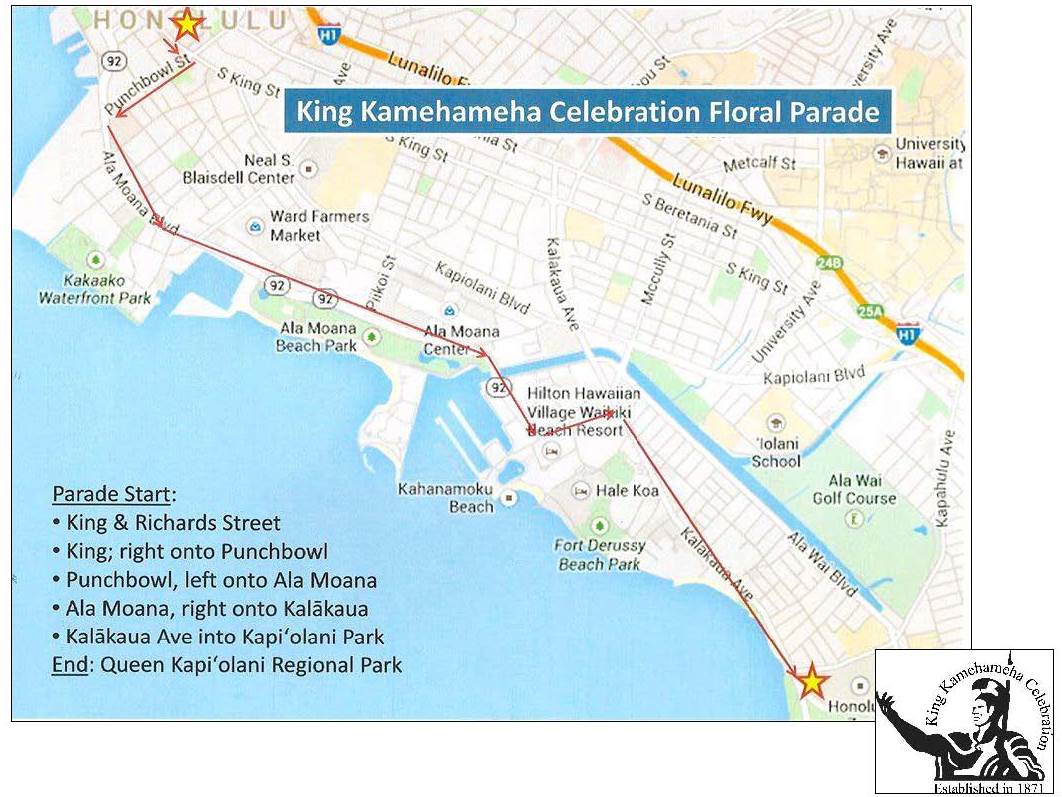 PARADE STAGING:
6:30 a.m. HPD to be escort Floats and Trolleys from the Hawaiʻi Convention Center
7:00 a.m. Staging along Aloha Tower Drive
8:00 a.m. Floats, Trolleys and Decorated Vehicles moving from Aloha Tower via HPD escort, mauka UP Bishop Street to line up on King Street. Alakea Street will be used if overflow as necessary.
HPD to escort equestrian units from Central Middle School to 'Iolani Palace grounds via Richards Street, cutting across Beretania Street.
Buses to begin unloading marching bands and other marching units, marshaling in front of the Kalākaua Post Office at Richards and Merchant from King Street.
9:00 a.m. Parade start, intersection of King and Richards
PARADE ROUTE:
• Parade starts at King and Richards Street, 9:00 a.m.
• King Street, right onto Punchbowl
• Punchbowl Street, left onto Ala Moana Boulevard
• Mauka lanes until Channel Street, then merging into makai lanes
• Ala Moana Boulevard, right onto Kalākaua Avenue
• Kalākaua Avenue, ending at Queen Kapiʻolani Regional Park
KING KAMEHAMEHA CELEBRATION HOʻOLAULEʻA:
• Queen Kapiʻolani Regional Park