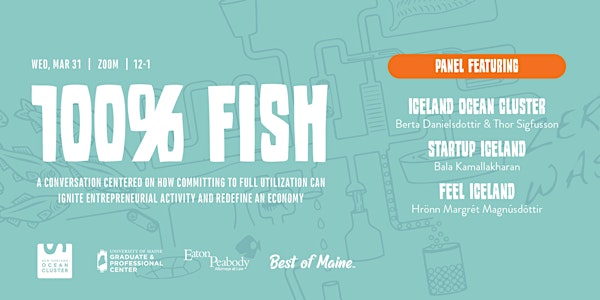 "100% Fish" - A Story of Entrepreneurship in Iceland
100% Fish - Why committing to full utilization can ignite entrepreneurial activity and redefine an economy
About this event
Waterfront communities are beginning to pay attention to the amount of waste generated in fishing, aquaculture, and seafood industries. Across the globe, millions of metric tonnes of seafood is wasted every year. Nearly half of each fish landed and processed becomes a waste product. People are becoming aware of the opportunities that exist for these byproducts to be utilized instead of simply thrown away.
The global cod fishery wastes nearly 60% of each landed fish. Through cooperation and collaboration, Icelandic fisheries have realized the opportunities that their byproducts represent and have tackled the fish waste problem head on. As a result of efforts like the Iceland Ocean Cluster's 100% Fish Project, upwards of 95% of each cod can now be utilized and diverted from the dust bin. Innovative companies turn heads, guts, tails, skin and more into consumer goods and products in beauty, health, and pharmaceutical industries. All of these full utilization activities translate to a more value for each landed cod, a more valuable fishery overall, and less waste.
The seafood technology industry that grew to support Iceland's full utilization efforts employs some of the most sophisticated equipment, management techniques, and processing methods in the world. Iceland has become an inspiration to other nations looking to better utilize their own caught species and seafood products. On the panel we will hear from the Iceland Ocean Cluster and a collection of companies driving innovation in this industry.
A CONVERSATION WITH ICELANDIC ENTREPRENEURS & PROJECT LEADERS
• Thor Sigfusson | Founder & Chairman, Iceland Ocean Cluster  
• Berta Daníelsdóttir | CEO, Iceland Ocean Cluster
• Bala Kamallakharan | Founder, Startup Iceland
• Hrönn Margrét Magnúsdóttir | Co-Founder & CEO, Feel Iceland 
About the Series: Entrepreneurship in the Blue Economy (EITBE) is an event series created by the New England Ocean Cluster to share the stories of ocean-focused entrepreneurs and project leaders in Maine. Each session is free to attend and includes a curated panel of speakers who share their own intimate and organic perspectives on the topic du jour. Created in 2019, the program's intent is to convene an engaged audience to raise awareness, promote dialog, and facilitate connections amongst those interested in the region's blue economy. Though our delivery is now virtual, the focus remains the same. We are proud to be launching our winter season with the incredible support of or presenting sponsors; the University of Maine Graduate & Professional Center and Eaton Peabody.