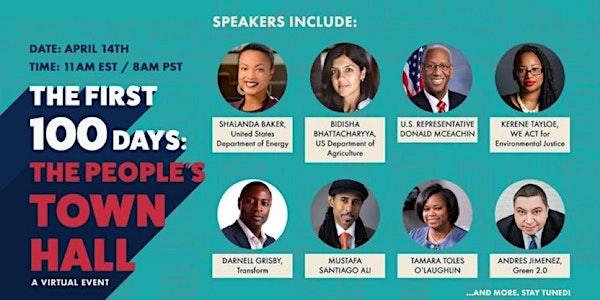 100 Days: A Peoples Town Hall for Justice
A people first Town Hall and Panel Discussion event focused on national issues of climate energy and agriculture.
About this event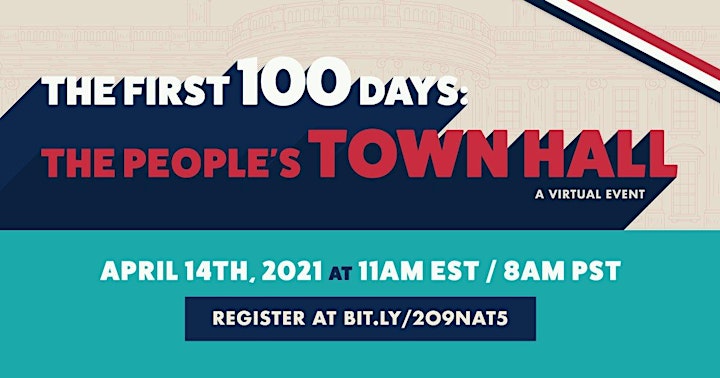 Join in for a candid conversation between frontline leaders and the Biden Administration as it nears it's first 100 days!
The event will feature a panel and moderated town hall that will amplify the top stories, impacts, and solutions communities are building to respond to climate environmental issues accross the nation with a focus on climate, energy, and transportation.
Communities leaders from across the movement will bring attention to the challenges they face and demand action that matches the power of the climate agenda of the new administration from all levels of government in this moderated town hall. #peoplestownhall #100days
Speakers Include:
U.S. Representative Don McEachin (D-VA)
Tamara Toles O'Laughlin, National Climate Strategist, Environmental Advocate
Andrés Jimenez, Green 2.0
Shalanda H. Baker, Deputy Director for Energy Justice & Secretary's Advisor on Equity, U.S. Department of Energy
Bidisha Bhattacharyya, Senior Policy Advisor, Farm Service Agency, U.S. Department of Agriculture
Rosemary Enobakhare, Associate Administrator for Public Engagement and Environmental Education, US Environmental Protection Agency (EPA)
Nicole Sitaraman, Sustainable Capital Advisors
Dara Cooper, National Black Food and Justice Alliance (NBFJA)
Eric Simpson, Western Georgia Farmers Co-operative, Federation of Southern Co-operatives
Kerene Tayloe, WE ACT for Environmental Justice
Darnell Grisby, Executive Director, TransForm
Bishop Marcia Dinkins, Executive Director, Ohio Interfaith Power and Light
Marnese Jackson, Midwest Decarbonization
Tara Houska, Giniw Collective
Katherine Egland, Education, Economics, Environmental, Climate and Health Organization (EEECHO)
Torend Collins, EV Owner, Environmental Defense Fund
Reverend Michael Malcom, Alabama Interfaith Power and Light

To join the event on youtube on April 14th visit this link: https://youtu.be/6uJHIXVInCk