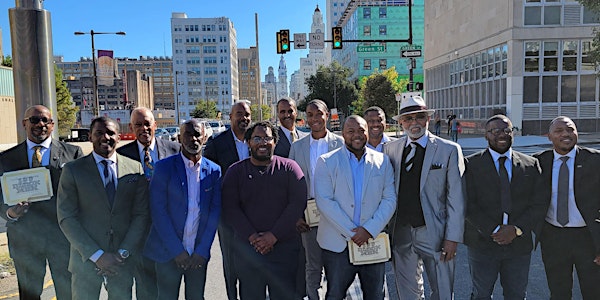 100 Black Men of Philadelphia Membership & Volunteer Interest Session
Gentlemen, are you looking to give back to the community by mentoring boys & young men; serving as a role model to guide them to success?
When and where
Location
100 Black Men of Philadelphia Chapter Office (via ZOOM MEETING) 2300 W Master St Philadelphia, PA 19121
About this event
DUE TO CORONAVIRUS THIS WILL BE A VIRTUAL ZOOM MEETING
https://us02web.zoom.us/j/89796963856
100 BLACK MEN OF PHILADELPHIA is a great group of brothers committed to helping young men, their families, and the community succeed through real time and real effort.
MISSION | To educate and empower youth, their families and community.
OUR (6) PRIMARY PILLARS ARE:
Mentorship
Education
Leadership
Economic Empowerment
Health & Wellness
Voter Education & Voter Registration #RealMenVote
We offer various FREE progrgams and events to the community.
Our flagship program is Saturday Leadership Academy (SLA) which meets the 1st and 3rd Saturdays (September - June) for young men grades 2nd - 12th.
We are looking for men who want to become Members and Volunteers willing to offer their skills for the success of the organization.
For the health and sustainability of the Chapter, Members agree to contribute minimally (40) volunteer service hours and dues of $300.00 annually.
Volunteers can simply support program or activities they feel passionate about as their schedule permits.
Some current positions include:
Game Coordinator (Chess, Scrabble, Monopoly, Spades, etc.)
Financial Literacy Facilitators
Entrepreneurship Coaches
African American History Coaches
Health & Wellness Coordinator
Field Trip Coordinator
Welcome & Safety Staff
Voter Education & Registration Advocates
Language Arts/Education/Reading/Writing Tutors and Teachers
Chapter Youth E-Newsletter Editor
Event Support, Staff, Security, Organizers, Planners, Hosts, MCs, Promoters
Public Image & Relations Photographers, Videographers, Press, Media
Music Producers & DJs (creator of positive music & conscious Hip Hop)
SOCIAL MEDIA
NOTE: It is mandatory that all Members and Volunteers be able to secure PA Child Abuse and Criminal Clearances (we will provide directions for free process). If you have not been a resident in PA for past 10 years and FBI Clearance will be needed (FBI clearance is not a free service).