| | |
| --- | --- |
| 100 Black Men of Long Island, Inc. 38th Annual Scholarship Benefit Gala - Celebrating Education, Mentoring & Leadership | |
Event Details
The 100 Black Men of Long Island, Inc. will be celebrating its 38th Annual Scholarship Benefit Gala - Celebrating Education, Mentoring & Leadership will be held Saturday, March 10, 2012 7pm-12am located at the Crest Hollow Country Club, Woodbury, New York.
Special Guest 
Susan L. Taylor
Editor-in-Chief Emeritus of Essence Magazine
and Founder of National Cares Mentoring Movement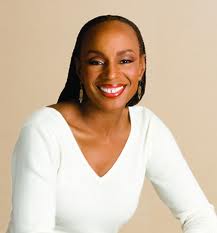 Master of Ceremonies
Dominic Carter
RNN-TV Political Commentator and Author
"No Momma's Boy"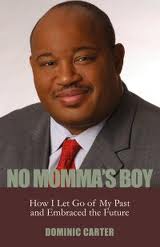 2012 Honorees include:
Lionel J. Chitty
President of Hicksville Chamber of Commerce
Bishop Lionel Harvey
First Baptist Cathedral of Westbury
Juanita N. Holmes
Deputy Inspector, Commanding Officer
81st Precinct Bedford Stuyvesant
NYC Police Department
William T. Rolack, Sr.
Director, Global/Marketplace Diversity &
Inclusion for Adecco Group North America
Chairman of the Board, Urban League of Long Island
State Farm Award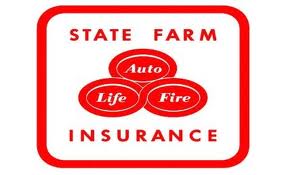 Entertainment
"Eric Durham's Top Groove" Band
To learn more about our 38th Annual Scholarship Benefit Gala (Journals, Sponsorship, Tickets, Table Sales), please contact the Gala Committee at ohbmli@live.com or call (516)538-6318.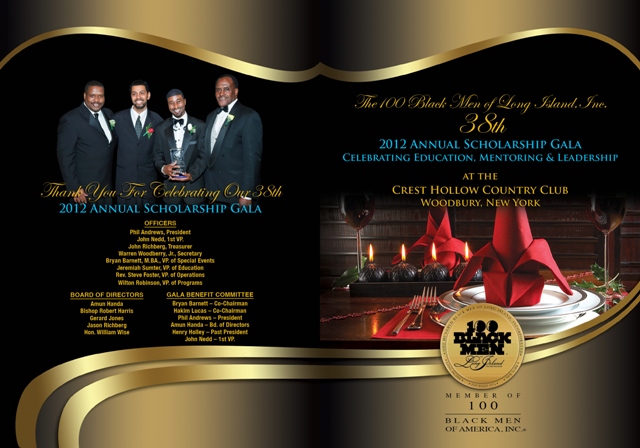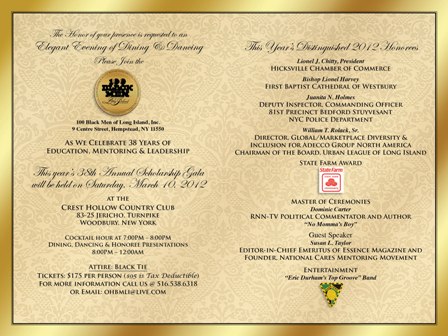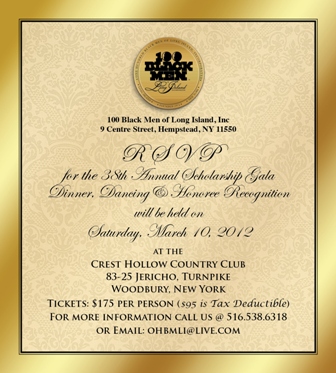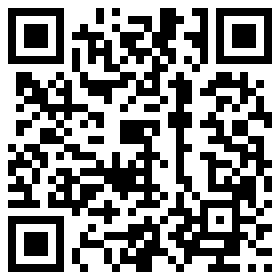 Where

Crest Hollow Country Club
8325 Jericho Turnpike
Woodbury, NY 11797


Organizer
One Hundred Black Men of Long Island, Inc.
The Organization that Makes a Difference
 One Hundred Black Men of Nassau/Suffolk, Inc. (OHBMN/S) was established in 1974 and incorporated during the same year under the laws of the State of New York as a non-profit membership organization.  The purpose of OHBMN/S is to improve the quality of life in Nassau Suffolk Counties, particularly in the Black Community.
 The Organization works for the elimination of bigotry and discrimination, fosters equality of opportunity, and assists members and constituents in their honorable endeavors.  OHBMN/S strives to improve the quality of life by becoming knowledgeable of issues facing our community and in constructive ways seeks to resolve those issues by developing on-going dialogue with the appropriate leadership levels in government, business, and the private sector.
Our methodology includes, but is not limited to, sponsoring forums, seminars, and meetings with elected officials appointed persons, corporate executives, educational leaders, and other decision makers.
The organization works to make economic opportunity a reality and supports upward mobility.  It supports educations and makes contributions to worthy causes insofar as possible.
Supporting academic achievement and recognizing the importance of sound education, in 1980 The One Hundred Black Men of Long Island, Inc.(OHBMLI) established an endowed fund for Black students attending Hofstra University School of Law.  In 1983, OHBMLI established an endowed fund for Black students in High Technology at SUNY Farmingdale.  In 1984, OHBMLI established an endowed fund for Black students majoring in Business Administration atAdelphiUniversity.  In 1985 OHBMLI initiated ten Achievement Awards for Black high school graduates in ten high schools onLong Island.
Essential to the rapport and success of the organization is the belief in the practice of effective networking.  Toward this end OHBMLI has also encouraged business relationships among its membership and has succeeded in documenting the viability of this approach.
In 1984 OHBMLI, in a legislative resolution by the New York State Assembly, was cited for commendable contributions to the advancement of higher education for Black students, as well as its laudable community activities.
The organization is a life member of the National Association for the Advancement of Colored People (N.A.A.C.P.)
OHBMLI will continue to exert a positive impact upon the equality of life in Nassauand SuffolkCounties, especially as it pertains to our community, with results beneficial to all citizens of both counties.
100 Black Men of Long Island, Inc. 38th Annual Scholarship Benefit Gala - Celebrating Education, Mentoring & Leadership