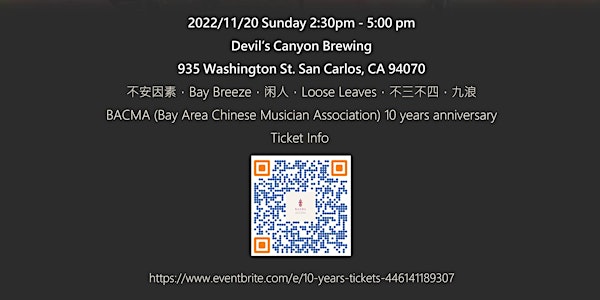 10 Years
In the last 10 years, we have been serving the community. We invites friends and family to enjoy our chinese music band performance.
When and where
Date and time
Sunday, November 20, 2022 · 2:30 - 5pm PST
Location
935 Washington St 935 Washington Street San Carlos, CA 94070
Refund Policy
Contact the organizer to request a refund.
Eventbrite's fee is nonrefundable.
About this event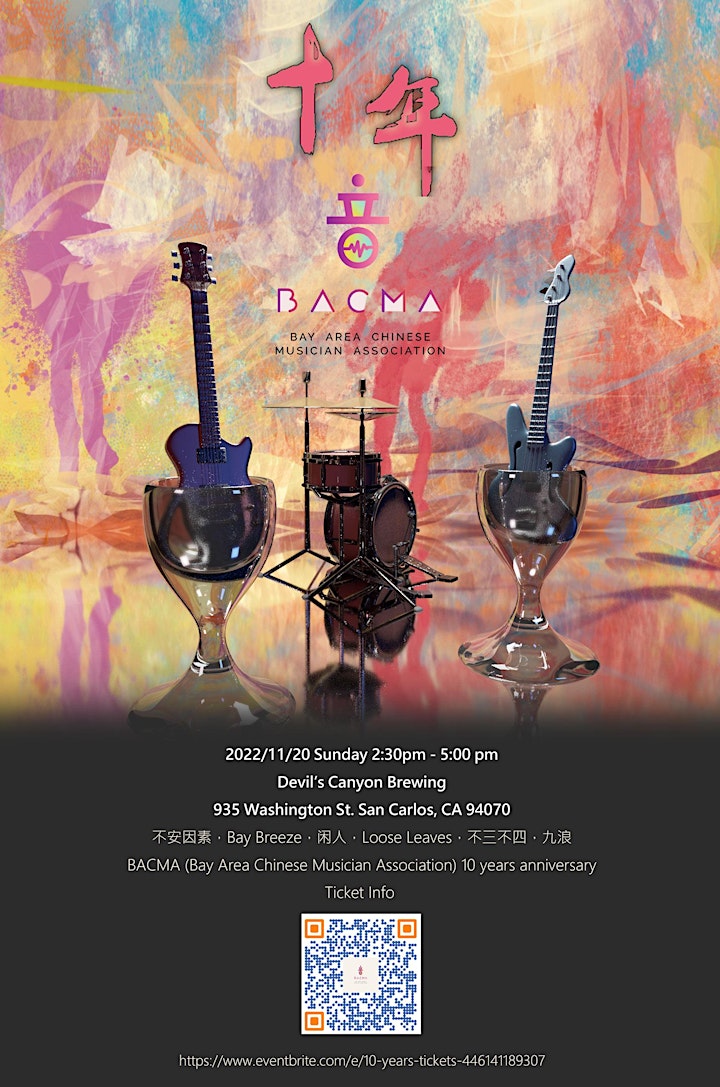 演出时间:
2022/11/20
Sunday 2:30 pm-5:00 pm
如果 bacma曾伴随过你的成长轨迹
让你欢笑过,也悲伤过;
如果你曾是bacma最爱的花痴花蜜
一路相随,不离不弃;
如果bacma曾经改变过你的生活
那么
《bacma十周年音乐会》
一定是你最值得珍藏的纪念品!
让我们用力珍藏这份难得的青春记忆
约定下一个未来!
乐队
介绍
Bay Breeze
图片
Bay Breeze乐队历经湾区的十年,全员女性,把生活和理想,爱和感悟唱给朋友们听。
Loose Leaves
图片
Loose Leaves由四位音樂製作人/樂手組成,承載一個探索新音樂的共同夢想。樂隊成立於2022年9月的第一次見面和即興合奏。樂曲嘗試整合古典,嘻哈,搖滾,爵士等有趣的音樂元素到簡單而有感染力的主題上。如同微風拂过树叶,摇曳生姿,團員們希望在創作過程中運用各自獨到的音樂技能,將不同的音樂視角融合到統一的情感空間中來打動聽眾。
Alice(bass), Chansing(Guitar)
Jasper(Keys), Krish(Drums)
闲人乐队
闲人乐队,融合中国传统民乐和流行元素的一支乐队,探索传承民乐并结合现代音乐的独特。他们不仅仅只是几个爱好音乐的闲人,还是执着于逆溯和创新的音乐人。主打原创《闲人曲》表达了对现今"躺"和"卷" 的思索。烟波中扬帆起航,带着中国写意山水的悠悠古意,穿行于茫茫的时空,在熙熙攘攘又喧嚣的栖旅后,又在落木斜阳下泛舟远去。
主要成员
孟曜:竹笛,洞箫,键盘,vocal
张丹丹:古筝,键盘,vocal
丁权:吉他,鼓,Cajun,vocal
Ben: 吉他
九浪乐队
灵感来自于伊凡 · 小艾瓦佐夫斯基的著名画作 《九级浪》。成立于2022年2月12日,由一群热爱音乐的职业和非职业音乐人组成 ,2022年4月30日成功举办了首届北美嘉年华Art Exhibition & Live Music Concert 主题为"这世界那么多人" In Chaos we find love •music •art 的活动。
团队宗旨:简单快乐玩音乐
浪~从这里开始
不三不四
不三不四乐队是一支家庭乐队。年轻的时候主唱丁春秋的乐队梦因为成员陆续结婚生娃最终解散而告一段落。若干年后旧梦死灰复燃,开始带着俩娃Jam。就有了今天的不三不四乐队。主要翻唱一些娃认可的流行摇滚歌曲和参与丁春秋的原创演奏。这次公开首秀将带来三首原创作品。
主要成员
丁春秋:Vocal, Guitar
丁不三:Drum
丁不四:Keyboard, Bass
Nervous Factor
不安因素
Nervous Factor(不安因素)乐队成立于2006年旧金山,经过几次更换成员最终以队长主唱黄晨,贝斯手靳取,吉他手凡夫、王开宇,鼓手子弹,乐队风格为新金属,成军十六年始终活跃在湾区各类型舞台上。
演出地址:
935 Washington St. San Carlos,CA 94070
Devil's Canyon Brewing
演出时间:
2022/11/20
Sunday 2:00 pm-5:00 pm