Description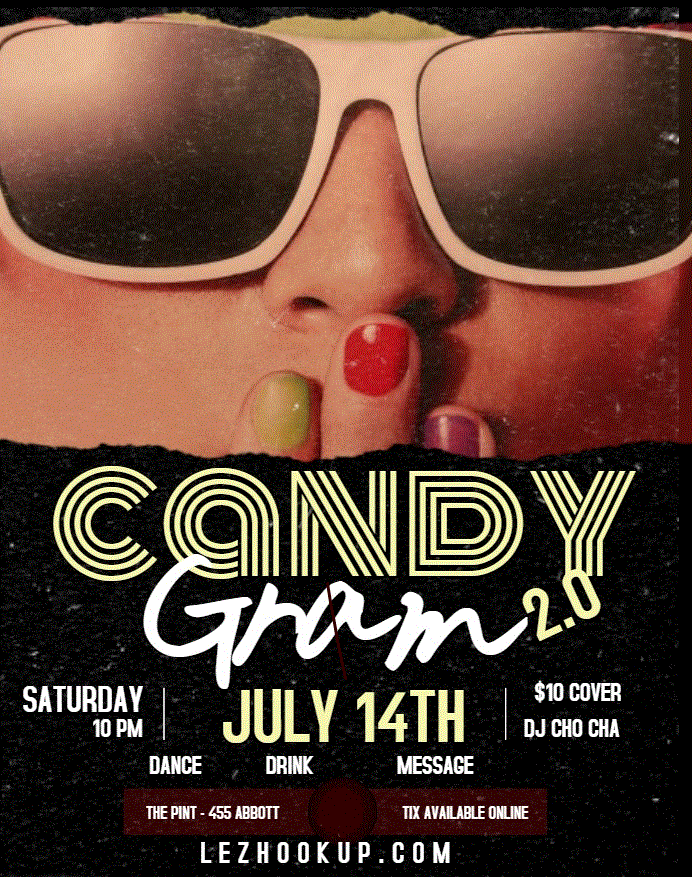 What is a Message Party?
It's like sending a DM on a piece of paper to anyone in the room.
Much like texting, but a lot more fun.
Vancouver's Message Party for lesbians, bi-sexuals and queer women, LGBTQIA, and all allies to party. Meet new friends, and maybe find that special someone. Our events are inclusive of all genders, sexualities, ethnicities, and body-types.

The Best Part?
We're bring back to what used to be Vancouver's Only Lesbian Bar - The Lick and using the side entrance


So I just walk up to a "foxy lady" at CandyGram and hand her a note?!
Not exactly.
It can be hard sometimes to get out that initial "Hi"
Here's how it works: Everyone that walks in receives a number badge.
You wear this number all night - while you dance, while your hanging out with your friends, etc.
If you notice someone, write their badge number on a message slip and drop it off in our "mailbox."
You can send messages back and forth to anyone with a badge number throughout the night.
Participation is optional. You don't have to wear a number - It's a lesbian party - dance the night away
I have a 2 for 1 voucher. How do I use it?
Purchase you ticket online and briing your +1 and 2 for 1 voucher to the door.

I'm in a relationship with someone amazing - Can I still attend this event?
Of course! We hope to meet you and your amazing significant other at this event because YES, you can both attend.
Please don't think of this event as a juicy meat market. It's a great place to make new friends and connections.

It's just a regular night at the lesbian club/lesbian bar with a unique and fun twist!

Will tickets be available at the door?
Yes, tickets can be purchased at the door, but they will cost more than what is posted on our flyer.
Grabbing your ticket in advance guarantees you entry before 11PM.

Is this a big party & how often do you have these?
Heck Yeah! It's our 10 Year Anniversary!!
This is our largest event...and we don't have them very often. CandyGram events are only held once every few years, so you won't be seeing the same people you see every month.
If you miss a monthly event, you can catch the next one.
If you miss a CandyGram, you have to wait a few years!
Don't miss out! We only turn 10 once.

For more information about CandyGram, please CLICK HERE
CLICK HERE TO INCLUDE SPEED DATING WITH THIS EVENT