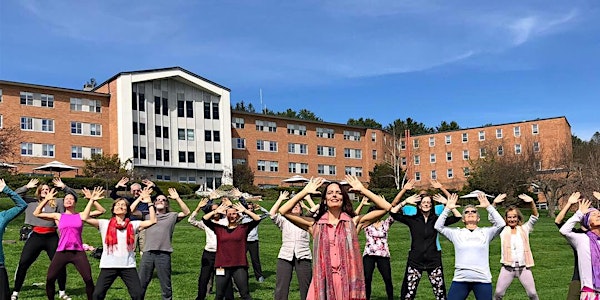 10 week Online Qigong Infused Yoga Training, Early Bird Registration Open!
Join us for this healing journey delving deeper into Qigong. Become a Qigong Infused Yoga Instructor and help your SELF & your community.
About this event
*Help clients and students learn exercises from Qigong and Yoga to relieve anxiety naturally. Relax your nervous system while helping others to do the same!
*Deepen your practice and nurture your physical and emotional well-being.
*Show up in your life and work as a strong and healthy individual inspired to help people in your life!
*Receive and help others to gain the benefits of Qigong and Yoga within one mind/body practice.
*Learn how Qigong and Yoga are complimentary and effective allies in improving physical, mental and emotional health!
Lynne Nicole Smith is the facilitator of the 10 week Qigong Infused Yoga Teacher Training Program. Lynne Nicole is a Senior Trainer with the Institute of Integral Qigong and T'ai Chi. She produced and created the Qigong Infused Yoga DVD in 2018, is the founder of Qigong Infused Yoga™ and has been teaching both Qigong and Yoga for twenty years.
Lynne is passionate about sharing both ancient mind/body practices to help the larger community have powerful tools to maximize their physical and emotional well-being.
__________________________
Are you a Yoga Instructor who wants to integrate Qigong into your Yoga classes?
Are you a therapist, life coach, social worker, nurse or healing professional interested in teaching clients, students, patients time-proven and effective ways of releasing anxiety while improving their health on all levels?
This training is open to all who want to learn powerful tools from Qigong and Yoga to help assist and benefit both your self and those you work with.
The combination of Gentle Yoga and Qigong is easy to follow and to teach. It is both an energizing and calming practice with a variety of different breathing and movement exercises that will bring you and the people you share it with tools to manage stress and empower their lives on all levels.
This ten week Online Qigong Infused Yoga Teacher Training Program will include the following elements.
*Breathing Exercises from Qigong and Yoga that help to induce the relaxation response
*Gentle-Warm-Ups from both Yoga and Qigong
*Active Breath-work with movement to Release Anxiety and Build Energy in The Body
*Various Qigong movements
*Tapping and Self-Acupressure
*Shaking Like A Tree (Extraordinarily effective for relieving trauma symptoms)
*Self-Massage Techniques people can use anytime to relieve anxiety and tension.
*Balancing Exercises
*Shavasana (Final Relaxation)
*Meditation
Zoom Online Training will run every Sunday evening beginning Sunday September 18th and ending November 20th.
Buy one ticket on Eventbrite and you are automatically signed up for the 10 weeks.
You will receive the Qigong Infused Yoga video and Zoom link to the training upon signing up on Eventbrite.
Included in training:
Qigong Infused Yoga streamable video
Course Packet including outline of Qigong Infused Yoga Practice(pdf)
Qigong Infused Yoga Music Playlist
Qigong Infused Yoga Certificate upon completion of training.
EARLY BIRD REGISTRATION
$550 until August 28
normally $650
You will meet like-minded and beautiful people who care about what you care about.
I look forward to connecting with you, practicing with you and sharing this healing journey together!--Lynne Nicole