Location
New Birth Missionary Baptist Church
4640 Meridian St N
Huntsville, AL 35811
Sales Have Ended
Ticket sales have ended
Registration is closed for this conference; however, we may be able to accommodate you if you message the event organizers at DrKnight@RPCevents.com
Description
Spaces for pastors and pastors' wives are SPONSORED-contact DrKnight@RPCevents.com for discounted registration code! Other sponsorship still available for those who need it.
---
Is there sometimes a disconnect between what you see in YOUR life and what you read in God's Word? Is fear getting in the way of what your heart knows God is calling you to? Do you want to experience a renewed mind in studying and applying the bible to your life? The 10 Thousand Standing Women's Conference is about passionately pursuing our purpose while embracing the value of other brave women who've stood before us, stand with us, and stand in need of us living with power! With speakers and singers coming from California, Arkansas, and even as far as Australia to bless YOU! TOGETHER WE STAND! #10ThousandStanding
"Though I come as one, I stand as ten thousand."
a weekend worship experience to help you:
Heal from your past
Walk confidently in your purpose
Reclaim your authority
Channel your fears
Deepen your commitment and faith
Study your bible with clarity
Pray boldly
Impact your community
This year's theme will grow your confidence and your character as we focus on facing our fears, finding our God-given voice, and using it to free others. We want to minister to you and empower you to minister to other women who need YOUR voice! You are more powerful than your enemy, more powerful than you know. JOIN US!

---
Featuring 6 main & 4 breakout sessions from Fri-Sat. with:
Dr. DaNella Knight

Host & Keynote Speaker

Channeling Fear, Choosing Faith

Shauna Ryan

Founder

Project Strong Woman

Dr. Tanzy Chandler

Fitness Instructor

Adventure to Authenticity

Ismeralda Johnson

5 Keys to Prayer

Prayer Breakfast

Chantal Levitchi

Motivational Speaker

Overcoming Insecurities

Stephanie Strong

Certified Trainer & Coach

Reclaiming Your Authority
---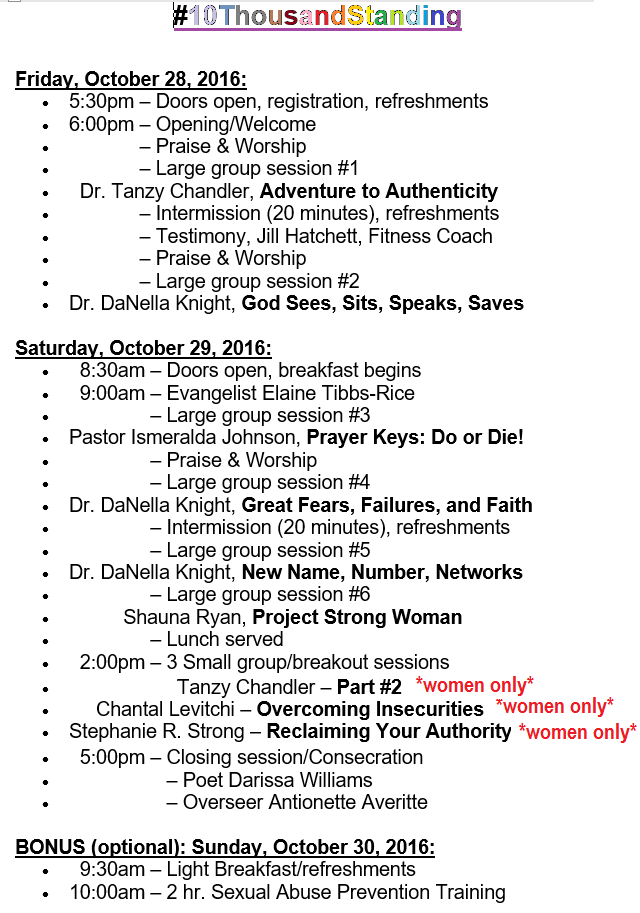 Registration for this 3-day conference includes all conference sessions and materials* in addition to the prayer breakfust and lunch on Saturday. Other refreshments will be available throughout the weekend. Doors open on Friday, October 28, 2016, at 5:30pm; program begins at 6pm. Doors reopen with a prayer breakfast at 8:30am on Saturday, October 29, 2016, with the main conference sessions conculding Saturday evening. The conference includes a bonus, but optional Sunday morning training on sexual abuse prevention October 30, 2016*. The conference features messages and activities presented in 6 large group sessions and up to 4 smaller breakout sessions to equip you with resources and practical skills to change your life and your community.
---
*EXCEPTION: for the SUNDAY morning training, there is limited seating for those registering after OCTOBER 1st because training materials are purchased from a third party. If you are unable to attend following your registration, please send someone else in your place OR we can send you the printed conference materials from Friday-Saturday's sessions.
MEN have access to all of the conference (including meals and materials) except small-group breakout sessions.

Recording Policy: During this event, we will be streaming, recording (audio and video), and photographing. Most likely, you will be filmed, recorded or photographed individually or as part of the audience, which may be viewed online. By your attendance and registration, you are granting your permission to be recorded or photographed for promotion purposes and agree to the following: being recorded, filmed or photographed by any means; commercial or any other use of your likeness, voice and words without compensation; specifically waiving all rights of privacy during the filming, recording or photographing and release the users from liability for loss, damage, or compensation from the commercial or other use of your likeness, image, voice or words.